Courses
Case Studies in Architectural Precedent: Quality, Adaptability & Endurance: The Design of the American CampusRegister Now!
Saturday, April 8; 9 am - 5 pm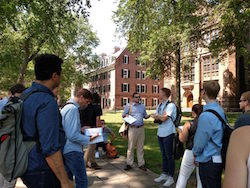 Stylistically self-assured buildings, orderly placed in a verdant setting – this idealized model of the American campus is deeply rooted in the national academic identity. This course will seek to examine the ways that classical and traditional architecture have informed the plans and buildings of the American campus, not only in their aesthetics, but in their conception and configuration as well. A general review of the history of the American campus will give way to a focused study of a particular typology and explore ways that the methodology of design that has informed historic campuses can continue to be relevant in the 21st century. The course will be built around a walking tour of four centuries of buildings within the campus of Yale University in New Haven, Connecticut.
Rain date is Saturday, April 15th.
Instructors: Clay Hayles and George Knight
Meeting Location: Yale University Campus, specific location TBD
Cost: $160 for ICAA members, $185 for non-members*
Credit: 8 AIA LUs
*Price does not include cost of transportation to and from the Yale Campus