Courses
The Urbanism of Greenwich VillageRegister Now!
Saturday, October 7th; 10:00 A.M. - 1:00 P.M.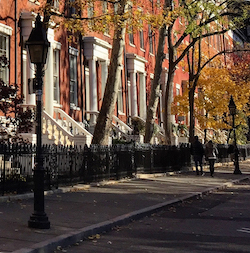 In this walking tour, participants will discuss the principles of traditional urbanism as exemplified in the streets, blocks and squares of New York's Greenwich Village. Participants will analyze on site, through discussion and drawing, how the design of individual buildings impacts the form and quality of public space.
Presented in association with Archtober, Architecture and Design Month New York City, October 2017.
Instructors: Rodrigo Bollat Montenegro & Michael Geller
Pre-Requisites: None
Cost: $45 for members, $65 for non-members
Meeting Location: Greenwich Village, precise location TBA
Required Materials: Sketchbook
Credits: 3 HSW LUs