Lectures, Tours, Events
Cultural Footprints from G. F. Watts to Alexander Creswell
October 1, 2012; Colloquium at 6:30 pm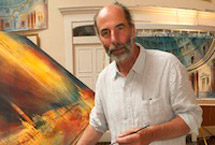 The ICAA is pleased to partner with the Hirschl & Adler Modern, Fine Art Connoisseur Magazine, and the Watts Gallery to present a colloquium with Alexander Creswell, internationally renowned watercolorist, and Peter Trippi, Editor of Fine Art Connoisseur Magazine. Space is limited for this special event held at the ICAA.
Location: Assembly Room at The General Society, 20 West 44th Street, New York, NY.
Cost: Free for ICAA members. Reservations are required: dludwig@classicist.org or (212) 730-9646, ext. 104.