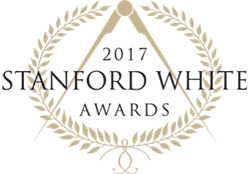 Stanford White Awards

The Sixth Annual Stanford White Awards for Excellence in Classical and New Traditional Design recognize achievement in individual projects in architecture, interiors, landscape, urbanism, and building craftsmanship & artisanship throughout New York, New Jersey, and Fairfield County, Connecticut. The awards program is named in honor of Stanford White (1853-1906), of the distinguished New York firm McKim, Mead & White, whose legacy of design excellence and creativity in architecture and the related arts continues to serve as a source of inspiration and delight.
Submissions for the 2017 Stanford White Awards are now closed. Tickets for the Award ceremony on Wednesday, December 6th are now available.