Courses
The Design of the Classical Villa and Garden: The Paradox of ParadiseRegister Now!
Saturday, January 20th; 9:00 A.M. - 5:30 P.M.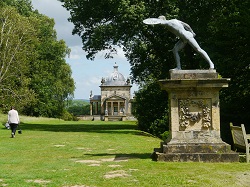 The age-old impulse to build a villa is a fundamentally paradoxical one, which nevertheless strikes at the heart of what it means to build and what it means to dwell on this earth. A villa, set, as it inevitably is, in a garden, is a "home away from home." Why do we seek such a place? What ultimately does the villa and its garden represent? How have architects and landscape architects addressed these over the centuries? In a lecture and discussion format, this seminar will explore the villa and garden tradition from antiquity to the present.
Instructor: David Gobel
Pre-Requisites: None
Cost: $145 for members, $175 for non-members
Meeting Location: 20 West 44th Street, Suite 310, New York, NY 10036
Credits: 7 AIA LUs and 7 credits towards the Certificate in Classical Architecture