Japan: Architectural, Decorative Arts & Garden Treasures - Sold Out
November 10-20, 2017
This tour is currently sold-out.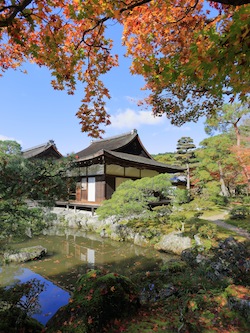 Tour arranged by Exclusive Cultural Tour Programs
The Institute of Classical Architecture & Art (ICAA) is pleased to announce an exclusive tour of the treasures of Japan, during which participants will be received by members of the Japanese cultural elite for exclusive visits of historic estates, offering a rare opportunity to savor unique architecture, art collections, and gardens in Kyoto, Nara, Naoshima Island, Nikko, and Tokyo.
Highlights of this tour include:
Kyoto:
Walking tour with an expert of Japanese wooden architecture in the old Gion district to explore traditional architecture of tea houses, restaurants, and geisha houses


Private visit to the Katsura Imperial Villa and Gardens, one of Japan's most important large-scale cultural treasures. The villa and garden in their present forms were completed in 1645 as the residence for the Katsura Family, members of Japan's Imperial Family


Curator-led visit to the Kyoto National Museum, one of Japan's oldest and most distinguished museums, hosting a wide variety of Japanese archaeological relics, sculptures, ceramics, calligraphy, costumes, and paintings


Curator-led visit to the Miho Museum, designed by renowned architect I.M. Pei, located in the Shiga mountains outside Kyoto. The Museum houses Mihoko Koyama's private collection of Asian and Western antiques. Highlights of the collections have been featured in traveling exhibitions at the Los Angeles County Museum of Art and the Metropolitan Museum of Art in 1996


Exclusive Tea Ceremony inside the Sagawa Museum, an architecturally unique museum where the tea room is constructed under the water garden to resemble a floating isle. You will admire raku bowls, masterpieces crafted by the ceramic artist Raku Kichizaemon, 15th generation member of the Raku family. For 450 years, successive generations of the Raku family have passed down the raku technique and tradition without any modification


Visit to the Sanjusangendo Temple, built in 1164, known for its Hall of Thirty-Three Bays, Japan's longest wooden structure, housing 1,001 large wooden statues of Kannon, the Goddess of Mercy


Visit to the emblematic complex of Nara, former capital of Japan from 710 to 794, where eight temples, shrines, and ruins remain and collectively form "Historic Monuments of Ancient Nara," a

UNESCO

World Heritage Site, accompanied by an architectural historian. Discover en-route the Great Buddha at the Todai-ji Temple complex


Teshima Island & Naoshima Island:
Accompanied by a curator, we will visit the Teshima Art Museum, housing one of the most intriguing contemporary installations in Japan, uniting the creative visions of artist Rei Naito and architect Ryue Nishizawa. The museum stands on a hill, overlooking the Seto Inland Sea; in this setting, nature, art and architecture come together in limitless harmony


Visit to Naoshima Island, Japan's major destination for avant-garde art and architecture with unique buildings designed by architect Tadao Ando and outdoor artworks by world-renowned artists such as Yayoi Kusama, Hiroshi Sugimoto, Niki de Saint Phalle, Dan Graham, and Michelangelo Pistoletto


Curator-led visit to the Chichu Art Museum, where we will admire works by Claude Monet, Walter De Maria, and James Turrell. We will also visit the Lee Ufan Museum


Tokyo & Nikko:
Lunch at the Park Hyatt Tokyo's New York Grill to savor the best wagyu (Kobe beef) in Tokyo and admire a stunning view of the city


Tour by private luxury coach to admire the architectural treasures of Tokyo, designed by world-renowned architects such as Le Corbusier, Frank Lloyd Wright, Tange Kenzo, and Tadao Ando


Visit to the Meiji Shrine complex, dedicated to the deified spirits of Emperor Meiji and his wife Empress Shoken. Surrounded by a large forested area, the main shrine buildings offer a peaceful atmosphere contrasting with the densely built-up and bustling city of Tokyo


Dinner at the members-only Tokyo American Club, an extravagant and magnificent contemporary complex, designed by the acclaimed American architectural firm Pelli Clarke Pelli, where we will be welcome by prominent members


Stroll in Ueno Park, followed by a curator-led visit to the Nezu Museum, founded in 1941 to conserve and exhibit the collection of pre-modern Japanese and East Asian art that Nezu Kaichir (1860-1940) had passionately built


Visit to one of the last traditional kimono makers, Yasutaka Komiya, designated as a "holder of important intangible cultural property" and as an "honorary citizen of Tokyo," using old dyeing techniques, hand paintings and gold embroidery


Day trip to Nikko, a stunning concentrated consortium of Japan's spectacular temples, with gorgeous mountain scenery, waterfalls, huge ponderosa pines, cedars, and fall foliage


Visit to Ryuzu Waterfall and Lake Chuzenji, as well as the elegant Italian Embassy Villa, a former summer residence of the Italian Ambassador to Japan, located on the southeastern shore of Lake Chuzenji


Farewell dinner at the private residence of a distinguished art collector


This tour will be led by Dr. Monika Hinkel, lecturer and curator in the field of Japanese art, architecture and gardens. Dr. Hinkel is a Research Associate of the Japan Research Centre at SOAS, University of London, the only Higher Education institution in Europe specializing in the study of Asia, Africa and the Near and Middle East. Dr. Hinkel was Curator of Japanese art at the Museum of East Asian Art in Cologne, and spent three years as a Guest Researcher at the Gakushuin University in Tokyo.
Participants will enjoy five-star accommodations at the Hyatt Regency Kyoto, the JR Hotel Clement in Takamatsu, and the Capitol Hotel Tokyo.

For more information and to register: Please email Pamela Huntington Darling: pdarling@exclusiveculturaltours.com; or call (Paris, France) Tel. +33 1 45 67 62 81. Website: www.exclusiveculturaltours.com

The tour price is $10,995 per person double occupancy; $12,990 single occupancy. Please note a fully tax-deductible donation of $500 per person is required to participate in this Travel Program.
To make your required donation, click here.
Image Credit: Wikimedia Commons/Martin Falbisoner, Wikimedia Commons/Kimon Berlin, Wikimedia Commons/Jaycangel, Wikimedia Commons/Gorgo
All Travel Program participants receive a complimentary Individual level membership for one year to the ICAA.