Texas ~ Chapter News
2014-2015 Texas Chapter Events

SAN ANTONIO

September 2014: ICAA Young Professionals Event
November 2014: Walking Tour of King William
February 2015: Sketching at the San Jose Mission with Artist Thom Ricks
March 2015: Ranch Tour/San Antonio
April 2015: San Antonio Artisans Events Featuring Three Local Artisans

DALLAS

September 30, 2014; 5:30 PM
Lambert's Garden Show & Panel Discussion at a private home
Panel: Larry Boerder, Paul from Lamberts, Barbara Vessels, Rusty Goff
October 3 & 4, 2014
State Wide Event – Architectural Symposium
The Texas Chapter of the ICAA will host a two-day symposium in Dallas focusing on the redevelopment of the Old Parkland Hospital Campus.
October 21, 2014
Book Signing with Betty Lou Phillips at the Waterworks Showroom, partnering with LUXE Magazine
November 22, 2014
Fort Worth – An afternoon lecture by author Judith Miller on the arts and crafts movement.
Visit www.classicist-texas.org for more details and registration for the above events.
Contact Us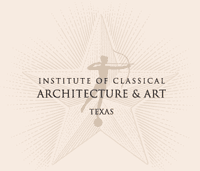 For questions about the Texas Chapter, please contact Chapter Coordinator, Joyce Bryant at joyce@icaatexas.org.
Visit our Web site!