Texas ~ Chapter News
2014-2015 Texas Chapter Events

SAN ANTONIO

November 2014: Walking Tour of King William
February 2015: Sketching at the San Jose Mission with Artist Thom Ricks
March 2015: Ranch Tour/San Antonio
April 2015: San Antonio Artisans Events Featuring Three Local Artisans

DALLAS

November 22, 2014
Fort Worth – An afternoon lecture by author Judith Miller on the arts and crafts movement.
Visit www.classicist-texas.org for more details and registration for the above events.
Contact Us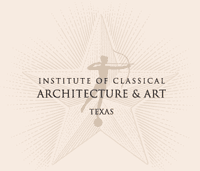 For questions about the Texas Chapter, please contact Chapter Coordinator, Joyce Bryant at joyce@icaatexas.org.
Visit our Web site!