Certificate in Classical Architecture 2012-2013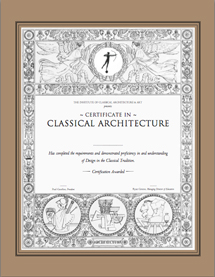 The Certificate in Classical Architecture provides continuing education students with a working knowledge of architectural classicism as a practical discipline. Participants learn how to identify the elements of the classical vocabulary and to draw, render, and design with them to form an understanding of the basic theoretical tenets on which the classical tradition is founded.
Enrollment in the Certificate Program, now in its 12th year, continues to represent an important commitment to the classical tradition The Certificate in Classical Architecture Program was redesigned in the 2011-2012 academic year to reflect the exponential growth of programming offered by the ICAA both here in New York and at its fifteen chapters nationwide, as well as the groundbreaking launch three year's ago of the full-time Beaux-Arts Atelier (BAA) program.
Credit Requirements
The Certificate is awarded to individuals who complete one of the ICAA's professional intensive programs, as well as a selection of elective academic programming. Total credit hours for the program is 100, balanced as such between required and elective coursework. Additional information regarding credit requirements may be found here.
Certificate Programming
The Winterim Professional Intensive, held annually at the ICAA National offices, represent the foundation of the Certificate in Classical Architecture. The Professional Intensive program is designed to provide current and future design professionals with the unique chance to receive in-depth training in the principles of classical design, in both its technical and artistic dimensions.
Professionals and educators currently active in the field of traditional design instruct students in the following: Traditional Drafting by Hand, Architectural Wash Rendering, Theory of Proportion, A Comparative Study of the Orders, Linear Perspective, Observational Drawing, and the Literature and Theory of Classical Architecture. Classroom hours are balanced between time spent in the studio, time engaged in lecture or discussion, and guided site visits to various New York City landmarks.
Elective requirements may be completed by attending regularly scheduled Continuing Education courses, including approved Chapter courses and events. Certain academic lectures, conferences, walking tours and travel programs may be counted toward elective credits; corresponding elective credit hours are generally noted in promotional materials.
To inquire about the Certificate Program, please email the Education Department at education@classicist.org, or contact Ryan Greene, Managing Director of Education, (212) 730-9646, ext. 116.
Enroll online in the Certificate in Classical Architecture Program