Certificate in Classical Architecture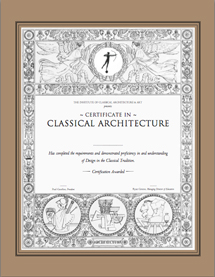 The Certificate in Classical Architecture program provides architects and designers with a working knowledge of classical design and history. Participants learn to identify, draw, and render the classical elements, and apply the classical tradition within a professional context. Students can expect to receive in-depth training in the following areas: Traditional Drafting by Hand, Architectural Wash Rendering, Theory of Proportion, A Comparative Study of the Orders, Linear Perspective, Observational Drawing, and the Literature and Theory of Classical Architecture.
Credit Requirements
The Certificate is awarded to individuals who complete 100 credits of ICAA coursework, including a Professional Intensive.
PARTNERSHIP

WITH

THE

UNIVERSITY

OF

COLORADO

DENVER

SCHOOL

OF

ARCHITECTURE

AND

PLANNING

The University of Colorado Denver College of Architecture and Planning offers a topic area in Classical architecture for its Master of Architecture students who wish to receive the ICAA Certificate in Classical Architecture.

Enroll online in the Certificate in Classical Architecture Program