The Elements of Classical Architecture: The Corinthian OrderRegister Now!
Saturday, January 28; 8:30 AM - 1:30 PM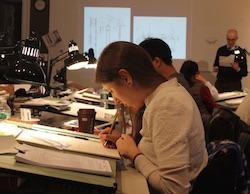 Acting as a base to the wider canon of classical architecture, the five classical orders have been used since antiquity as a means of proportioning buildings in a harmonious way, while simultaneously giving tectonic logic and associated meaning. The purpose of this course is to provide an in-depth study of the Corinthian Order, including its history and proportioning. The history will cover the evolution of this order, from its roots in Ancient Hellenic Cultures through its rediscovery in the modern-day movement of New Classicism. The study of Corinthian proportions will include a hand-drawn tutorial in which participants will compose the order on paper according to The Temple of Vespasian in the Roman Forum, widely held to be one of the most refined versions from antiquity.
Instructor: Mason Roberts
Meeting Location: 20 West 44th Street, Suite 310, New York, NY
Pre-Requisites: None
Cost: $90 for members, $110 for non-members
Credits: 5 AIA LUs