The Elements of Classical Architecture: The Ionic Order Register Now!
Saturday, October 22, 8:30 a.m. - 1:30 p.m.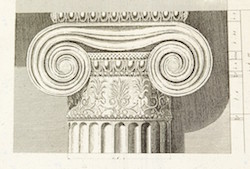 Join the ICAA for an introductory course on the components of the Classical Orders, with particular emphasis on and detailed instruction in drawing the Ionic Order. The Classical Orders have guided the practice of classical architecture since antiquity and this course will present a spectrum of detail and proportional relationships. Participants will examine the Ionic Order type as presented by Renaissance architects, such as Vignola, and will create a freehand drawing of the Ionic column and entablature.
Instructor: David Rinehart, Robert A.M. Stern Architects
Meeting Location: 20 West 44th Street, Suite 310, New York, NY
Pre-Requisites: None
Credits: 5 AIA LUs
Cost: $80 for ICAA members, $120 for non-members
Materials: Sketchbook for notes and sketches
Image: Stuart and Revett, Plate XI, Vol. II, Chap.II.
Please email education@classicist.org or call (212) 730-9646 with questions about the course or registration.
Please refer to our cancellation policy here.