Selling the Dwelling: The Books that Built America's Houses, 1775-2000Register Now!
Saturday, January 21; 11:00 AM - 1:00 PM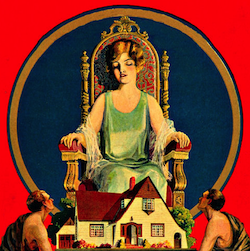 This lecture will explore the evolution of the house design book in the United States. Throughout its history, America has depended upon books as a chief source of design for almost all of its houses. A specialized form of literature developed to serve the interests of those engaged in designing and constructing houses, the most essential type of building. Examples of the more visually arresting or socially compelling volumes will be highlighted during the event, books that reveal the character of our country as much as they do the style of the houses in which we have chosen to live.
Instructor: Richard Cheek, Architecture Historian and author of Selling the Dwelling: The Books that Built America's Houses
Location: 20 West 44th Street, Suite 310, New York, NY
Pre-Requisites: None
Continuing Education: 2 AIA LUs
Cost: Free for ICAA members, $45 for general public
Please email education@classicist.org or call (212) 730-9646 × 111 with questions about the course or registration.
Please refer to our cancellation policy here.
This class is generously sponsored by Lebert Antiquities.