Courses
20th Century Architecture in New York (and the World): An Inclusive HistoryRegister Now!
4 Sessions: Wednesdays, September 6th, 13th, 20th, & 27th; 6:30 P.M. - 8:30 P.M.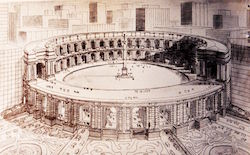 This four-part illustrated lecture series covers the architecture of New York from World War I to the present day. Topics include the Beaux-Arts tradition, the development of modern ornamental styles through the 1920s and 1930s, the increasing influence of Central European Modernism and the dominance of that Modernism after World War II, the persistence of classical and traditional forms through the postwar years, and the pivotal role of New Formalism, among other topics.
Instructors: Francis Morrone; Katherine Hanson (TA)
Pre-Requisites: None
Cost: $145 for members, $175 for non-members
Meeting Location: The General Society Library at 20 West 44th Street, First Floor, New York, NY 10036
Credits: 8 AIA LUs