Courses
Architectural Watercolors Master Class Register Now!
One Saturday Session: October 25, 2014; 10:00AM – 4:00PM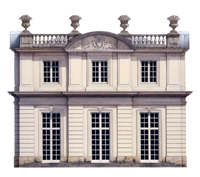 The ICAA is pleased to present a unique opportunity to learn from the masters: Author-artists Andrew Zega and Bernd H. Dams are celebrated for their luminous and exacting watercolors of historic garden architecture. Their authoritative restitutions of historic buildings are rendered in a highly realistic watercolor technique that has become their trademark.
This lecture-demonstration master class will include an historical overview of architectural rendering as well as a walk-through of a rendering drawing to finished watercolor. Topics covered in this master class will include: materials and tools, as well as techniques and working methods that the artists have developed in their practice. Additional topics are as follows: esthetic questions of handling light, creating texture effects, shades and shadows, palette, color theory and use, and the importance of reference materials. Finally, this course will include a hands-on demonstration and a final period of critique and discussion.
Instructors: Andrew Zega and Bernd H. Dams, 2011 Arthur Ross Award Laureates for Fine Art
Location:  ICAA, 20 West 44th Street, 3rd Floor, New York, NY
Cost/ Continuing Education Hours: $195 ($155 Members); 5 AIA/CES LUs