Courses
Building Craft: Ornamental & Architectural Metal DesignRegister Now!
Saturday, September 23rd; 9:00 A.M. - 1:00 P.M.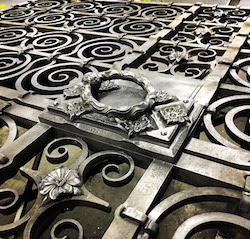 Join instructor Zoltan Kovacs at Covax Atelier in Clifton, New Jersey for a glimpse into the work and craft of the blacksmith. This course begins with an abridged screening of the documentary Devil's Blacksmith, which highlights the well-known yet never perfected efforts to reconstruct the wrought-iron band hinges of the Cathedral of Notre Dame in Paris. Following the film, there will be a presentation on the design and fabrication processes of the contemporary ironwork at the new Residential Colleges at Yale University. This presentation will demonstrate the ancient blacksmith techniques seen in the movie both on a smaller scale and applied on a larger scale. A hands-on demonstration will follow, allowing participants to forge their own piece of ornamental ironwork.
Instructor: Zoltan Kovacs
Pre-Requisites: None
Cost: $75 for members, $110 for non-members
Meeting Location: Covax Atelier, 242 Getty Avenue, Clifton, NJ 07011
Required Materials: None
Credits: 4 AIA LUs