Courses
Elements of Classical Architecture: Drawing the Doric OrderRegister Now!
One Saturday Session: February 20, 2016; 10:00 AM - 4:00 PM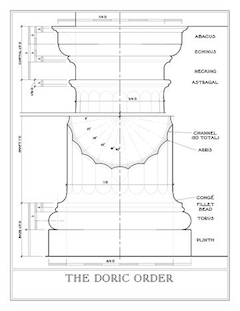 This course introduces the Doric order through freehand drawing. Participants will learn to layout the Doric column, entablature and pediment as canonized by Vignola, a Renaissance architect. The class will conclude with a sketch problem that combines the above elements to produce a façade of a simple Doric temple. To augment the sketch exercise, the instructor will present an illustrated lecture on the origins and development of the Greek Doric temple.
Instructors: David Rinehart, Architect, ICAA Fellow / Patrick Alles, Teaching Assistant
Location: ICAA, 20 West 44th Street, 3rd Floor, New York, NY
Cost: $185 ($135 Members)
Continuing Education: 5 AIA LUs