Courses
Elements of Classical Architecture: Drawing the Tuscan OrderRegister Now!
One Saturday Session: November 15, 2014; 10:00AM-1:00PM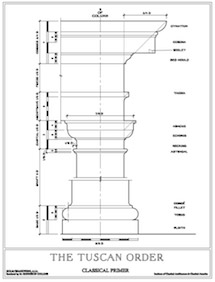 This course introduces the Tuscan order through freehand drawing. Participants will learn to lay out the Tuscan column, entablature, and pediment as canonized by Vignola, a Renaissance architect. The class will culminate in the drawing of a Tuscan temple façade. Alternative versions of the Tuscan, including historical examples of the order, will also be presented. The course includes both lecture and studio instruction. The instructor will provide step-by-step instruction for drawing the order as students follow in their notebooks. A brief PowerPoint presentation will provide the students with images of variations of the Tuscan.
Instructor:  Michael Mesko, ICAA Fellow 
Location: ICAA, 20 West 44th Street, 3rd Floor, New York, NY
Cost/Continuing Education Hours: $120 ($85 Members); 3 AIA/CES LUs