Courses
Elements of Classical Architecture: Introduction to Classical MouldingsRegister Now!
ONE SATURDAY SESSION: November 1, 2014; 9:00AM–1:00PM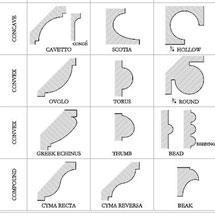 A good place to start when studying the classical language of architecture is with an overview of the geometry and terminology of mouldings, the smallest classical parts—sometimes referred to as the ABCs or 'atomic units' of classical architecture. All of the more complex classical elements and forms are composed of a combination of these smaller elements and are therefore more easily understood and appreciated when one is familiar with the nomenclature of the individual parts. They also crystallize, in minute form, many of the ideas that define classicism itself. Participants will learn to distinguish and draw the major profile types and explore their origins, purpose, and some of the theory involved in their application. Course instruction may combine both studio and (weather/time permitting) field study. Participants will have an opportunity to draw the most typical classical molding profile types with guidance provided by the instructor and T.A.
Instructor: Michael Mesko, ICAA Fellow & T.A. (TBA)
Location: ICAA, 20 West 44th Street, 3rd Floor, New York, NY
Cost/Continuing Education Hours: $160 ($115 Members); 4 AIA/CES LUs