Courses
Greek and Roman Sculpture at the Metropolitan Museum of Art I: Archaic and Classical Register Now!
One Saturday Session: Saturday, February 9, 2013; 10am-1pm at the Metropolitan Museum of Art & 2:30–5:30pm at the ICAA.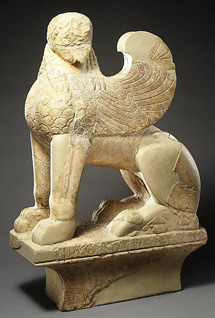 The development of the human form in sculpture during the Archaic and Classical periods reveals much about Greek attitudes about life, death and aretas ("excellence"). The kouros is emblematic of the Archaic period, and the later periods will be considered using a combination of Classical funerary material and Roman copies. This course examines Archaic and Classical Greek sculpture in terms of iconography, style, material, and tools, as well as the art historical tradition. Particular emphasis is cast on sculptural relief and architectural elements on display in the Greek galleries. The first course meets at the Metropolitan Museum, and the second class meets at the ICAA. The on-site class introduces a number of concepts through objects. These broad, cultural and more specific technical and art historical concepts are reintroduced and developed in the second class at the ICAA.
Instructor: Sarah Madole, Ph.D.
Location: ICAA, 20 West 44th Street, 2nd Floor, New York, NY & Metropolitan Museum of Art
Cost/Continuing Education Hours: $240 ($180 members); 6 AIA/CES CEHs