Courses
Pencil and Brush: Architectural WatercolorsRegister Now!
Thursday, OCTOBER 23, 2014; 6:30 PM RECEPTION; 7:00 PM LECTURE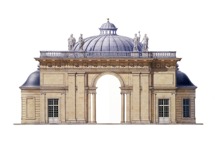 This richly illustrated lecture will survey both the architecture and gardens of seventeenth to nineteenth century Europe, as well as the architectural drawings of the author-artists Andrew Zega and Bernd H. Dams. Celebrated for their luminous and exacting watercolors of historic garden architecture, the Paris-based team are gifted polymaths, combining an encyclopedic knowledge of architecture, gardens and design with exceptional artistic skill. Their authoritative restitutions of historic buildings are rendered in a highly realistic watercolor technique that has become their trademark. Authors, watercolorists, historians and designers, Zega and Dams employ complementary training and skills to ensure that each of their investigative projects is rich in interpretive discoveries, as well as producing often revelatory drawings.
Focusing mainly on France, Europe's cultural and architectural tastemaker from the early baroque period until well into the nineteenth century, Zega and Dams examine the country's revolutionary fusion of state and culture and its profound effect on the course and form of classical architecture. In parallel, they survey the evolution of garden architecture over the same period, illustrated with their elevational watercolors of both built structures and unbuilt projects, from major buildings to expressive details. Strange bedfellows, classicism and exoticism were practiced in tandem by the period's greatest architects and stood shoulder-to-shoulder in Europe's most celebrated gardens.
Instructors: Andrew Zega and Bernd H. Dams, 2011 Arthur Ross Award Laureates for Fine Art
Location: Library at the General Society, 20 West 44th Street, New York, NY. Space is limited and reservations are recommended. To reserve, call (212) 730-9646, ext. 104 or register online.
Cost/Learning Units: FREE for ICAA members and employees of professional member firms; FREE for full-time students with current ID. $30 for the general public. 1 AIA CES LU available.