Courses
The Art and Practice of Geometric ProportionRegister Now!
Five Evening Sessions: Mondays, October 13 – November 10; 6:30 – 9:30pm
Offered in conjunction with the New York School of Interior Design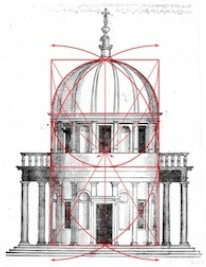 This course provides geometric methods for composing harmonious spaces and places. Lectures and studio workshops include: practical techniques for design applications; elementary drawings for producing proportional compositions; commentaries on geometric symbols; useful mathematical theorems and definitions; and analysis of harmonious proportions in world-famous art, architecture, interior and landscape design.
Instructor: Rachel Fletcher, Author of Infinite Measure: Learning to Design in Geometric Harmony with Art, Architecture, and Nature.
Location: NYSID, 170 East 70th Street, New York, NY
Cost/Learning Units: $485 ($415 ICAA members); includes $20 material fee; 15 LUs; 1.5 CEUs