Courses
The Elements of Classical Architecture: Introduction to Moldings
Saturday, September 30th; 10:00 A.M. - 3:00 P.M.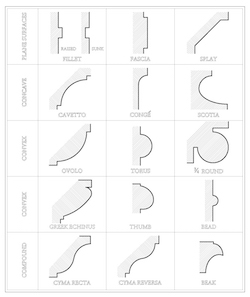 Registration for this course is now closed. Please contact programming@classicist.org with any questions.
A good place to begin a study of the classical language of architecture is with an overview of the geometry and terminology of classical moldings, the smallest classical parts. Moldings may be thought of as the 'a, b, c's' of classical architecture. The classical orders and related forms are composed of a combination of these smaller elements and are therefore better understood when one is versed in the grammar of the individual parts. Moldings also represent, in minute form, some of the ideas that define classicism itself. In this course, participants will learn how to distinguish major profile types and explore some of the guiding principles involved in their design and application. This course fulfills one of the core credit requirements for the Certificate in Classical Architecture.
Instructors: Patrick Alles and Michael Mesko; Adrian Taylor (TA)
Pre-Requisites: None
Cost: $75 for members, $110 for non-members
Meeting Location: 20 West 44th Street, Suite 310, New York, NY 10036
Required Materials: Sketchbook or drawing pad, drawing pencils, mechanical pencils or lead holder with drawing leads (medium and soft leads: F, HB, B, and 2B recommended), eraser, pencil sharpener or lead sharpener, drawing compass, and architect's scale
Credits: 4 AIA LUs