2016 Stanford White Awards
Wednesday, December 7, 2016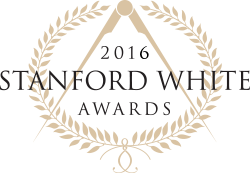 The 2016 Stanford White Awards are currently sold out. Please contact stanfordwhiteawards@classicistny.org to place your name on the wait list.
The New York Chapter of the Institute of Classical Architecture & Art announces the fifth annual Stanford White Awards for Excellence in Classical and New Traditional Design. The awards recognize achievement in individual projects in architecture, interiors, landscape, urbanism, and building craftsmanship & artisanship throughout New York, New Jersey, and Fairfield County, Connecticut. The awards program is named in honor of Stanford White (1853-1906), of the distinguished New York firm McKim, Mead & White, whose legacy of design excellence and creativity in architecture and the related arts continues to serve as a source of inspiration and delight.
This year, projects will again be chosen in the following categories by a panel of distinguished jurors, and winners will be celebrated at an awards reception on December 7, 2016.
Sponsor the 2016 Stanford White Awards
Contact 212.730.9646 ×106 or email development@classicist.org for more information.
2016 Stanford White Awards Sponsors
E.R. Butler & Co.
Rusk Renovations
S. Donadic Inc
Flower Construction
Frank de Biasi Interiors
John B. Murray Architect
Les Metalliers Champenois – Horus Bronze Corp.
Peter Pennoyer Architects
Reilly Windows & Doors
Ben Krupinski Builder
Bernsohn & Fetner LLC
Clark Construction Corp.
Charlotte Moss
Chesney's
CNR Group
COVAX Ornamental and Architectural Metal Design and Fabrication
Eric J. Smith Architect
Integkral Design & Construction LLC
Lichten Craig Architecture + Interiors
Marmi Natural Stone
The Nanz Company
Nordic Custom Builders, Inc.
Remains Lighting
RINCK
Robert Bump Construction
Sarah Blank Kitchen and Bath
Sawyer/Berson
The Urban Electric Co.
V. DiSalvo Contracting Co.
Vella Interiors
Waterworks
Xhema Construction
Zepsa Architectural Woodwork