Zoning for Public Good
Thursday, January 26, 2017; 6:30pm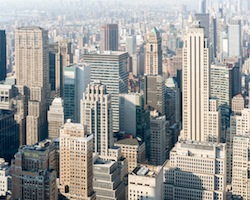 The ICAA is pleased to present "Zoning for Public Good" in partnership with the Museum of the City of New York. In the face of rapid new development, New Yorkers are grappling with how to best ensure that private investment doesn't come at the expense of access to some of the city's most valuable assets: open space, transportation, and affordable housing. Through zoning, the city is helping to foster this balance, creating benefits for the public as seen in examples such as Brooklyn Bridge Park and Mayor Bill de Blasio's affordable housing plan. To view all of the programs in conjunction with Mastering the Metropolis: New York and Zoning, 1916-2016, click here.
Tom Angotti, Director, Center for Community Planning and Development, Hunter College
Daniel Garodnick, New York City Council Member
Joe Rose, Chair, The Rose Center for Public Leadership in Land Use
Madelyn Wils, President and CEO, Hudson River Park Trust
Moses Gates (moderator), Director of Community Planning & Design, The Regional Plan Association
Location: The Museum of the City of New York, 1220 Fifth Ave & 103rd St., New York, NY 10029
Cost: $20 for adults, $15 for seniors, students & educators (with ID), $10 for ICAA & MCNY members. Includes Museum admission. To purchase tickets, click here. Use code ZONE for $10 tickets.
Image Credit: Rob Stephenson, Midtown Manhattan, 2016. Courtesy of the photographer/Museum of the City of New York