Lectures, Tours, Events
Tuesday, September 30, 2014; 6:30–8:00 PM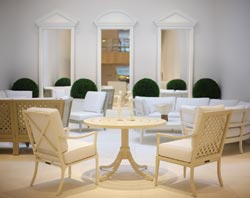 The ICAA cordially invites you to a members' reception at the McKinnon and Harris New York Showroom. McKinnon and Harris has been handcrafting high performance aluminum furniture for estate, garden, and yacht since 1991. Their thoughtfully designed New York space highlights the brand's commitment to making furniture the right way, and in turn crafting heirlooms that are built to endure. McKinnon and Harris wanted to design a showroom using historical materials that have proven their usefulness and life for hundreds of years, and the showroom materials – such as limestone, rift sawn oak, and dramatic architectural pieces, speak quietly about the principles of sustainability that are at the core of the company.
Location: McKinnon and Harris, 211 E. 59th Street, New York, NY 10022
RSVP required. Must be a current ICAA member to attend. Reserve online or call (212) 730-9646 to RSVP.