Lectures, Tours, Events
Newport Villas: The Revival Styles 1885 – 1935Register Now!
Thursday, October 8; 6:30 pm Reception; 7:00 pm Lecture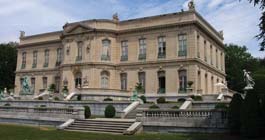 This program is co-partnered by Sir John Soane's Museum Foundation
Join author and architectural historian, Michael C. Kathrens, for an enlightening description of the architectural and social development of Newport, the nexus of wealth and fashion at the end of the nineteenth century. To accommodate their entertaining in "cottages" that ranged from thirty to seventy rooms, Newport's elite engaged the country's most accomplished architects. This period is the subject of Mr. Kathren's new book Newport Villas: The Revival Styles 1885 – 1935 (W.W. Norton, January 2009). ICA&CA members will remember Mr. Kathrens from his previous book, The Great Houses of New York as well as from his walking tours.
Library at the General Society, 20 West 44th Street, 6:30 pm reception and book signing; lecture to follow at 7:00 pm. Contact Leah Aron, Education Programs Coordinator, la@classicist.org or call (212) 730-9646, ext. 101.
Cost/Learning Unit: Free for ICA&CA members and employees of professional member firms. $10 for the general public. Space is limited; reserve online or by calling (212) 730-9646, ext. 109. 1 AIA/CES LU (Theory).
This program is supported, in part, by public funds from the New York City Department of Cultural Affairs, in partnership with the City Council.
Fall Public Programs are generously sponsored by Balmer Architectural Mouldings.