Lectures, Tours, Events
The 6th Annual Stanford White AwardsRegister Now!
Wednesday, December 6, 2017; 6:00PM - 9:00PM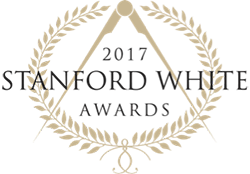 Join the ICAA in celebrating this year's laureates in a ceremony at New York's Metropolitan Club. Tickets are now available at the price of $250.
The winners for the 2017 Stanford White Awards have been announced.
Location: The Metropolitan Club of New York, 1 East 60th Street, New York, NY 10022
Cost/Reservations: Tickets are now available. Reservations are required.
Thank you to our sponsors:
Gold Sponsors:
Artistic Doors and Windows
Flower Construction
Hyde Park Mouldings
Les Métalliers Champenois – Horus Bronze Corp.
Silver Sponsors:
D. Reis Contracting Corp.
Highline Construction Group
Peter Pennoyer Architects
Reilly Windows & Doors
Rusk Renovations
S. Donadic Inc.
Tischler und Sohn USA Ltd.
Vella Interiors, Inc.
Bronze Sponsors:
Berkshire Wilton Partners, LLC
Blue Square Consulting
Clark Construction Corp.
COVAX Design
Hollander Design Landscape Architects
Janice Parker Landscape Architects
Linda London Ltd.
Marmi Natural Stone
Remains Lighting
RINCK
Sawyer | Berson
Traditional Cut Stone Ltd.
V. DiSalvo Contracting Co., Inc.
Waterworks
Zen Restoration Inc.
Award Sponsor:
E.R. Butler & Co.
View sponsorship opportunities for the 6th Annual Stanford White Awards here, or email development@classicist.org to learn more about sponsoring the Awards.