Lectures, Tours, Events
The Vintage House: A Guide to Successful Renovations and Additions
Wednesday, February 22, 2012; Reception at 6:30 PM; Lecture at 7:00 PM
Sponsored by Carlisle Wide Plank Floors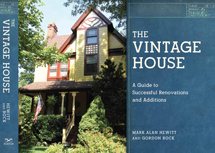 The Vintage House guides readers through typical projects and issues, such as finding more space within an existing footprint or blending in new windows or dormers without destroying historic character. Richly illustrated with color photos, plans, and drawings from nationally recognized architects, as well as examples from the authors' 30 year careers, this book shares analysis and experience from two of the nation's most respected old-house professionals: Mark Alan Hewitt, 2009 Arthur Ross Award recipient and long-time Classical America and ICAA member, along with Gordon Bock, former editor of Old House Journal.
"The Greenest House is the one that lasts the longest. In a useful book that is part architectural history primer and part building manual. Mark Alan Hewitt and Gordon Bock show how old houses can be given new life-sensibly and beautifully."
—Witold Rybczynski, author of Makeshift Metropolis
Location: Library at the General Society, 20 West 44th Street. Tickets available at the door.
Cost/Learning Unit: FREE for ICAA members and employees of professional members firms; FREE for full-time students with current ID; $20 for the general public.