Lectures, Tours, Events
What Would Hamilton Do? Historic Preservation in an Anti-Federalist EraRegister Now!
Monday, June 26, 2017; 5:30 P.M. Reception, 6:00 P.M. Lecture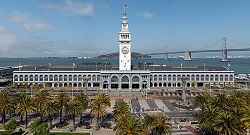 The ICAA is pleased to present a panel discussion, What Would Hamilton Do? Historic Preservation in an Anti-Federalist Era, in collaboration with the AIA New York Chapter. For more than 35 years, the Historic Tax Credit (HTC) has existed to preserve historic buildings and catalyze economic development, through the restoration and reuse of homes, businesses, schools, and community spaces across the country. Some have long sought to eliminate this and several other credits as a way of raising revenue and simplifying the tax code.
As the national debate around tax policy intensifies, AIANY and the ICAA host a discussion with architects, academics, and preservationists to explore their particular perspectives on the Historic Tax Credit:
Lisa Easton, AIA, Partner, Easton Architects
Francis Morrone, Faculty, New York University
Samuel G. White, FAIA, LEED AP, Partner, PBDW
Andrew S. Potts, Partner, Nixon Peabody
Charlie Herman (moderator), Business and Culture Editor, WNYC
Please note that note that AIA CE credits will be offered to active AIA members through the AIA. For more information, click here.
Location: The Center for Architecture, 536 LaGuardia Place, NY, NY 10012
Cost/Reservations: Free for AIA members and ICAA members; $10 for general public.
Image Credit: JaGa / wikipedia.org