Genoa, Turin & Milan: Exceptional Private Estates, Gardens & Historic Sites
October 14-21, 2017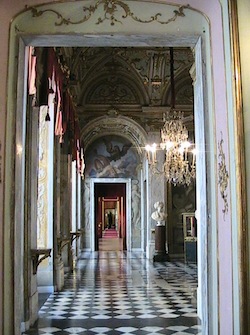 Tour arranged by Exclusive Cultural Tour Programs
Optional Extension: The Lakes – Saturday, October 21st to Wednesday, October 25th (departure): 4 days / 4 nights
The Institute of Classical Architecture & Art (ICAA) is pleased to offer this exceptional tour offering a rare opportunity to savor unique architecture, decor, art collections and gardens in Genoa, Turin, and Milan, with an optional extension to Lake Maggiore and Lake Como. The expert lecturer for this tour is John R. Tschirch, renowned architectural historian, writer, and photographer.
Contessa Violate Balbo Di Vinadio, maiden name Contessa dei Conti Brandolini, will accompany the group to emblematic private residences and sites, where we will be welcomed by their distinguished hosts.
Highlights of the tour include:
Genoa:
Private visit to the Castello Mackenzie, a historical manor offering a perfect example of Gothic Revival architecture. Built between 1893 – 1905, it was designed by Gino Coppedè, renowned Art Nouveau architect


Private reception at the Palazzo Nicolosio Lomellino, a Unesco World Heritage Site. The palace, built in the 16th century by the Lombard architect Giovanni Battista Castello, called Il Bergamasco, features admirable stuccowork and magnificent frescoes by Bernardo Strozzi. Here, the group will be welcomed by renowned architect Marquessa Cattaneo Adorno


Visit to the historic center of Casale Monferrato to admire its many splendid palazzi, dating from the 15th to the early 19th century, restored to baroque and neo-classical style


Private visit with the Owner to the Castello di Camino. Built in the 11th century and enlarged at the end of the 18th century, surrounded by a sumptuous park, overlooking the Basso Monferrato hills, Castello di Camino is considered one of the most beautiful castles in Italy, both for its architecture and its perfect state of preservation


Truffle discovery during the Alba White Truffle Festival & Lunch at a private estate in Racconigi, a baroque residence of French influence built in 1773 by architect Carlo Ceppi


Visit to the exquisitely well preserved 15th-century small town of Saluzzo, with cobbled streets, churches, and elegant palaces, perched on a hill overlooking a vast, lush plain, followed by a Private reception at the marvelous historic residence of an aristocratic family


Turin:
Dinner at the exclusive, members-only club Societa del Whist Accademia Filarmonica, of the Piedmont aristocracy and the elite, housed in a magnificent palace with exceptional décor


Private visit & Lunch at a historic residence with admirable décor and works of art, welcomed by the owners, an aristocratic Italian family


Dinner at the private residence of a distinguished art collector


Private visit to the Bramafam Revello garden & Lunch with the owner, Paolo Pejrone, student of Russell Page and among Italy's leading garden designers


Private visit to the residence gardens of a distinguished Italian family, one of Italy's most splendid examples of garden design, with Paolo Pejrone


Private visit to the Villa Silvio Pellico, a magnificent 18th-Century villa with an extraordinary garden designed by Russell Page


Milan:
Lunch at the prestigious, aristocratic, members-only club Circolo dell'Unione, whose members are of the old nobility of Milan and Lombardy, with admirable architecture and décor.


Early evening visit to Cenacolo Vinciano to view The Last Supper, painted by Leonardo da Vinci, closed to the public during our visit.


Private cocktail reception at the famous Galleria Lia Rumma, welcomed by Lia Rumma, a leading contemporary art gallerist presenting works of her private collection, including artists Michelangelo Pistoletto, Anselm Kiefer and William Kentridge.


Private visit and tea with Martina Mondadori Sartogo, founder of the new magazine Cabana, at her family residence designed by legendary decorator Renzo Mongiardino


Farewell dinner with prominent architect Piero Baldissera Castellini and his son, renowned interior designer Nicolò Castellini Baldissera, at their family residence Casa degli Atellani


Optional Extension: Lake Maggiore & Lake Como:
The tour of Lake Maggiore & Lake Como will be led by Steven Desmond, an architectural historian and landscape consultant specialized in the conservation of historic parks and gardens. Author of "Gardens of the Italian Lakes", Steven lectures at Oxford University and at the National Association of Decorative & Fine Arts Societies. He is an advisor on historic gardens to the National Trust and broadcasts for the BBC. He is also a Fellow of the Institute of Horticulture and Professional Associate of the Royal Horticultural Society.
Luncheon with Conte Jacopo Cicogna Mozzoni at his magnificent Villa Cicogna Mozzoni on Lake Maggiore, one of the most elaborate gardens of northern Italy displaying unique Renaissance frescoes.


Private visit to the Villa Visconti Borromeo Litta, inspired by the Medici villas in Tuscany, first built in 1585 by Count Pirro I Visconti Borromeo with architect Martino Bassi. This vast estate, with its sumptuous gardens spreading over 10 acres, houses an exceptional collection of mosaics, statues, frescoes, and more, by the leading artists of the time, including Francesco Brambilla, Marco Antonio Prestinari, Camillo Procaccini, and Giovanni Battista Volpino


Luncheon with the owner Azzurra Sommi Picenardi at Villa Sommi Picenardi, where the group will admire a beautiful example of a terraced Italian garden


Private visit to Villa Della Porta Bozzolo in Casalzuigno, built in the 16th century with an impressive Baroque terraced garden and water features added in the 18th century


Private visit to Villa Balbianello, where the natural setting on a promontory and the architectural harmony of the villa and garden make for one of the most impressive gardens of the area


Visit to Isola Bella with its monumental Baroque palace & majestic Italian gardens, offering a series of terraces planted with roses, oleanders and pomegranates, descending to the Lake


Farewell dinner at the historic and exemplary private residence of an aristocratic family on Lake Como


For more information and to register:
Please email Pamela Huntington Darling:
pdarling@exclusiveculturaltours.com;
or call (Paris, France) Tel. +33 1 45 67 62 81. Website:
www.exclusiveculturaltours.com
The tour price is $9,000 per person based on double occupancy. The tour price is $10,000 for single occupancy. For the optional extension, the tour price is $4,400 per person based on double occupancy and $4,800 per person for single occupancy. Please note a fully tax-deductible donation of $500 per person is required to participate in this Travel Program.
To make your required donation, click here.
Image Credit: Wikimedia Commons/Casalmaggiore Provincia, Wikimedia Commons/Daderot, Wikimedia Commons/Henry Kellner
All Travel Program participants receive a complimentary Individual level membership for one year to the ICAA.