Sir Edwin Lutyens' Country Houses of Southwest England
May 18-25, 2018
Tour arranged by Classical Excursions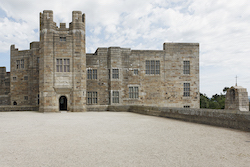 The ICAA is pleased to partner with Classical Excursions to offer this exclusive tour of privately owned country residences by legendary architect Sir Edwin Lutyens in southwest England. Lutyens was one of England's most prolific architects with more than 600 commissions in Great Britain, Europe, South Africa, India and the United States. He was considered the leading British architect of his generation, and today is considered an icon by architects and designers alike.
Renowned Lutyens scholar and author Gavin Stamp will give an introductory lecture and lead the group throughout the tour.
Highlights of this tour include visits to notable sites by Sir Edwin Lutyens, including Ashby St. Ledgers; Mells Manor in Somerset; as well as Abbotswood, Hestercombe, and Castle Drogo in Devon.
Please note that this itinerary is in formation and is subject to change.
For further information, contact contact@classicalexcursions.com, 860-926-4895.
Please note a fully tax-deductible donation of $500 per person is required to participate in this Travel Program.
Make your required donation here.
Image Credit: Wikimedia Commons/Antony McCallum
All Travel Program participants receive a complimentary Individual level membership for one year to the ICAA.