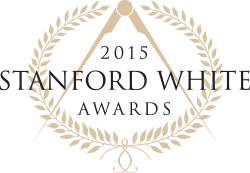 Stanford White Awards
The New York Chapter of the Institute of Classical Architecture & Art announces the fourth annual Stanford White Awards for Excellence in Classical and New Traditional Design. The awards recognize achievement in individual projects in architecture, interiors, landscape, urbanism, and building craftsmanship & artisanship throughout New York, New Jersey, and Fairfield County, Connecticut. The awards program is named in honor of Stanford White (1853-1906), of the distinguished New York firm McKim, Mead & White, whose legacy of design excellence and creativity in architecture and the related arts continues to serve as a source of inspiration and delight.
This year projects will again be chosen in the following categories by a panel of distinguished jurors, and winners will be celebrated at an awards reception in early December 2015.
Residential Architecture
New Construction Over 5,000 sq. ft.
New Construction Under 5,000 sq. ft.
Houses – Renovation and Additions
Townhouse and Apartments
Multi-Unit Projects
Ancillary Structures


Commercial, Civic, and Institutional Architecture
Interior Design and Decoration
Houses
Townhouses and Apartments
Commercial, Civic, and Institutional


Landscape Design
Historic Preservation
Craftsmanship and Artisanship
Work crafted by the entrant as a permanent element of an architectural project.


Planning and Urbanism
Student Project
Completed within the past 5 years for a project within the

SWA

awards region.


For submission requirements, please click here.
Sponsorship
We invite you to help support exceptional design in the greater New York area by sponsoring this important initiative. Sponsorship provides an opportunity to tailor visibility for your company to practitioners and building professionals producing some of the finest new traditional classical design in the country.
Images of the 2014 winning submissions can be viewed here.