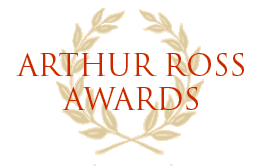 The Institute of Classical Architecture & Art announces the winners of the 2014 Arthur Ross Awards for Excellence in the Classical Tradition. In a dinner to be held in New York on Monday, May 5, 2014 at the University Club, the following will be honored, by category:
ARCHITECTURE

David M. Schwarz Architects, Washington DC
With its deep conviction to classical principles, the firm produces elegant designs for large scale public works: museums, concert halls, libraries, and sports arenas.
ARTISANSHIP

Dennis Collier, Bangor, Pennsylvania
His exacting woodcarving demonstrates that the brilliance of the mind can be expressed in the subtlety of the hand.
STEWARDSHIP
Salve Regina University, Newport, Rhode Island
In protecting the architectural legacy of its campus, the university has commissioned new buildings that harmonize with its historic structures.
SCULPTURE

Edward J. Fraughton, South Jordan, Utah
His sculptures inspire us to see beyond ourselves while enriching our world with the timeless qualities of grace, passion, and beauty.
HISTORY

/JOURNALISM/EDITING/PUBLISHING
Stephen Fox, Houston, Texas
One of the nation's outstanding architectural writers, the foremost chronicler of architect John Staub, he is the civic conscience of America's fourth largest city.
BOARD

OF

DIRECTORS

HONOR

Jacob Collins, New York
Founder of the Grand Central Academy and Water Street Atelier, renowned artist and teacher, he is a champion of humanism and the classical tradition.