Four Students from the Catholic University of America Attended the 2017 Summer Studio in Classical Architecture
The ICAA's Summer Studio in Classical Architecture introduces students to skills, knowledge, and resources essential to the practice and appreciation of classical design over the course of four weeks. The program serves as a complement or supplement to undergraduate programs across the United States, exposing many students to the foundations of classicism for the first time.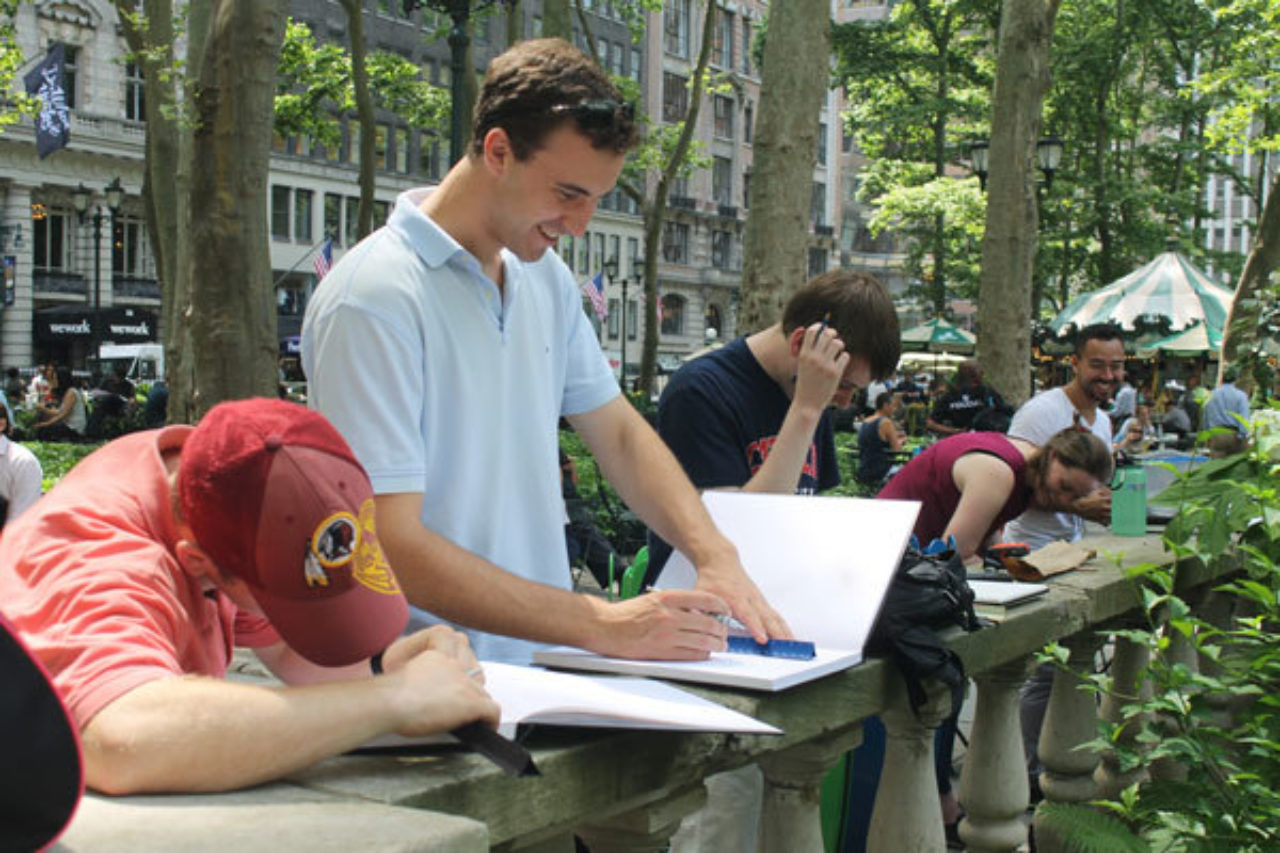 This year, the ICAA hosted four students from the Catholic University of America (CUA) in Washington D.C., one of the few universities in the country to offer a burgeoning classical program. We asked the CUA students about their experience in the Summer Studio, how it will help them to fulfill their professional goals, and more: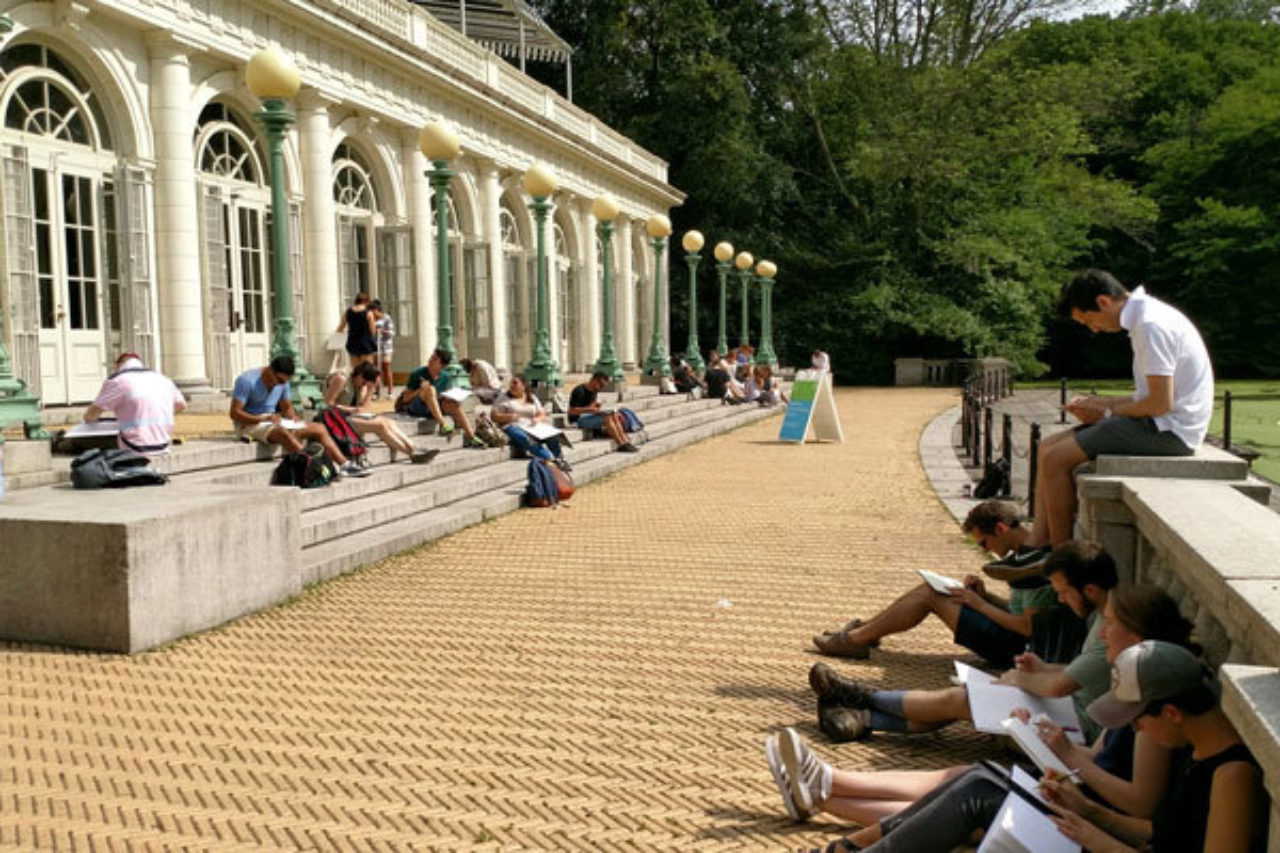 What have you appreciated the most about the Summer Studio in Classical Architecture?

Andrew Anderson: What I have appreciated most about the Summer Studio is how carefully the curriculum was constructed, so as to allow for a greatly well-rounded experience as well as a strong exploration of the specifics. In four weeks, we had the opportunity to explore the classical tradition from the perspectives of countless professionals in building design, urban planning, interior design, and historical literature, learn highly applicable skills such as wash rendering, light and shade drawing, and drafting techniques, explore and draw the classical architecture of New York, and visit multiple firms. Yet we were also able to learn the details, drawing and learning the parts of the orders, exploring proportioning systems at a great depth, and applying this knowledge to our pavilion design project.
Chas Winebrenner: The wealth of knowledge the ICAA brings its students is incredible. Having highly educated and experienced, practicing architects join the studio on a daily basis created an enriched and fulfilling environment for students to learn in.
Daniel Glasgow: I have greatly appreciated the personal interest that the professors, lecturers, and staff took in me and my education. The professors taught with a telos and competency that was both attractive and understandable
Tatiana Amundsen: I highly enjoyed the variety of courses involved in the Summer Studio. I am impressed by the quality of the instructors and the speed at which we were able to move from one subject to another.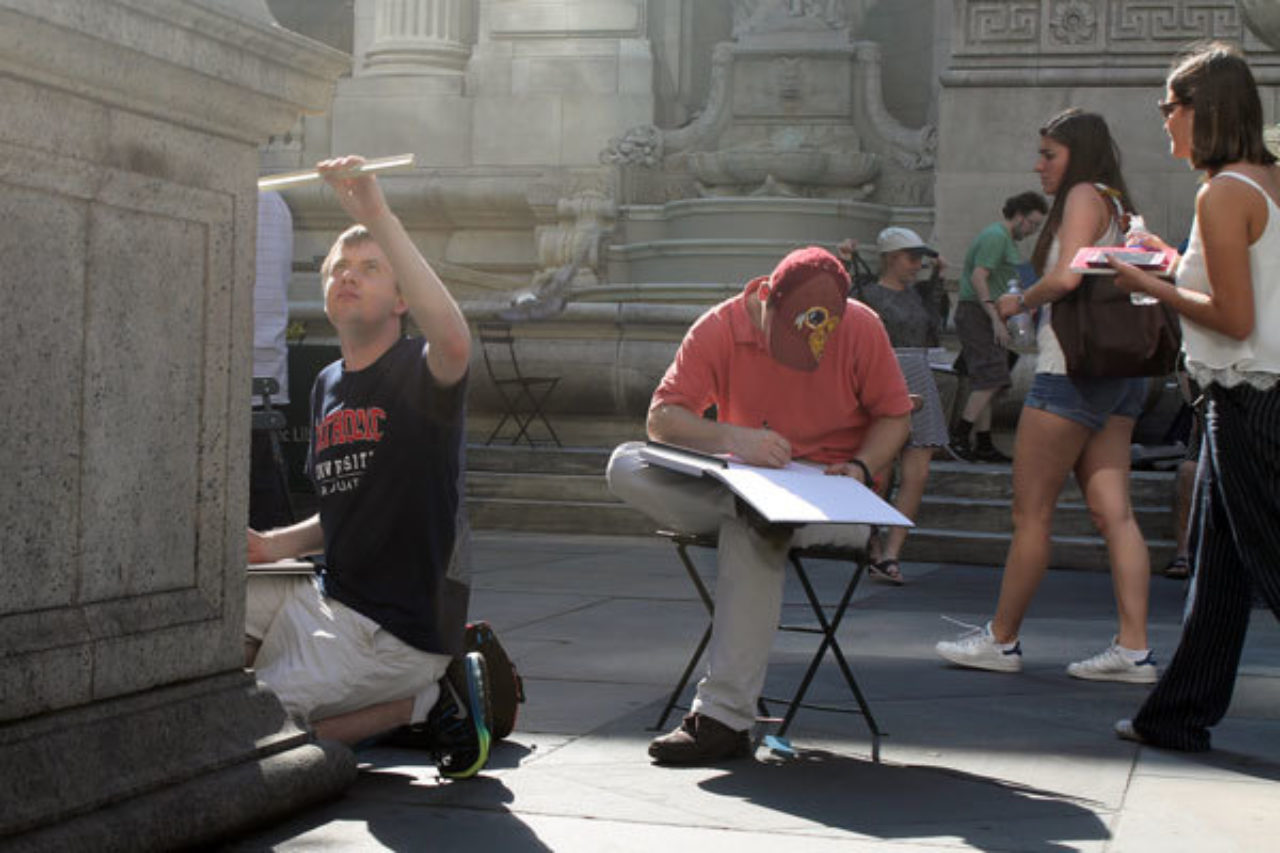 Has the Summer Studio changed your academic or professional goals at all? If so, how?
AA: During the Summer Studio, I was inspired in my professional goals the most by witnessing the dedication of all those who gave of their time, efforts, and resources to help me and my peers have the most valuable studio experience possible. Countless instructors, teaching assistants, coordinators and mentors went out of their way throughout the month to make sure that I personally was learning and growing as much as possible, showing me how supportive professionals in the traditional architecture network are. This has helped me realize the responsibility I have to, in turn, use what I have been given at the summer studio, and in my education at the Catholic University of America, for the benefit of others throughout my own career.
CW: Summer Studio has made me bring more of my attention toward working for a firm focused primarily with residential projects. The ICAA brings its students to many office visits ranging from commercial and residential to interior design, allowing students the opportunity to ask questions and get a feel for what the work is like within that discipline.
DG: Yes certainly! Classicism has been smoldering in the back of my mind for about a year and a half when I first became disappointed with parts modernism. At that time I did not understand what classicism was. I only thought that modernism fell short in some ways and hoped that there was something better. Now I know that classicism is a beautiful language and I look forward to pursuing it.
TA: The Summer Studio has helped me to realize that a career in traditional architecture is achievable and the place to start looking for mentors and networking is within the ICAA. The variety of activities involving student contact with professionals allowed me to begin to understand the type of people who work with traditional architects and to visualize what it would be like to become part of that community.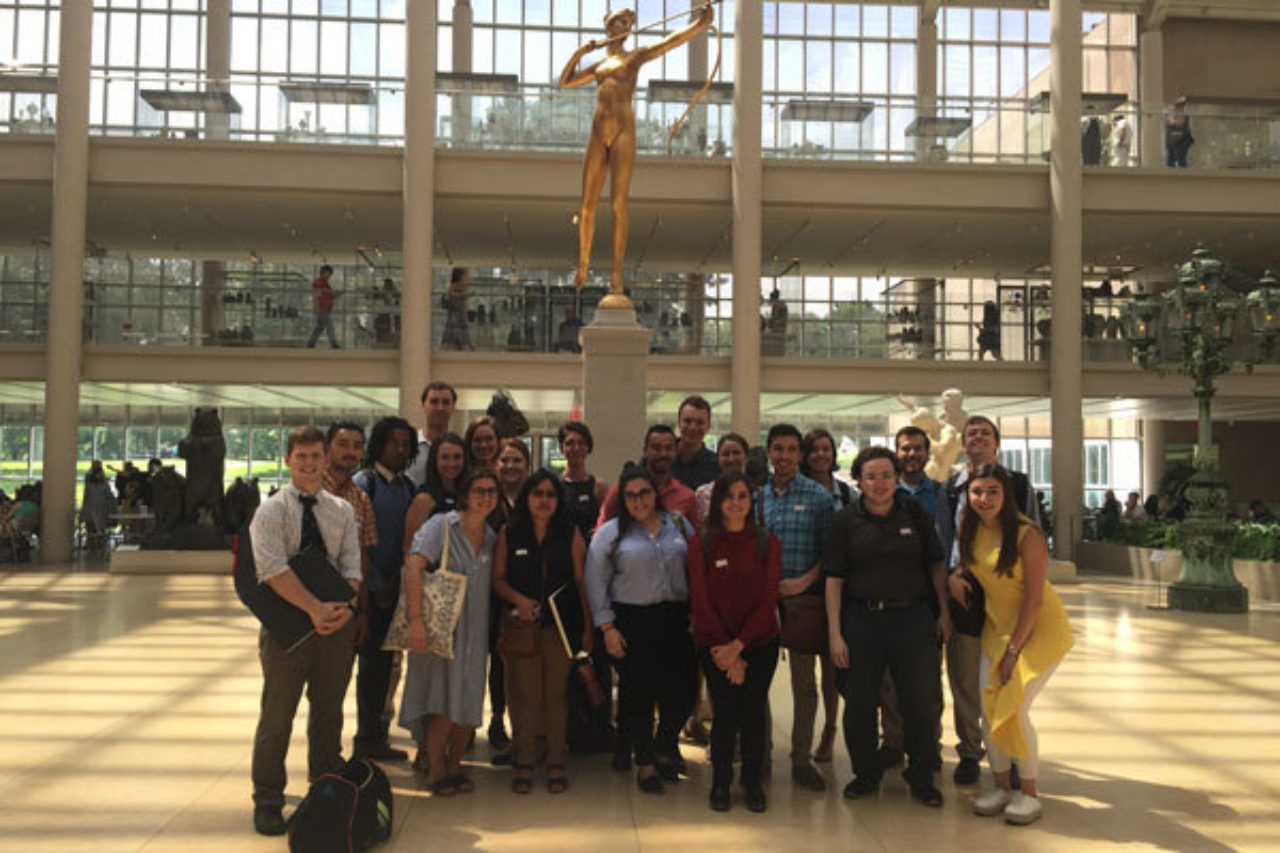 Were there any programs, field studies or field trips that you feel have enriched your education?

AA: Every field experience greatly complemented what I learned while in studio. Classical architecture is designed for the human experience, and drawing on location at a wide range of classical buildings and sites has helped me to understand and experience architecture in a way I couldn't in the classroom alone. I was specifically inspired when drawing the base of the Municipal Building in Lower Manhattan, as it was inspired by the Arch of Constantine and thus connected with my past experiences in Rome. Field studies at the Municipal Building and the New York Public Library later inspired the way I designed my arches and columns in my Prospect Park pavilion design project.
CW: Our trip to upstate New York enriched my education because of my interest in residential design. Being able to visit two homes and see how classicism can be applied and used within modern means of construction and materials from a first hand perspective was inspiring.
DG: The mentorship program was an impressive program. It was a joy to meet professionals who practice this kind of work, and hear from them about how classicism is done in the contemporary world.
TA: It was nice to visit so many firms! It was nice to see the differences in the character of each firm. I also highly enjoyed being able to learn from so many instructors especially given the quality of each. My interest was never slowed.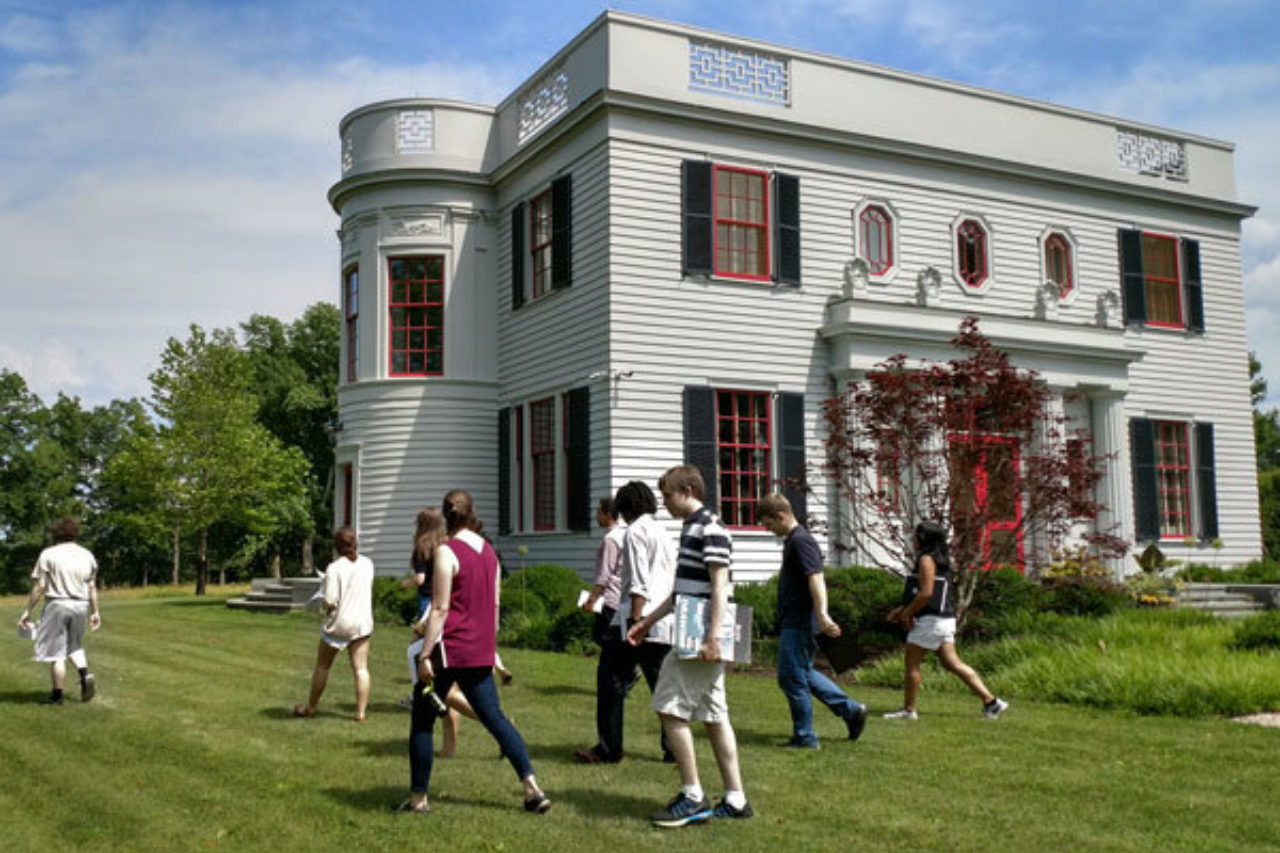 Is there anything you've learned that you'd like to further develop or investigate in the coming school year?

AA: When returning to work at a small firm the Monday after the Summer Studio, I immediately realized that through my training in the classical tradition I now had a specific type of architectural knowledge and experience that even a majority of professionals do not have. I am excited to explore and investigate how I can now use my specific experiences to contribute to a team in order to increase the quality of design projects, even when they are not specifically traditional.
CW: I learned many valuable skills in the design and representation of a project or idea. The most important skill I learned was during an esquisse exercise, allowing us to explore three distinct ideas and narrow it down to one within a predetermined time frame. I plan to also further develop my technique in wash rendering as well as hand drafting. The introduction of hand drafting and sketching enhanced my creative process without causing limitations that a computer drawing initially faces.
DG: I look forward to investigating the literature of classical architecture. I am grateful to the ICAA for providing me with a few excellent texts, and I am excited to take advantage of these resources.
TA: I took my first wash rendering course and I was surprised both that I liked it and that I was good at it! I will continue to work on wash rendering and watercolor as well.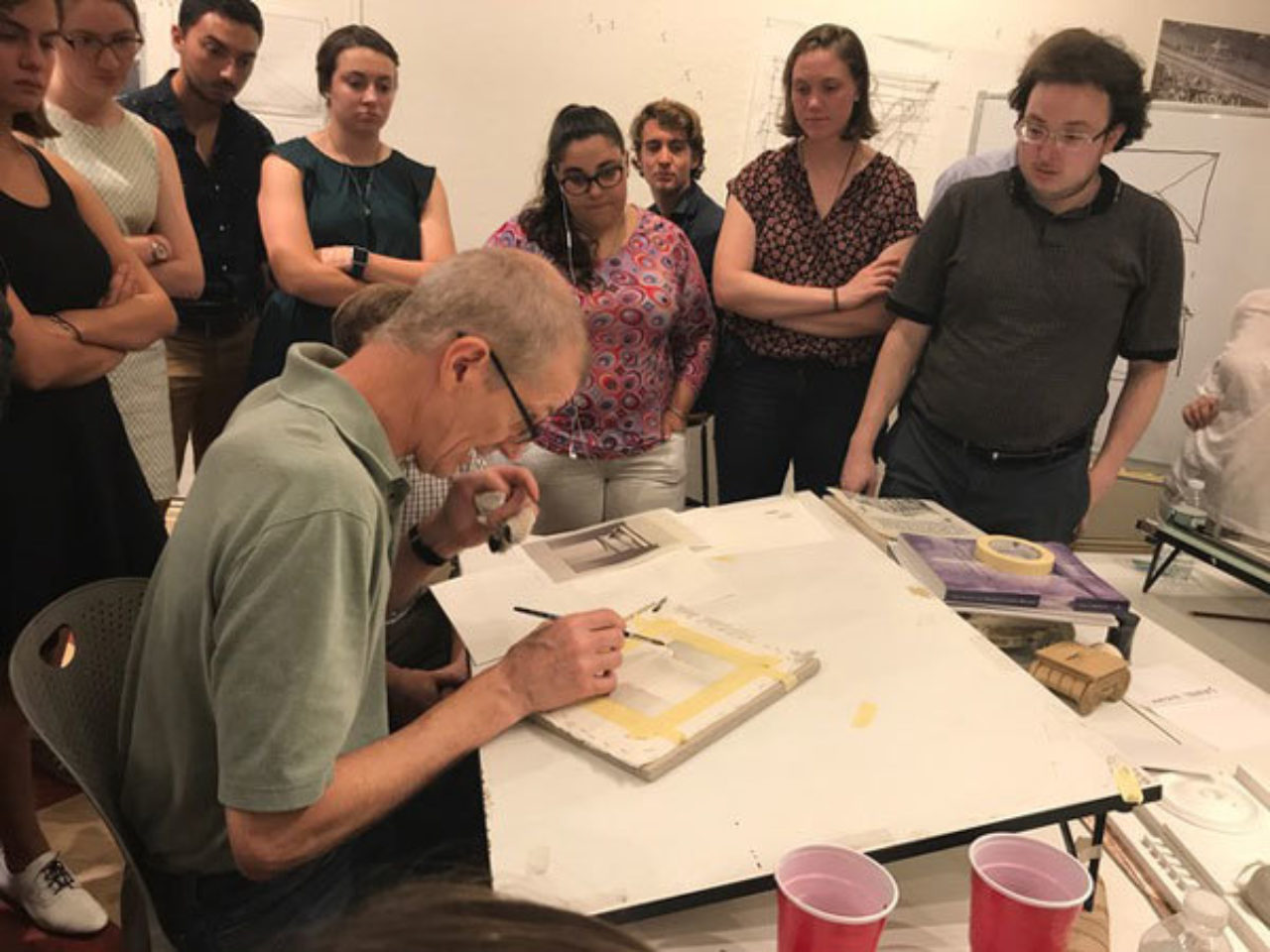 What was it like having a mentor advising and working with you throughout the course of the program?
AA: The mentor program has been an extremely positive feature of my Summer Studio experience. While I have learned a great amount from having instructors with a wide range of experiences and knowledge, having a mentor has truly helped to personalize my learning even more throughout the program. My mentor has given me advice and encouragement from his personal experiences in architecture, has shown genuine attention and care for my own passions and interests, and has helped me form connections. I look forward to maintaining contact with my mentor long after the Summer Studio.
CW: Being assigned a mentor was an invaluable connection to the ICAA Summer Studio and the practicing world of architecture. Learning about some of her experiences as an entry level architect through to her current position, helped me envision my transition from school to working as an architect.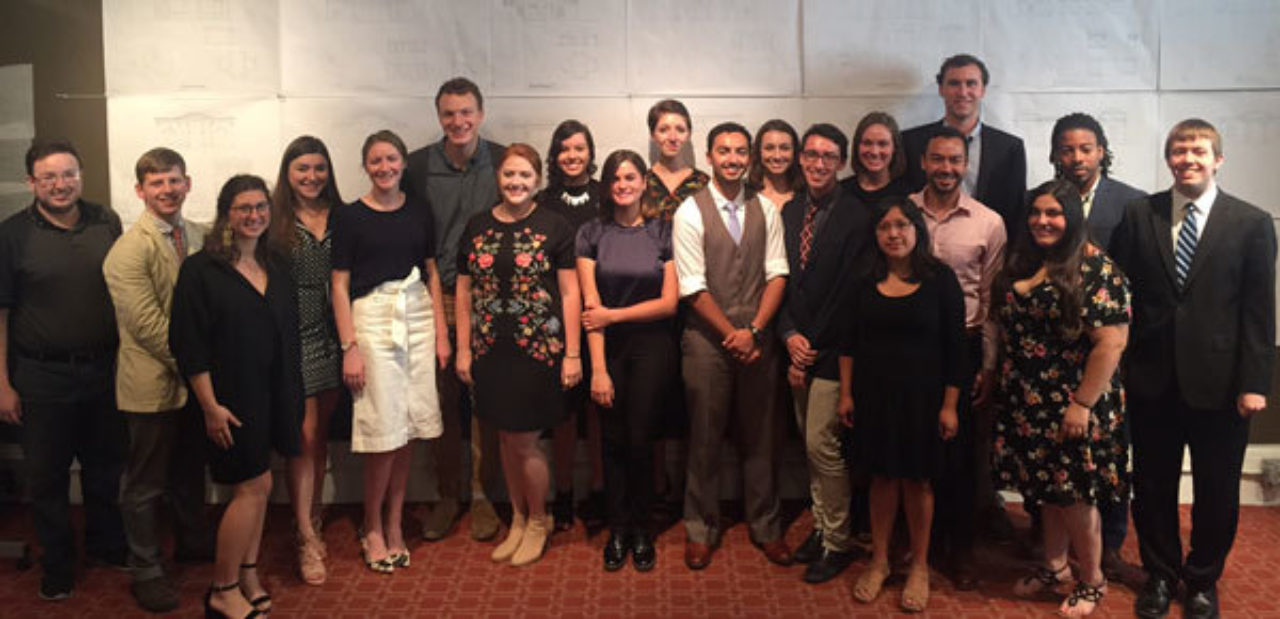 You can learn more about the 2017 Summer Studio from CUA student Daniel Glasgow: