Summer Studio in Classical Architecture 2017 | Week Two
Follow the ICAA's Summer Studio in Classical Architecture program, from June 19th through July 15th, as students from across the country spend four weeks in New York City and the surrounding region exploring the ideas, methods, and issues related to classical architectural design.
July 1, by Isabella DeBenedetti: Saturday's class was led by Stephen Chrisman and Michael Mesko, who discussed how plans, sections, and elevations make up an architectural drawing. During our discussion, we looked at wonderful precedents from architects like Quinlan Terry, and George Saumarez Smith, and we noted that when we study precedents and complete measured drawing exercises, certain nuances within architecture are often revealed to us.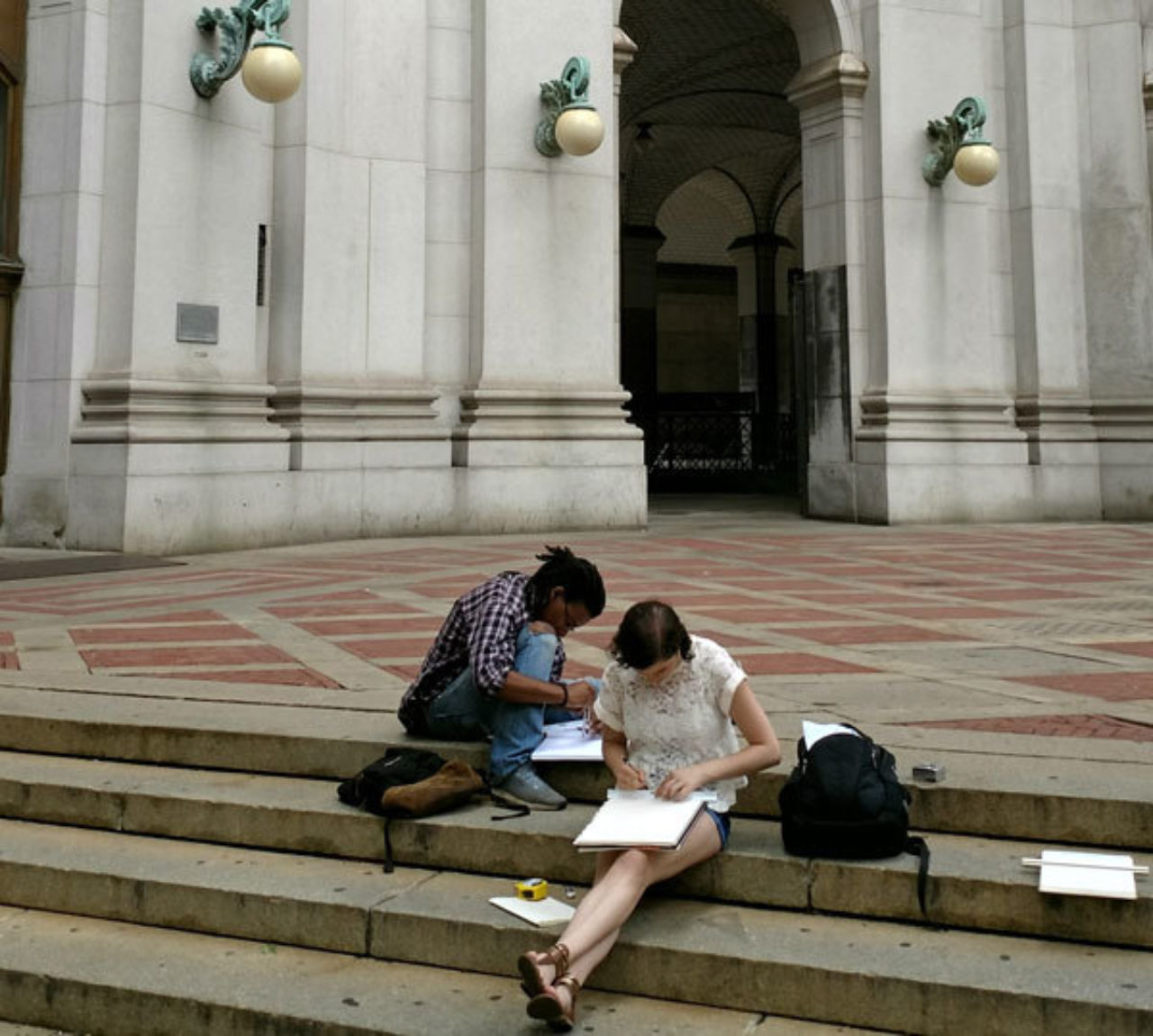 This discussion was followed by an exciting field study trip to Manhattan's Municipal Building, by McKim, Mead & White, where we analyzed and compared the building's triumphal arch and arcade to notable examples from antiquity. The practice of drawing in the field and analyzing drawings gave us a greater sense of how architects can use and manipulate certain elements in new and complex ways to masterfully solve problems of design.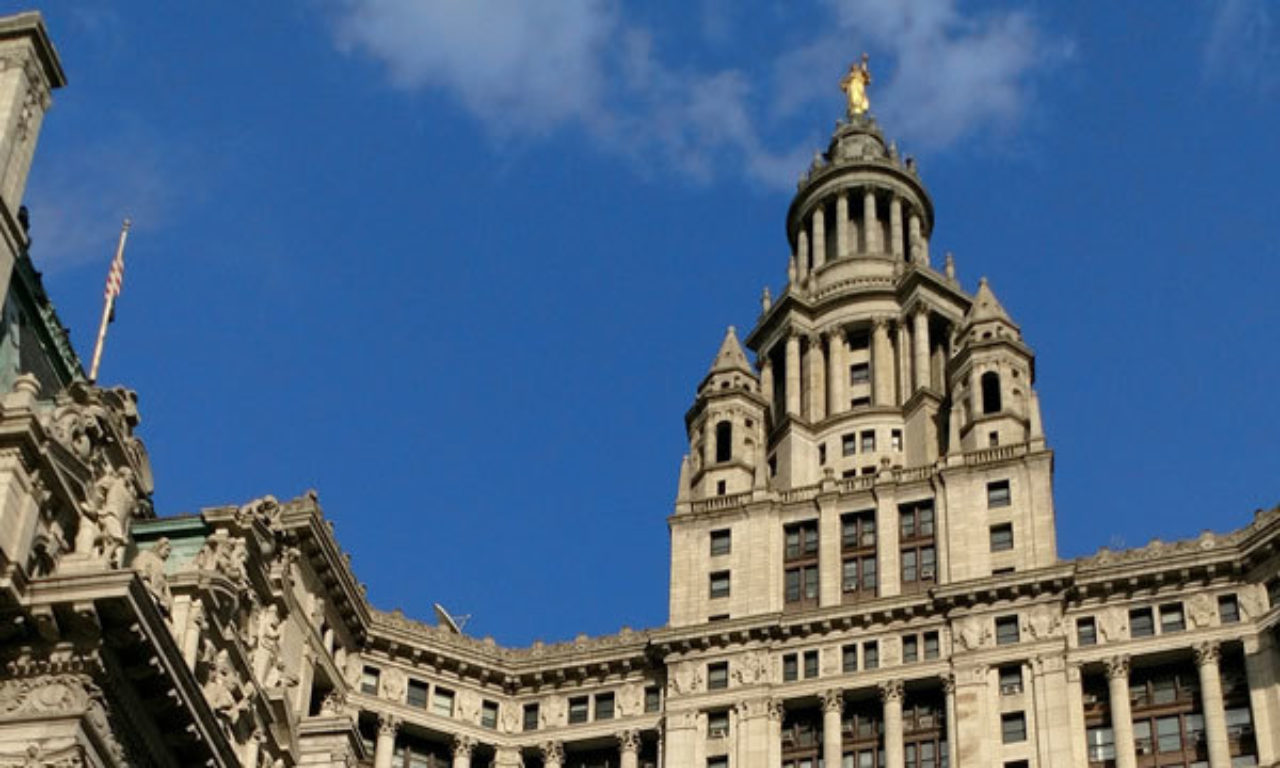 June 30, by Holly Templeton: Friday's classes were entirely dedicated to hand drafting. We explored the fundamental graphic conventions of orthographic drawings, which we used to continue work on our final project, a theoretical pavilion in Prospect Park.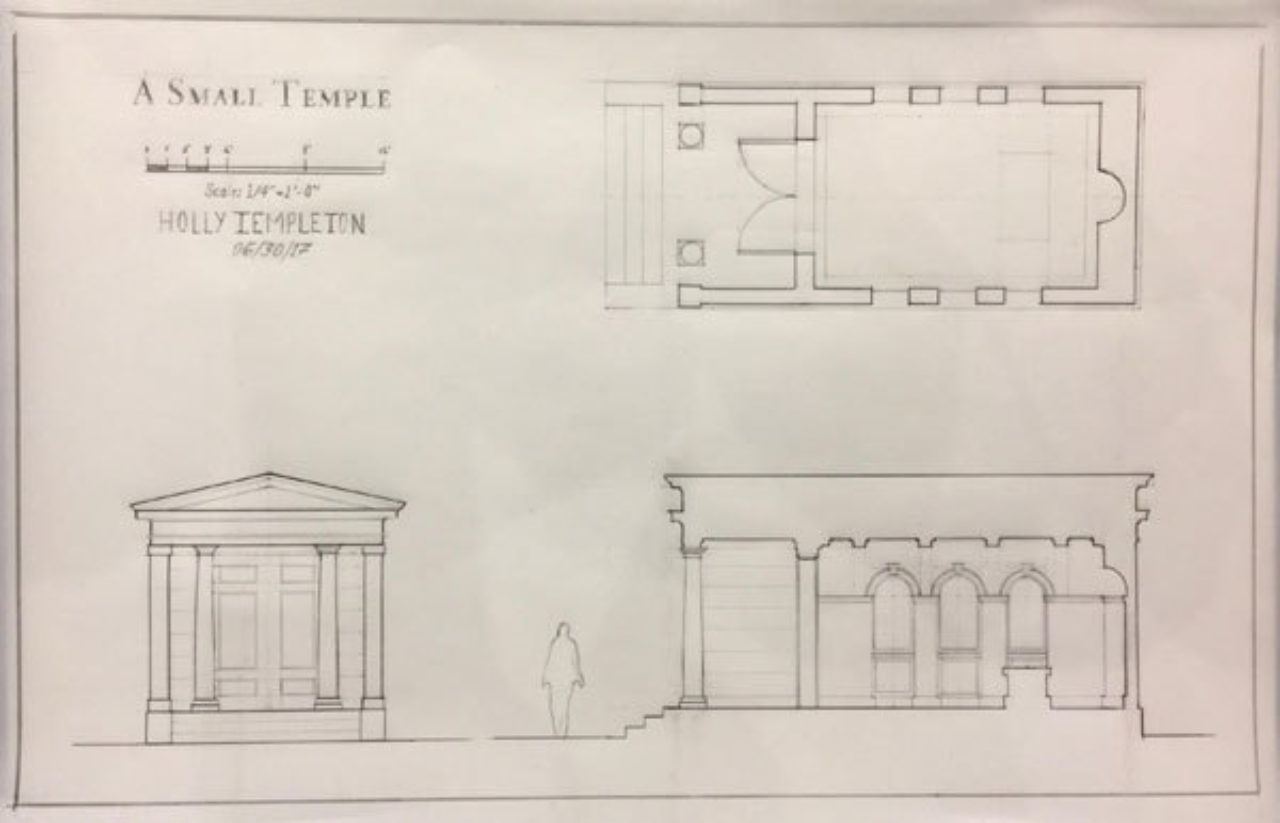 We became familiar with the appropriate tools of hand drafting, including rotary lead pointers, set squares, and french curves, and were able to continue our practice using vellum. We paid special attention to the construction lines of the building, building contours, string courses, ground planes, and cut lines. The focus of the day was to understand how to create varying line weights in our drawings and how to identify their function in existing plans.

We also had some time to explore the literature of draftsmanship, and looked at several unique draftsmen, such as Joseph Hornecker.
June 29, by Daniel Glasgow: Thursday was another exciting and informative day for the ICAA Summer Studio. The day began with another lesson on the elements of classical design, with the focus being the Corinthian Order, followed by rigorous drawing exercises.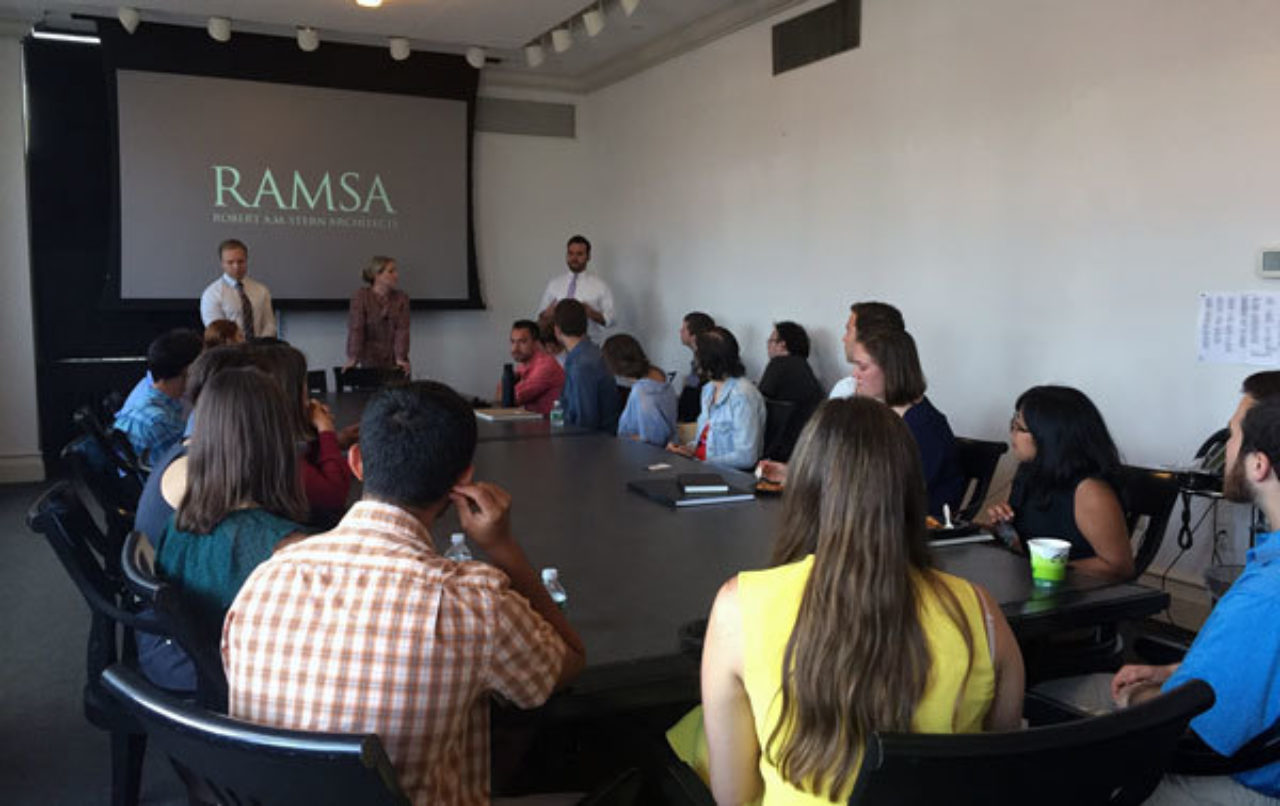 In the afternoon we had the privilege of visiting the offices of Robert A.M. Stern Architects, where we were hospitably greeted with a presentation about the firm and their work. The large firm is highly accomplished with international and local projects of all scales, so it was a treat to be able to see some of their up and coming projects.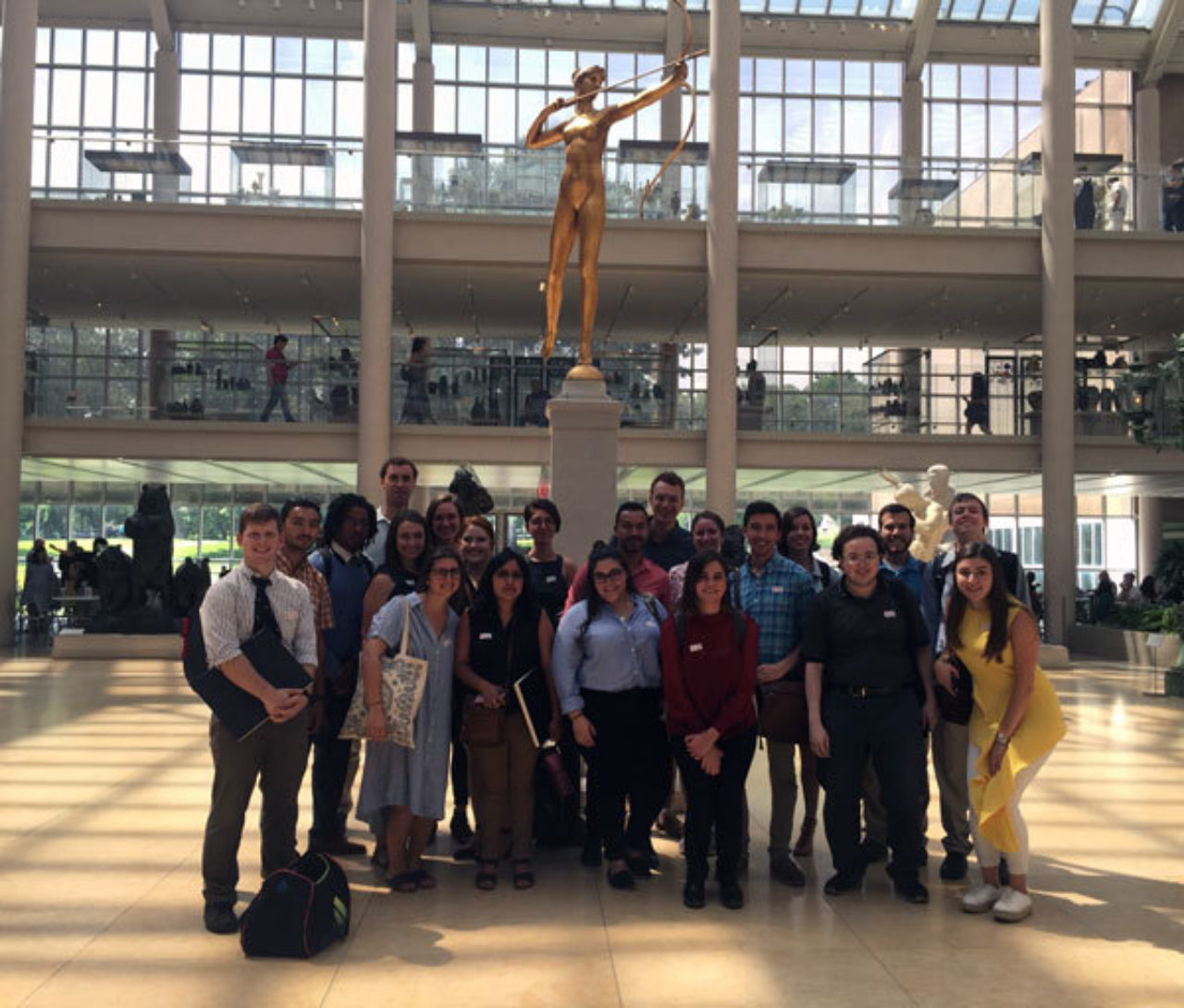 After a delightful lunch in Central Park, we walked over to The Metropolitan Museum of Art, where we were able to see and see and sketch excellent works by McKim, Mead and White.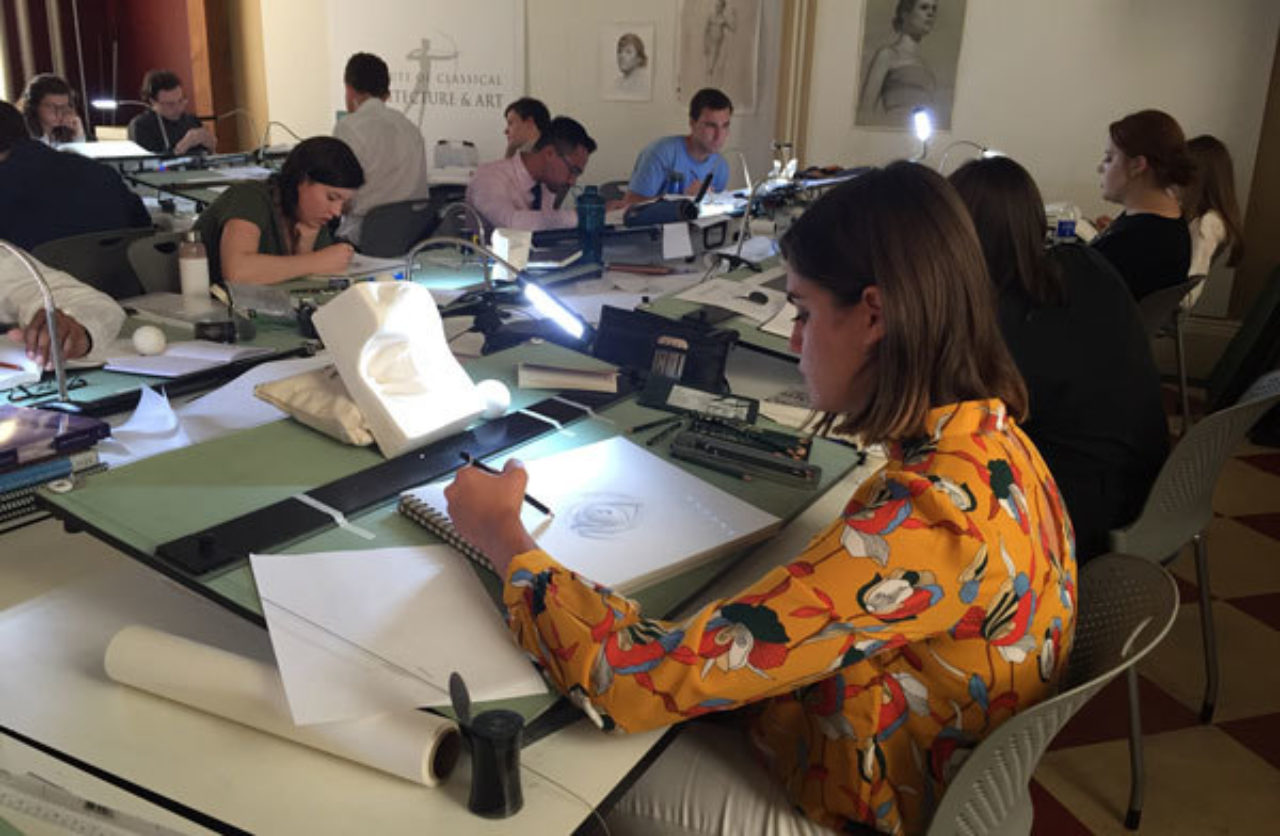 June 28, by Christian Johnson: We began the day with learning about the basics of how light and shadow appear on and around objects. We started with a basic sphere before progressing to more complicated forms like a cast, and egg and dart motifs.

Later, we continued developing our final projects, a theoretical pavilion in Prospect Park, before heading out to visit the offices of Peter Pennoyer Architects. We were taken on a tour of their beautiful office and studio spaces, and shown some of their in-progress and finished projects. Among the projects was a virtual reality headset that enabled us to fully visualize a space, as though we were standing in it.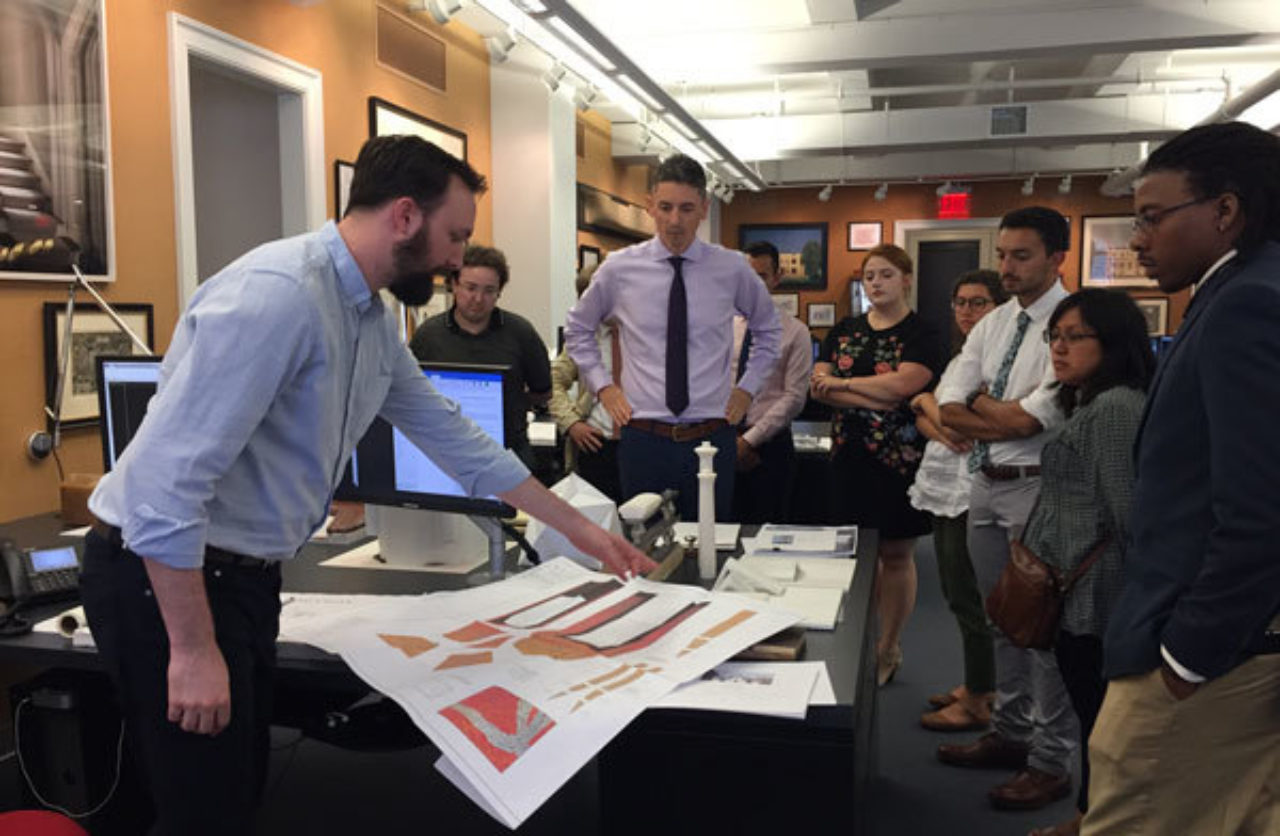 To finish the day we attended the ICAA Plinth Summer party in Brooklyn, an event that attracts lots of young professionals and and ICAA members. It was a great way to make connections and see what young architects are doing in the city.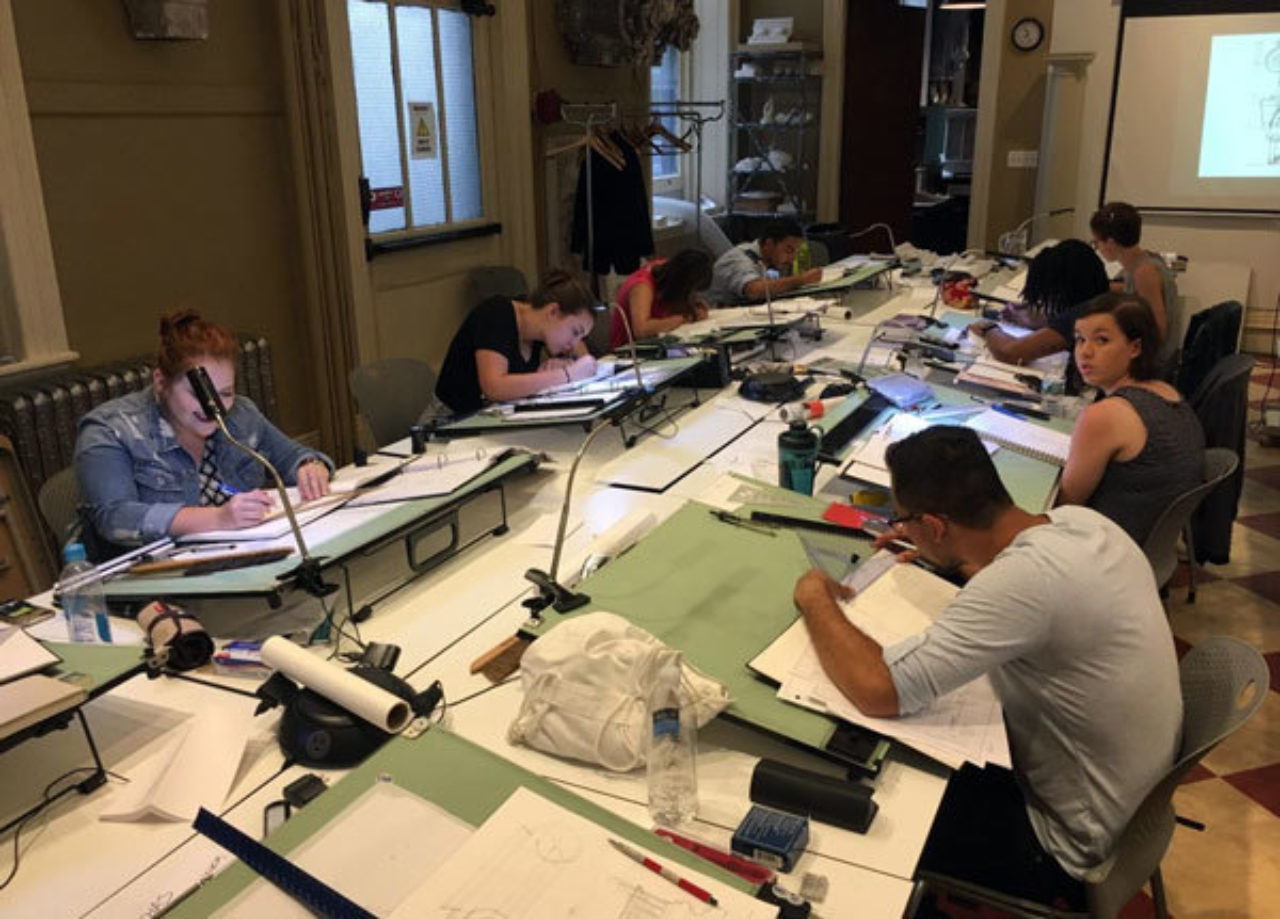 June 27, by Chas Winebrenner: Tuesday began with a continuation of our lessons on the elements of classical design, with today's focus being the Ionic Order. In the afternoon, we enjoyed a second lesson from geometer Rachel Fletcher, who led the class in hand drafting the Golden Ratio, square root of 2 squares, and square root of 3 rectangles. She also shared her knowledge of how these proportionate systems are adapted in classical architecture, such as Rome's Pantheon and Jefferson's Rotunda at the University of Virginia.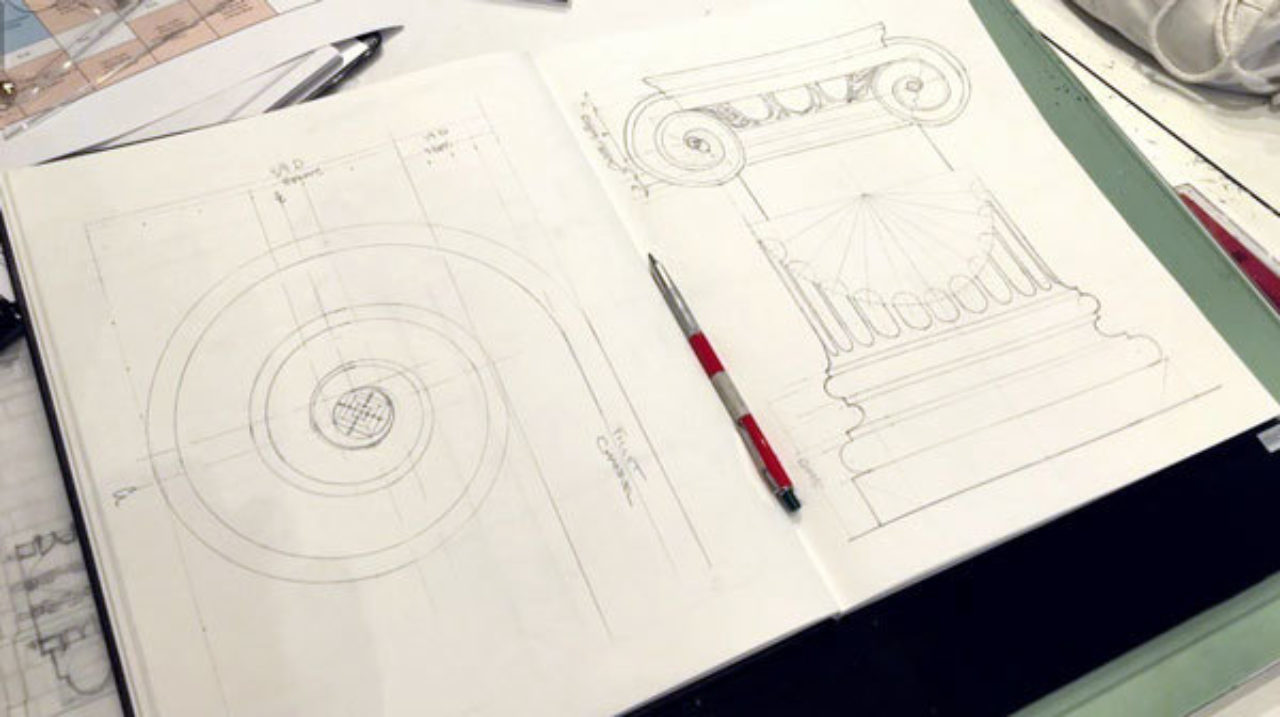 We ended the day with a lecture by Jim Taylor, from Peter Pennoyer Architects, who shared with us some of the residential projects he has worked on, as well as how his firm operates on a daily basis. He also discussed the process of taking projects from design to construction, and how his firm oversees this development, while also adapting to new technologies.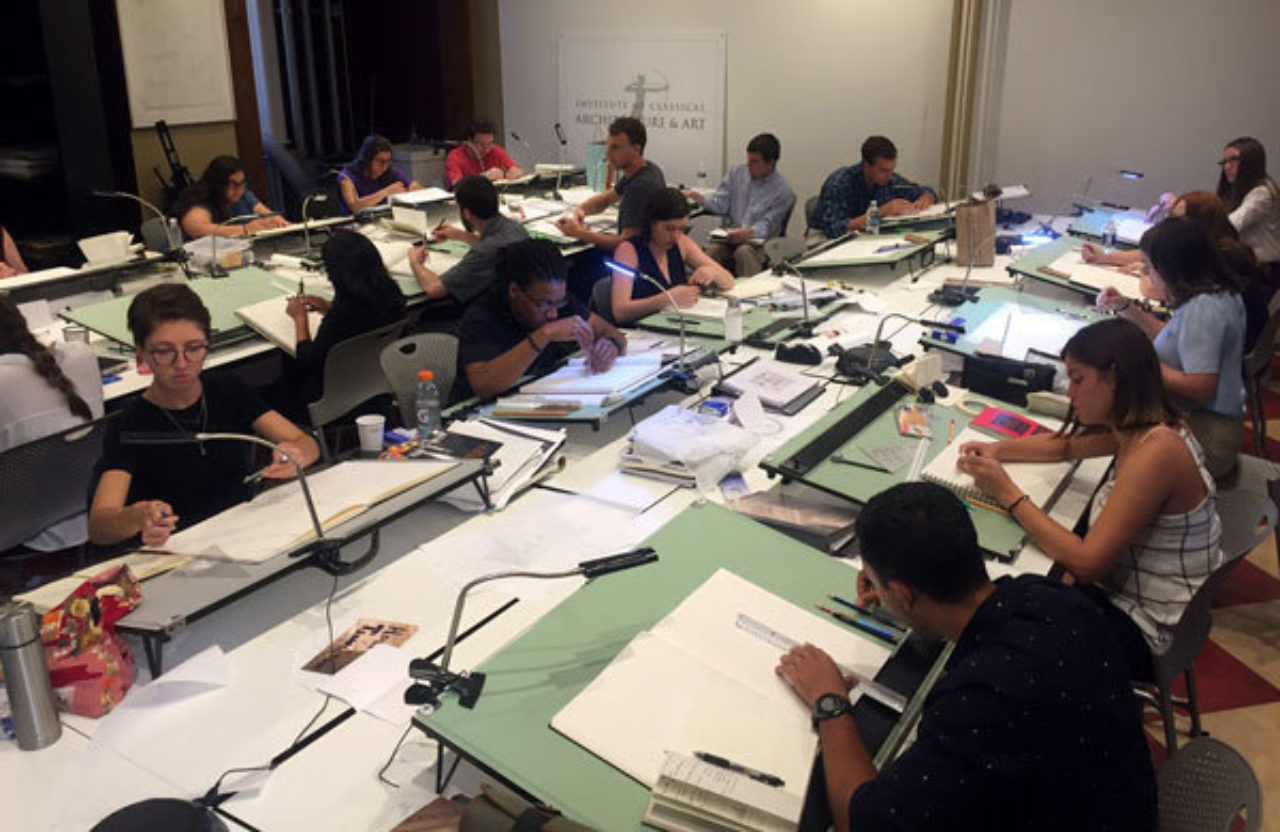 June 26, by Anthony Vercio: After our first weekend in New York City, we returned to class recharged and refreshed. Our morning lesson was on proportions, taught by geometer Rachel Fletcher, who showed us how different ratios can create amazing geometric shapes and patterns, and help us frame space more beautifully. Alongside the many diagrams she had us draw, she also taught us about the symbolism that these shapes and numbers convey.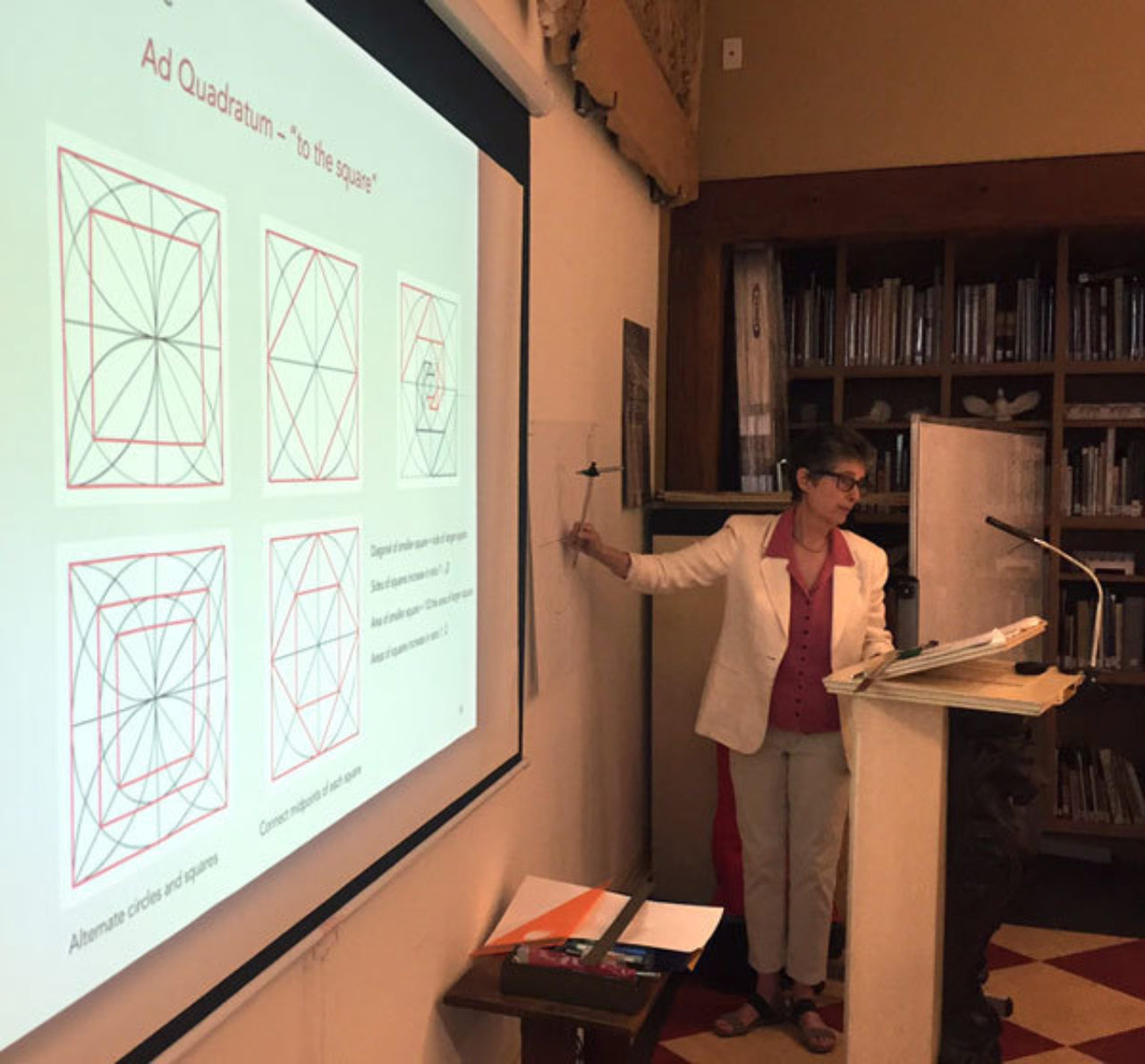 In the afternoon, we switched our focus to composition. Michael Mesko, Stephen Chrisman, and three teacher's assistants proctored our esquisse, the first sketch of what will become our final presentation and the culmination of this studio.
It was a little daunting at first, but after two hours, we had all pinned our sketches to the board. As we presented our ideas to the class, most of us were astonished by the impressive array of designs that we would not have been able to do even a week ago. Seeing this much progress in just one week, we look forward to the next three weeks of the studio.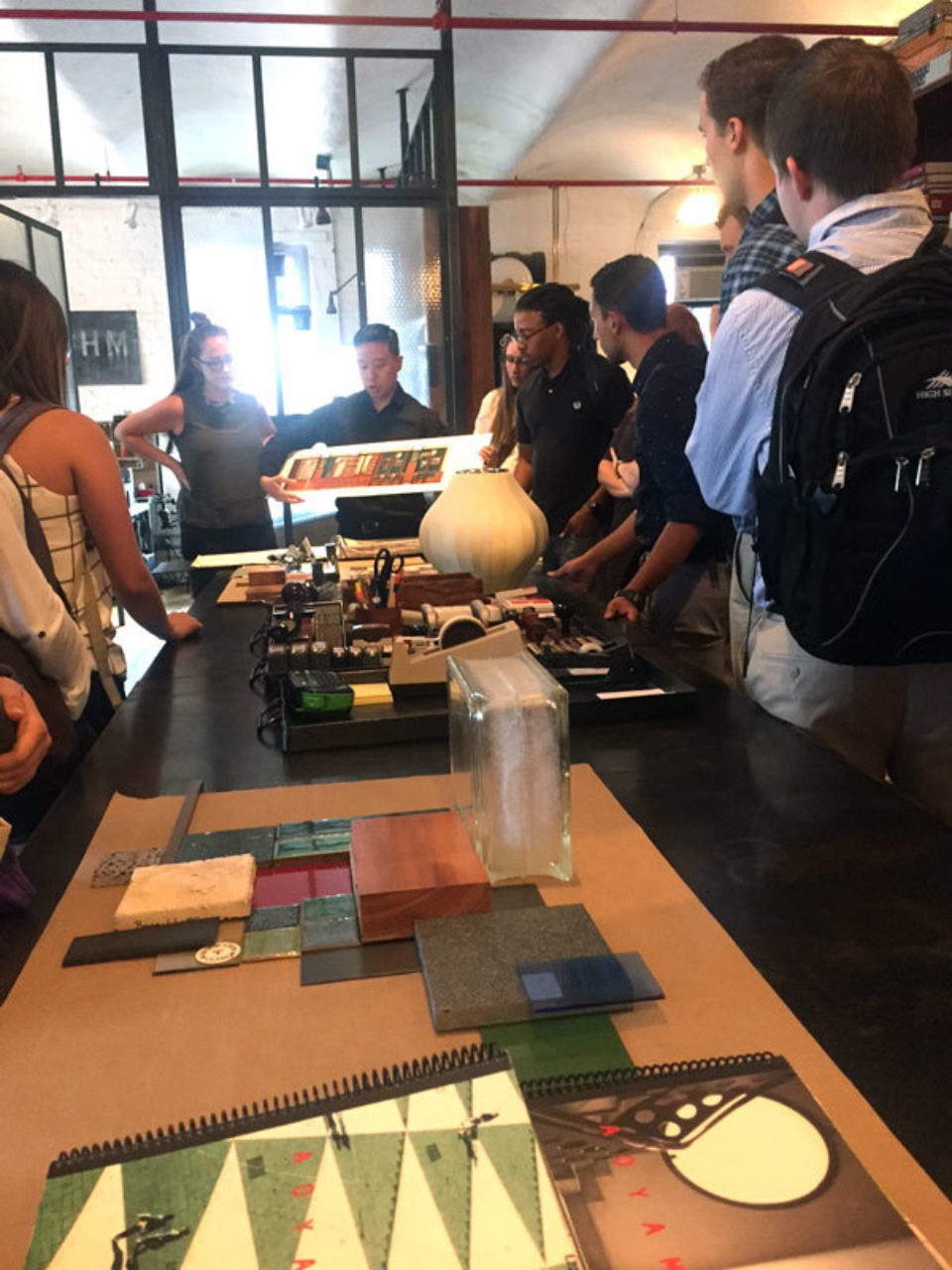 The final stop for the day was a tour of the offices of Roman and Williams, where we got a glimpse of the practical applications of what we are learning.