Basic Timber Frame Joinery Design and Construction
with Ian Stewart
1 AIA CES Learning Unit|Elective
1 credit towards the Certificate in Classical Architecture (Building Craft)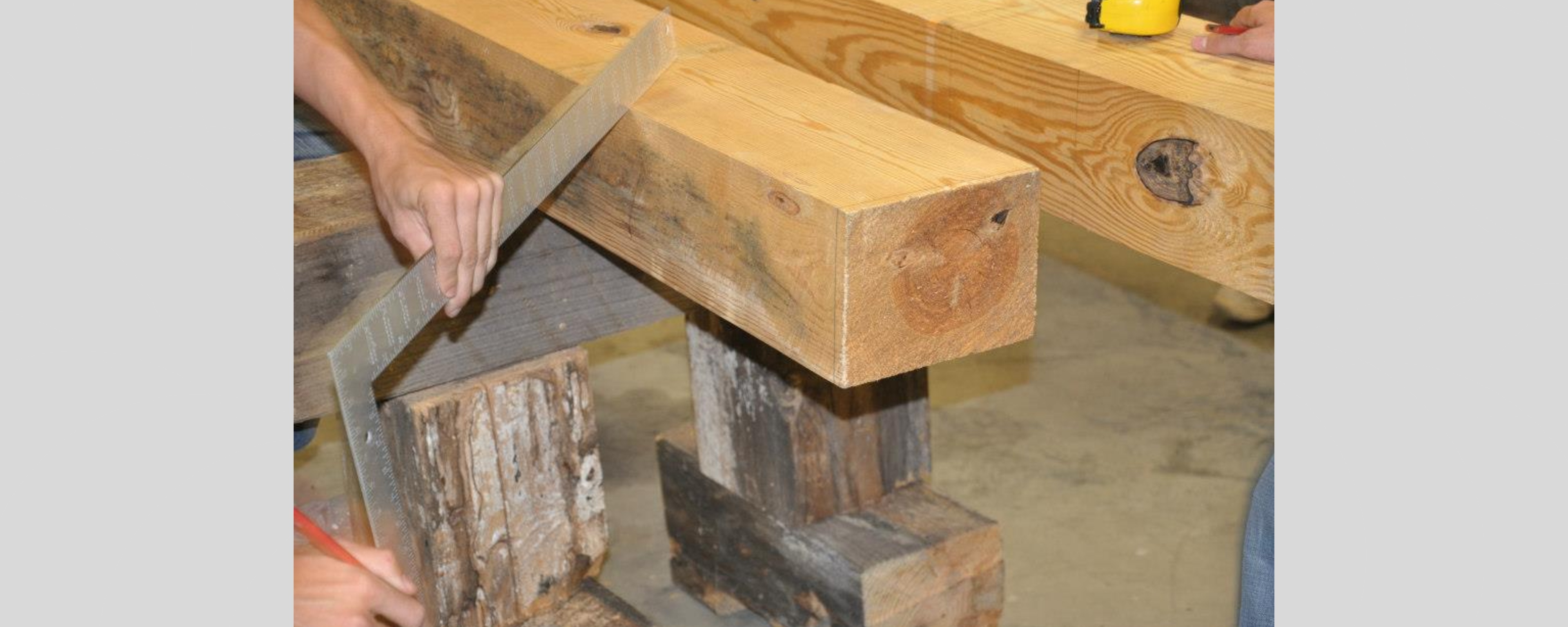 Timber frame construction has been utilized since antiquity, and can be found on nearly every continent. Reaching its pinnacle of complexity in Europe in the late Medieval period, it remained the primary form of timber construction in domestic spaces until the introduction of balloon framing in the 1830's. In both North America and Europe, it remained the primary form of agricultural construction until the end of the 19th Century. Revived as a craft tradition in the 1970's and 80's, timber framing is now utilized for new construction, as well as in preservation projects.

This course will introduce the participants to the basic tool kit of a timber framer, as well as an introduction to the lexicon of the craft. Participants will learn the basics of joinery design and square rule layout, as well as the methods of executing the joinery.
About the Instructor
Ian Stewart has been working the preservation trades field for a decade and a half. He is a rare combination of tradesperson and academic. Dedicated to the furtherance of the traditional trades and crafts in America, Ian was the President of the Board of Directors of the Preservation Trades Network, is a member of the Timber Framer's Guild, and is a member of the Traditional Timber Frame Research Advisory Group (TTRAG).

Ian holds a Master's degree in Preservation Studies at Boston University's School of American and New England Studies. His thesis focused on Anglo Dutch houses of the Hudson Valley, particularly those built prior to 1830. Ian's primary area of research has been the buildings constructed by Netherlandish immigrants to the United States, as well as the origins of those styles in Belgium and the Netherlands. His work in this field was recently recognized by the New Netherland Institute, who awarded him the Alice P. Kenney award in 2018. Ian constantly strives to bring attention to this unique style of construction, which has been greatly overlooked, despite its influence in American architecture. He and his crew at New Netherland Timber Framing and Preservation have worked on structures from Maine to Pennsylvania and continue to endeavor to save both America's built heritage and traditional methods of construction. Currently he is teaching and developing Preservation Carpentry Classes in conjunction with the New York State Historic Preservation Office and Hudson Valley Community College. The goal of these classes is to increase the number of trained craftspeople, specifically in the major cities of the Capital District of New York.
This course will enable participants to:
Identify basic timber framing tools
Understand and identify the basic named elements within a timber framed structure
Understand the techniques for laying out both a square rule tenon and mortise
Understand and identify basic design considerations for timber framed structures and appropriate traditional joinery.
Understand basic safety issues surrounding timber framing.
---

Please click here for additional AIA Continuing Education Provider Information:

Instructional Delivery Method: Live Online Learning Program

Program Level: Introductory

AIA CES Program Approval Expiration Date: March 10, 2024

Provider Number: G193

Provider Statement: The Institute of Classical Architecture & Art is a registered provider of AIA-approved continuing education under Provider Number G193. All registered AIA CES Providers must comply with the AIA Standards for Continuing Education Programs. Any questions or concerns about this provider or this learning program may be sent to AIA CES ([email protected] or (800) AIA 3837, Option 3).

This learning program is registered with AIA CES for continuing professional education. As such, it does not include content that may be deemed or construed to be an approval or endorsement by the AIA of any material of construction or any method or manner of handling, using, distributing, or dealing in any material or product.

AIA continuing education credit has been reviewed and approved by AIA CES. Learners must complete the entire learning program to receive continuing education credit. AIA continuing education Learning Units earned upon completion of this course will be reported to AIA CES for AIA members. Certificates of Completion for both AIA members and non-AIA members are available upon request.

Registration
This course will be offered on April 9, 2021 as part of The Art of Building Craft. Course registration is available on the program page here.