"Shadows on the Teche" Watercolor Rendering Series – Class 1: Perspective Rendering
Hosted by the Louisiana Chapter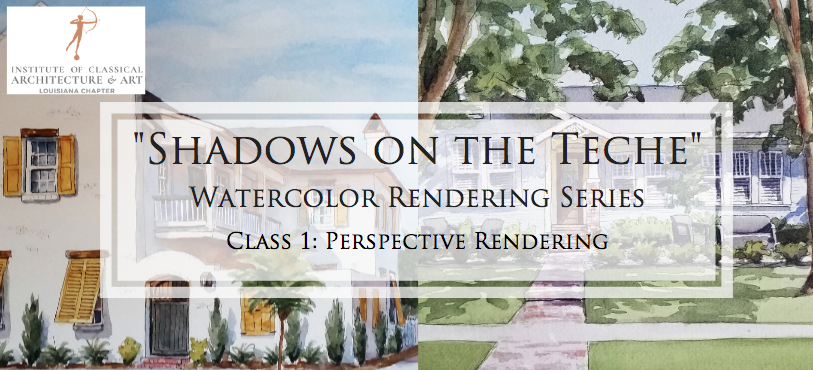 Part 1 of a 5-part series.
The class explores perspective rendering by examining a photo of the Shadows on the Teche and creating a beautiful watercolor piece. Before the class, you will receive a drawing of the building and accompanying photographs. We ask that you please sketch out the building prior to the class to optimize time for painting. If you have any questions, please reach out to Laura Thomas at [email protected] or Kevin Harris Architect at [email protected]
Materials Recommended:
Watercolor paint:
You can use the colors that you typically use.
Dickblick.com has small Winsor Newton sketchers set #00337-1059 or #00337-2009
You can even use a child's Prang watercolor set.
The colors on my palette that Sue Zimmermann will be using are:
Antwerp blue- Winsor Newton
Ultramarine blue
New Gamboge
Raw Sienna
Scarlet Lake- Winsor Newton
Alizarin Crimson
Burnt Sienna
Watercolor brushes- synthetic:
Dickblick.com -Academic Synthetic Golden Taklon or Winsor Newton Cotman watercolor burshes
#12 round
#6 round
#1 round
1/2" flat
Materials Required:
Watercolor paper(artist grade is important for best results):
100% cotton paper, 140lb. weight cold press
Dickblick.com - Winsor Newton professional paper or d'Arches
You can order one sheet and cut it into any size from 8x10 to 11x 14
Sue Zimmermann will be using 9x12"
Masking fluid - Pebeo drawing gum is Sue's choice
Tools:
Watercolor palette or a white plastic or ceramic plate
Water container- qt. plastic food storage container works well
Old hand towel
Paper towels
Small amount of dish washing liquid
Pre-requisites:
Drawing sketched out prior to the class
Access to required materials.
Cost:
$25.00 for ICAA student members with student ID
$50.00 for ICAA members
$60.00 for general admission
To sign up for all 5 classes and get 1 free, click HERE!
This event is hosted by an ICAA Chapter. Please check the Chapter website or contact the Chapter directly, for the most up-to-date details including dates, times, and pricing.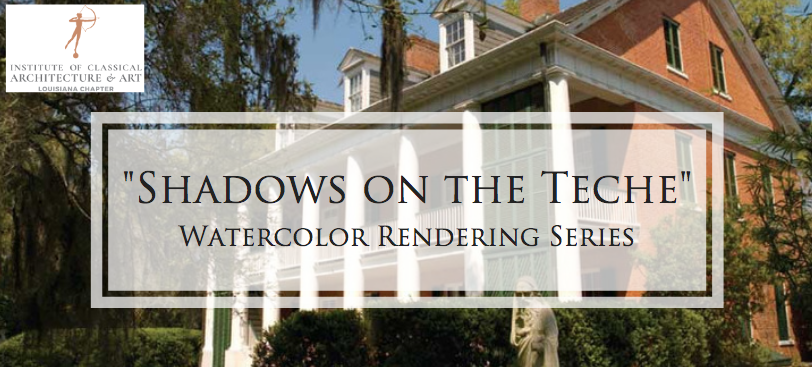 Learning Objectives
Learn techniques and best practices that demonstrate the process of creating a watercolor painting.
Learn how to create a watercolor house portrait based on a photograph.
Useful to the trade of architects, realtors, interior designers, landscape architects and craftsman to market their designs.
Produce creative client gifts that they will cherish as a family heirloom.