"Shadows on the Teche" Watercolor Rendering Series – Class 2: Front Elevation
Hosted by the Louisiana Chapter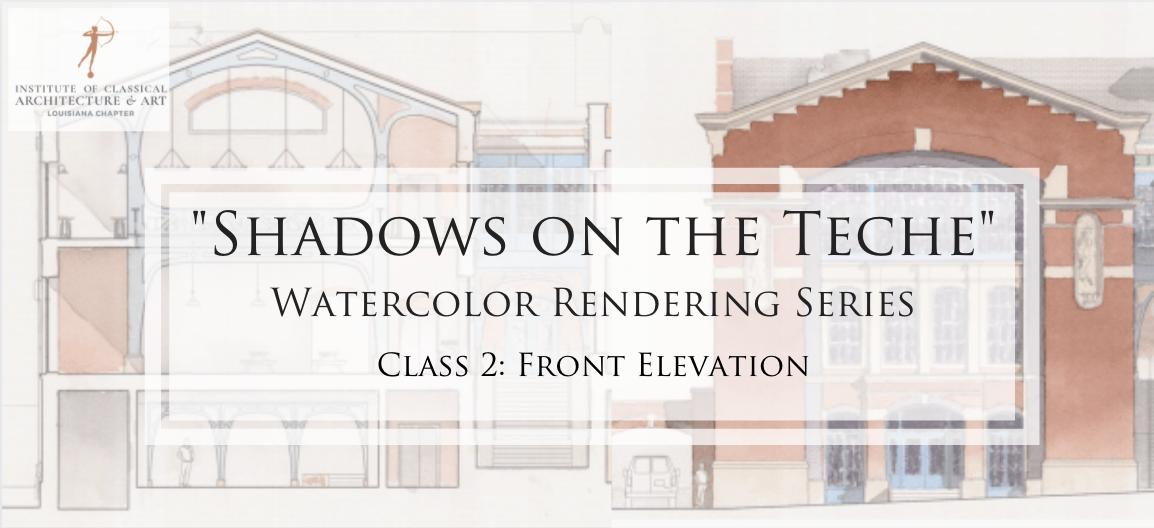 Please join the ICAA Louisiana Chapter and Designer, Charles Shafer of Skurman Architects, for a virtual half-day studio introducing the techniques of Beaux-Arts architectural watercolor wash rendering. The class will cover the basic skills of stretching and painting techniques on a classical elevation of "The Shadows on the Teche." Topics to be covered include the use of line weights, light, shade, shadow, and reflected light to produce a formal rendering.
Materials Required/Recommended (*Required are found in BOLD*):
Setup:
Good Direct or adjustable downlight ~3000K temperature
Large Flat Work Surface @ Countertop Height if Possible
Cold Pressed Watercolor Paper - Arches brand or similar - 90lb or 120lb large enough to accommodate drawing, border, and 1-1.5 inches for taping / stapling
Extra Watercolor paper for color testing - comes in small blocks. Scraps and exposed borders of working sheets are also usable.
Rigid board at least an inch bigger on all sides than your WC sheet - use wood if stapling
4 Big books that you can make into two equal height stacks
10 or more small glass or WHITE ceramic containers - lids helpful but not necessary
Roll of Paper Towels
Masking Tape (Scotch 2380 if you can get it)
Drafting pencil, Lead, Sharpener
Straight edge
Exacto Knife or Similar
Mr Clean Magic Eraser
Staples and Staple Gun if stapling
1 Plastic Trash Bag
Small or medium 45 degree triangle
Paper:
One 22x30 sheet of 90lb cold press WC paper cut in half to make (2) 11X15 sheets. Can be found at any typical art store.
Prior to the class we will send the drawing scaled at 3/16" = 1'-0" on 11x17 to be traced or drawn directly onto the watercolor paper.
Brushes:
3-4 round watercolor brushes evenly distributed across sizes 2-14
Animal hair preferred
Should flick to sharp point when wet - don't be afraid to test in the store
1 cheap mixing brush ~ size 10
1 4-5" long flat canvas wetting brush or other large brush (optional)
Ruling Pen (optional)
Paints:
Smallest tube size is fine.
As you continue painting, you may find you're going through New Gamboge fastest.
Winsor Newton Professional WC Paints recommended.
Palette paints can be used to make washes, but tube paints are easier.
Essential Paints:
Winsor Blue - Red Shade
New Gamboge
Alizarin Crimson
Lamp Black
Optional Earth Tones:
Yellow Ochre
Burnt Sienna
Light Red
Burnt Umber
Time Savers:
Hooker's Green
Winsor Violet
Prerequisites:
Draw or trace Front Elevation of The Shadows on the Teche on prepared Watercolor paper. The Front Elevation and a video of how to prepare the paper will be emailed to you upon signing up.
Charles Shafer is a graduate of the master's program at the University of Notre Dame School of Architecture. He is a two time recipient of the Castagna Foundation Fellowship for Graduate Study of Architecture. He has worked as an artist and designer both on individual commission, and for various firms in the U.S. and France. In practice at Skurman Architects in San Francisco, Mr. Shafer specializes in the integration of new technology such as virtual reality, computer rendering, and BIM with traditional design practices. At Notre Dame, Shafer studied Ecole de Beaux Arts techniques primarily under Richard Economakis: world renowned traditional architect, and regular collaborator with the Prince's Foundation. A native of Pittsburgh Pennsylvania, and a former high school science teacher, Shafer values a diversity of perspectives on architecture and the word. Since humans everywhere seek beauty and connection, especially at this difficult time, Shafer believes that painting - and by extension, traditional, place-based architecture - can address our needs, as perhaps the most humanistic conveyance of beauty available to us.
Cost:
$25.00 for ICAA student members with student ID
$50.00 for ICAA members
$60.00 for general admission
To sign up for all 5 classes and get 1 free, click HERE!
**The second class will be recorded. The class will be accessible via Dropbox link to paying participants until June 2021. The link will be sent out within a week after the class.
This event is hosted by an ICAA Chapter. Please check the Chapter website or contact the Chapter directly, for the most up-to-date details including dates, times, and pricing.