Theory of Proportion with Steve Bass
Hosted by the ICAA Philadelphia Chapter | 6 AIA Learnings Units | HSWs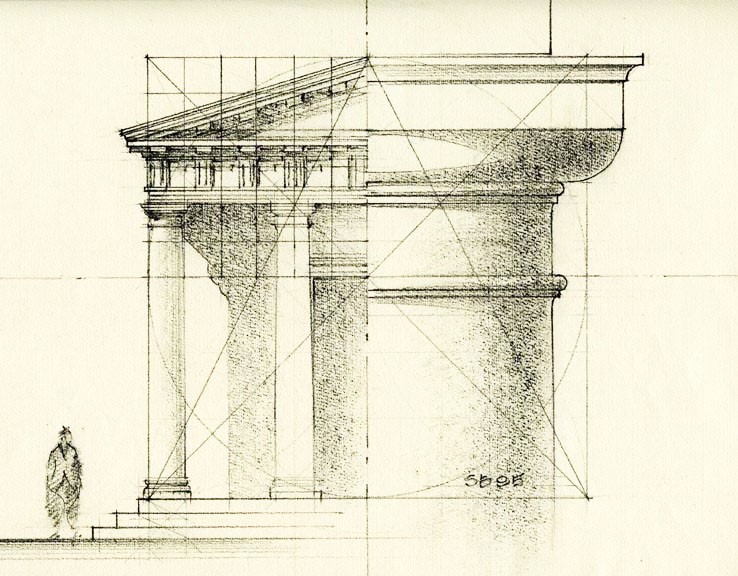 The class provides an overview of the concept of proportion as a design tool in traditional architecture; presented in the form of lectures and demonstrations. The content includes an explanation of the idea of symbolic or qualitative number; an introduction to Pythagorean and Platonic numerical philosophy; the nature of beauty, its relation to number, and its relation to the good; the derivation of the ancient musical octave and its use as a guide to harmony; a discussion of the Golden Section, its mathematics, geometry, relation to philosophy, and particularly its role as a geometrical "logos"; and the connection of all these ideas to the numerical-geometrical canons of classical architecture. These ideas are applied to the historical archetype of the four column portico, through demonstrations using arithmetic, geometric, and harmonic ratio methods of application in pursuit of the beautiful.
6 AIA HSWs available. One-hour lunch break.
Don't miss the other program in our Proportion Series! Beauty, Memory, Unity: A Theory of Proportion in Design – a lecture by Steve Bass on January 30, 2020.

ICAA Members are eligible for a $20 discount when they register for both the lecture and the drawing course. Please email Chapter Coordinator Nova Harris at [email protected] for details.

Format:
Workshop instruction combines lecture and geometrical demonstrations. Students may take notes if they wish, either in notebooks or on loose sheets—9×12″ or similar size.
Pre-requisites:
None. Workshop content is designed to be suitable for those with limited exposure to the classical language, as well as for those seeking to increase their understanding.
Schedule:
9:30am-12:00pm: The concept of symbolic number—Pythagorean and Platonic number philosophy—number and geometry of the ancient musical octave—a relation of number and beauty—design of a portico using musical ratios.
1:00-3:30pm: The trans-rational ratios—the Golden Section—construction of the pentagon—the squaring of a circle—design of a portico using the Golden Section.
This event is hosted by an ICAA Chapter. Please check the Chapter website, or contact the Chapter directly, for the most up-to-date details including dates, times, and pricing.

Learning Objectives
Appreciate the nature of beauty and the role it plays in the pursuit of the good;
Understand number in a symbolic rather than mathematical sense and how this connects aesthetics to aspects of ancient philosophy;
Understand the nature of rational ratios, composed of whole numbers, and transcendental ratios such as the Golden Section which are not composed of whole numbers, as an approach to achieving the beautiful in architectural composition;
Use geometric, arithmetic and harmonic methods of application of proportion for analysis of historical designs and to create new designs that achieve a balanced and harmonious state.
Instructor