Webinar: Introduction to the Classical Moldings with Erik Evens
Hosted by the Southern California Chapter | 1.5 AIA CES Learning Units|Elective per course session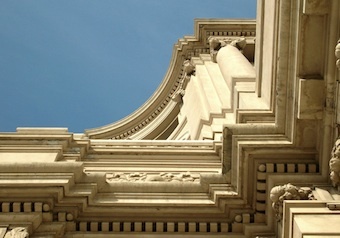 This class, which consists of two hour and a half long sessions, provides an introduction to understanding the use andrationale of the classical moldings. Moldings are the basic building blocks of classical buildings, the "atomic units" at the very heart of the classical language of architecture, and a working knowledge of moldings is the starting point for a thoughtful approach to design. Students of all abilities will find interest and value in this fast-paced introduction. You will learn to draw the classical moldings freehand, and will gain an understanding of their purpose and correct use, and how to employ them for greatest effect. Whether your goal is to lay out a correct Doric column, or to design a beautifully embellished formal room, a practical understanding of the classical moldings and the rationale for their purpose and use is indispensable to the design practitioner.

Erik K. Evens is Principal of Evens Architects, a KAA Design Company. He is a licensed architect in California, with over thirty years' experience in residential, commercial, hospitality, and institutional work. He is a founding member of the Institute of Classical Architecture & Art, Southern California Chapter, and past President, and also a Fellow of the ICAA.

Students should have a sturdy, large-format sketchbook (8-1/2" x 11" minimum size), soft drawing pencils, and erasers.

Image: Karyn Millet

This event is hosted by an ICAA Chapter. Please check the Chapter website, or contact the Chapter directly, for the most up-to-date details including dates, times, and pricing.

AIA Provider Information

Instructional Delivery Method: Live Online Learning Program

Program Level: Introductory

Provider Number: G193

Provider Statement: The Institute of Classical Architecture & Art is a registered provider of AIA-approved continuing education under Provider Number G193. All registered AIA CES Providers must comply with the AIA Standards for Continuing Education Programs. Any questions or concerns about this provider or this learning program may be sent to AIA CES ([email protected] or (800) AIA 3837, Option 3).
This learning program is registered with AIA CES for continuing professional education. As such, it does not include content that may be deemed or construed to be an approval or endorsement by the AIA of any material of construction or any method or manner of handling, using, distributing, or dealing in any material or product.
AIA continuing education credit has been reviewed and approved by AIA CES. Learners must complete the entire learning program to receive continuing education credit. AIA continuing education Learning Units earned upon completion of this course will be reported to AIA CES for AIA members. Certificates of Completion for both AIA members and non-AIA members are available upon request.
What You Will Learn
To understand the rationale of the moldings as the foundational building blocks of the classical orders.
To learn how to categorize the classical moldings by geometry and by function.
To learn to draw the essential classical moldings freehand.
To be introduced to advanced refinements and decorative embellishments of the moldings.
Registration
ICAA Members
Free with RSVP