Florida Summer Sketch Tour: Vinoy Hotel, St. Petersburg, FL
Hosted by the Florida Chapter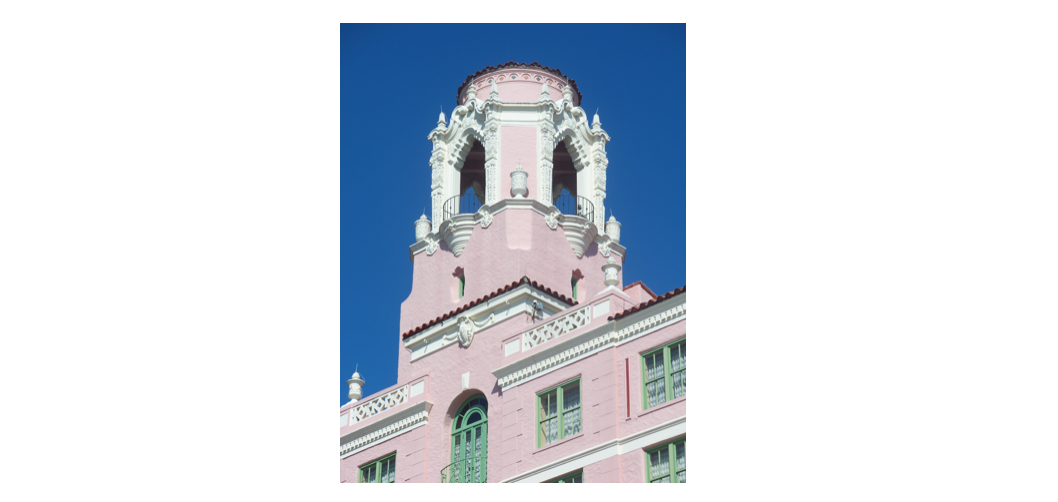 Join us for our FLORIDA SUMMER SKETCH TOUR, a weekly virtual sketching exercise
This Week's Subject: Vinoy Hotel, St. Petersburg, FL
The historic Vinoy Park hotel was designed by Architect Henry Taylor, built by Aymer Vinoy Laughner, and opened New Year's Eve 1925. The largest and most luxurious of the 1920s boom-era hotels in the city, the cost of construction was $3.5 million, at the time, the largest construction project in Florida history. It was named to the National Register of Historic Places in 1978, designated a local landmark in 1986, and later added to the National Trust for Historic Preservation's Historic Hotels of America in 1993.
The Vinoy's Mediterranean Revival style, popularized by Palm Beach Architect Addison Mizner, includes a façade of intricately carved stone columns, elaborate Pompeian frescos, vaulted ceilings, hand-stenciled pecky cypress ceiling beams, glazed tile floors with hand painted accents, and ornate plaster castings throughout.
Thank you to all for participating in our #floridasummersketchtour Instagram event.
Here's how it works:
Select an image or visit the location if possible for a Plein Air sketch
Using any medium you like, sketch one or more images/views. Show us your skills!
Snap a photo of your illustration and post it to your Instagram account with your location, a little something about yourself and the following tags by Sunday night at midnight.
@icaaflorida #floridasummersketchtour #icaaflorida
We'll be searching for those tags and may feature your #floridasummersketchtour image on our Instagram page on Monday!
Ends Sunday, June 21.
Reference Images
Ends Sunday, June 21 at Midnight
12:00 am — 12:00 am
Vinoy Hotel
Vinoy Hotel, 5th Avenue Northeast, St. Petersburg, FL, USA
Add to Calendar