Pen and Ink Wash: A Contemporary Classicist's Approach to Free Hand Drawing
Co-Hosted by the Chicago-Midwest and Northwest Chapters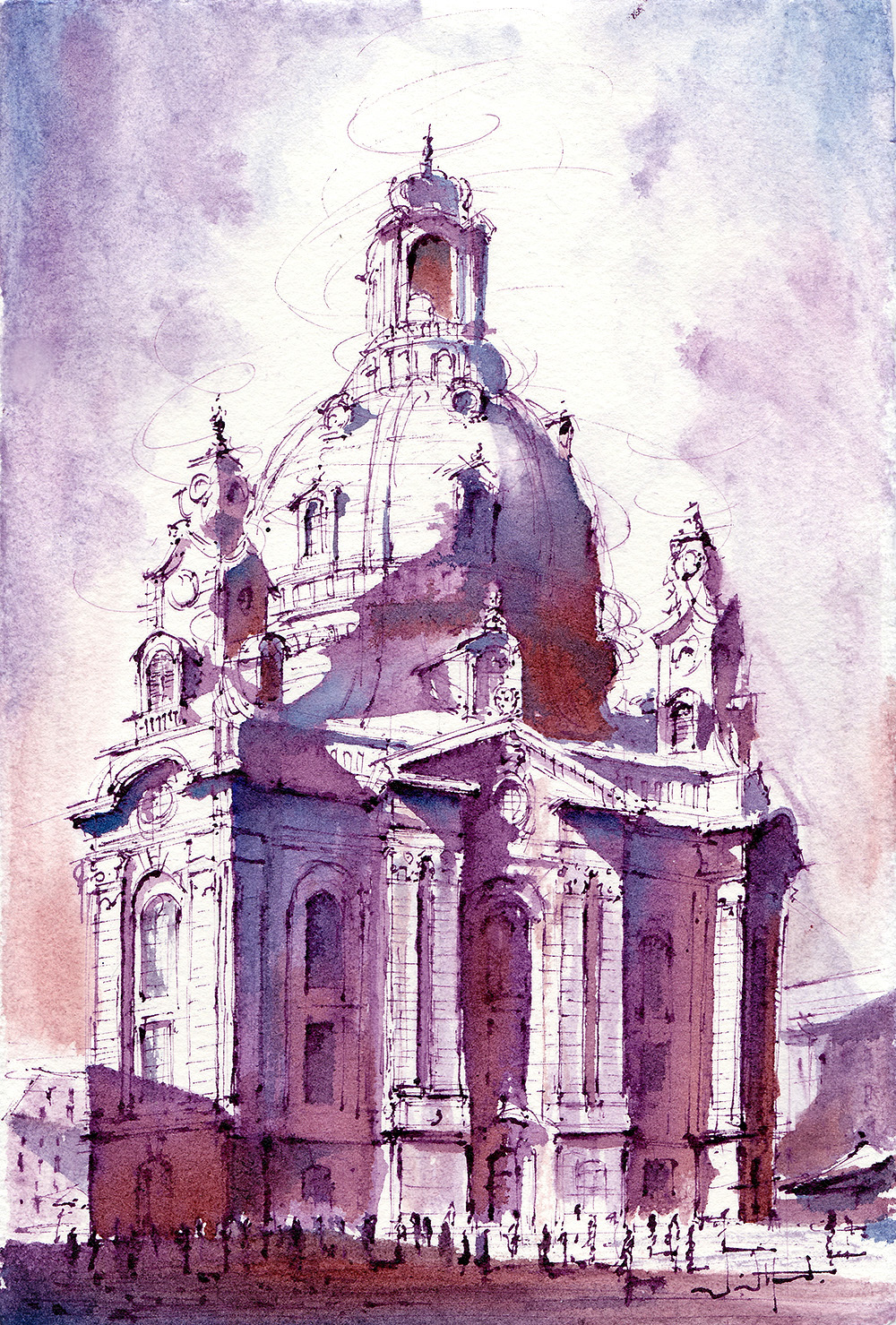 Please join the Chicago ICAA & ICAA Northwest in welcoming Michael Richard Harris for a discussion and demonstration on one of architecture's most evocative forms of free hand drawing media – dip pen and ink wash. In this event, Michael will present his setup, tools and materials, a detailed look at his technique, and explain why the dip pen and ink wash are ideal for drawing and sketching classical architecture today. His demonstration will review the importance of light and composition while taking you through a live drawing and ink wash demonstration that can be used for quick sketches or extended length drawings. All levels and abilities are encouraged and welcome. A Q&A will follow.
Michael Richard Harris is an artist and architectural designer living in London where he draws and paints the built environment as a way to evoke architecture's endlessly inspirational qualities. The techniques that Michael has cultivated with pen and ink create an emotional and captivating perspective on some of our world's most fascinating classical buildings which he believes hold significant relevance in today's world of architecture and design.
Critical to this outlook were Michael's experiences as a designer in two often competing worlds, the avant-garde and the classical. He has worked in the contemporary offices of Zaha Hadid and 1508 London, and the traditional and classical offices of Gil Schafer III, Stanhope Gate, and Pier Carlo Bontempi. Today he practices architecture at the Prince's Foundation where he recently designed the Duke of Rothesay Highland Games Pavilion in Braemar, Scotland, opened by Her Majesty the Queen accompanied by HRH The Prince of Wales.
His love for drawing and painting developed as a student in Rome with the University of Notre Dame, and again grew into an increasing obsession during an Affiliated Fellowship at the American Academy in Rome where drew and painted exhaustively on location throughout the city. He holds a Master in Architecture from Harvard's Graduate School of Design and was the recipient of the Institute of Classical Architecture & Art's prestigious Rieger-Graham Prize in 2008.
Images by Michael Richard Harris
This event is free with registration.
Please note the time: the program will begin at 11am CST/9am PST.
This event is hosted by an ICAA Chapter. Please check the Chapter website(s) or contact the Chapter(s) directly, for the most up-to-date details including dates, times, and pricing.

Registration
ICAA Members & General Public
Free with RSVP