Sketching Benedict Saturday: Kerr House
Hosted by the Rocky Mountain Chapter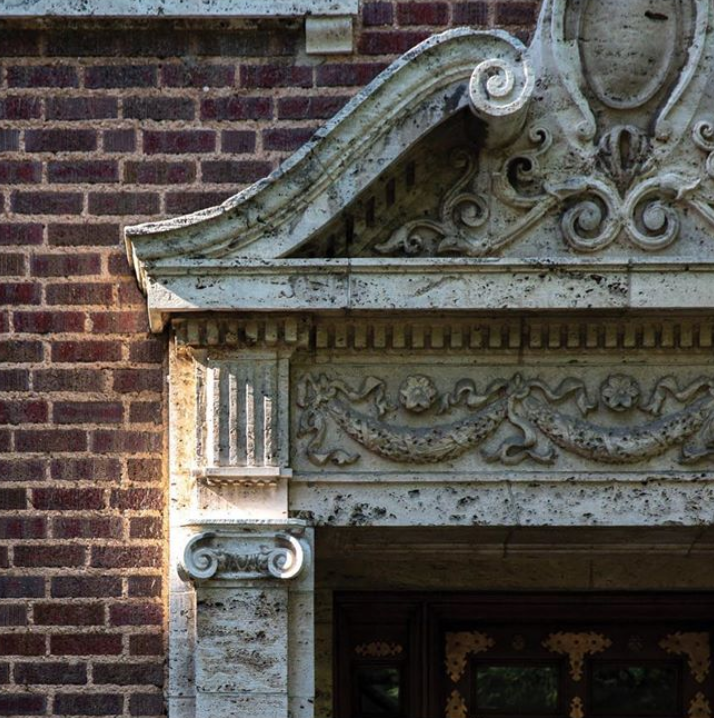 SKETCHING BENEDICT SATURDAY: An Exploration of Jacques Benedict's Works

KERR HOUSE:
The Kerr House, designed by Jacques Benedict in 1925, is a two-story French Renaissance Revival style residence with an irregular plan. The most notable and defining architectural feature is the lavish use of travertine marble accents mined from John G. Kerr's travertine quarry near Salida, CO. The concrete foundation rises three feet above ground and is clad in pale travertine with the elevations executed in a varied red brick. An asymmetrical front entry is defined by the travertine marble pediment with a multi-paned wood door. The panes on the door are of different shapes forming a symmetrical pattern with the center pane being a small roundel which is a repetitive design element on the exterior and interior. The first floor windows include two tall panes side by side and two smaller panes of equal size above forming a transom above surrounded by travertine marble. The first floor sills sit stop the cladded foundation wall and beneath each sill is a travertine marble rectilinear panel with a raised and centered roundel. Each window has the original wood shutters, painted dark green. The upper fourth of each shutter has a decorative, square shaped, iron inset. Original decorative, black iron hardware holds the shutters in place. In 1969, architect Alan Fisher offered his opinion that the Kerr House was "the best" of Benedict's residential designs. Source: National Park Service

HOW TO PARTICIPATE:
1. Using any medium, sketch one, two or all of the images provided- have your kids, significant other or roommates participate too!

2. Take a snapshot of your sketch and post it to your Instagram by ‪Wednesday‬ 9/16. Include a little note about your sketch and the following tags:
@icaarockymountain
#sketchingbenedictrmc

We will be watching for these tags & can't wait to share all of the inspired work on our Instagram!