Sketching Benedict Saturday: Littleton Carnegie Library
Hosted by the Rocky Mountain Chapter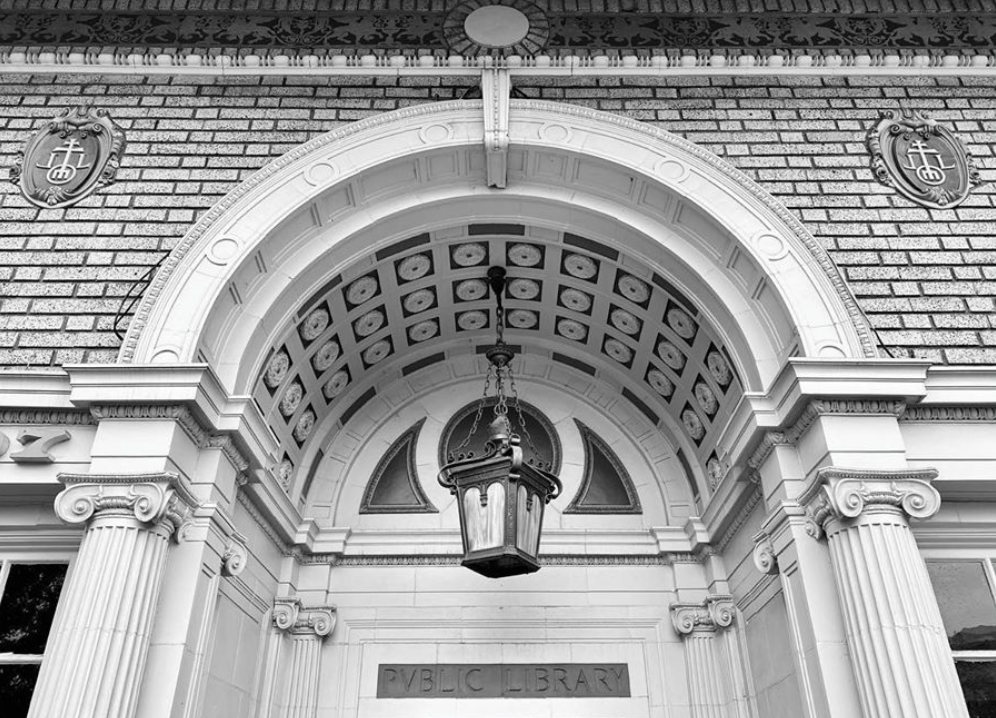 SKETCHING BENEDICT SATURDAY: An Exploration of Jacques Benedict's Works

LITTLETON CARNEGIE LIBRARY
Littleton's Carnegie Library was designed by Jacques Benedict in 1917. When the town sought financial assistance for the construction, the Carnegie Foundation gave $8,000 with the requirement that an experienced architect had to be selected for the project. Benedict's successful completion of Woodbury Library in 1913 made him a logical choice. His original design apparently was considered excessively elaborate and was rejected by the Carnegie Foundation as unsuitable. The final design was in some ways a smaller version of Woodbury. Located at the western end of the town's Main Street, the Italian Renaissance Revival building has a hipped tile roof with overhanging eaves sheltering a classical frieze. The buff brick symmetrical facade includes a central, oversized, arched, inset entrance framed by fluted Ionic columns and flanked by large multi-light Palladian arched windows with terra cotta hood molds. The ceiling of the arched entryway is ornamented in a terracotta flower motif. Ornamental terracotta printer seals decorate the entrance below the cornice. The contractors were V. W. Robbins and the Watts Brothers. Sources: National Park Service, Denver Public Library, Littleton.gov

HOW TO PARTICIPATE:
1. Using any medium, sketch one, two or all of the images provided- have your kids, significant other or roommates participate too!
2. Take a snapshot of your sketch and post it to your Instagram by ‪Wednesday‬ 9/23. Include a little note about your sketch and the following tags:
@icaarockymountain
#sketchingbenedictrmc

We will be watching for these tags & can't wait to share all of the inspired work on our Instagram!