This Weekend's Virtual Sketching Events
Hosted by the Chicago-Midwest, Rocky Mountain, Southeast, Southern California, and Texas Chapters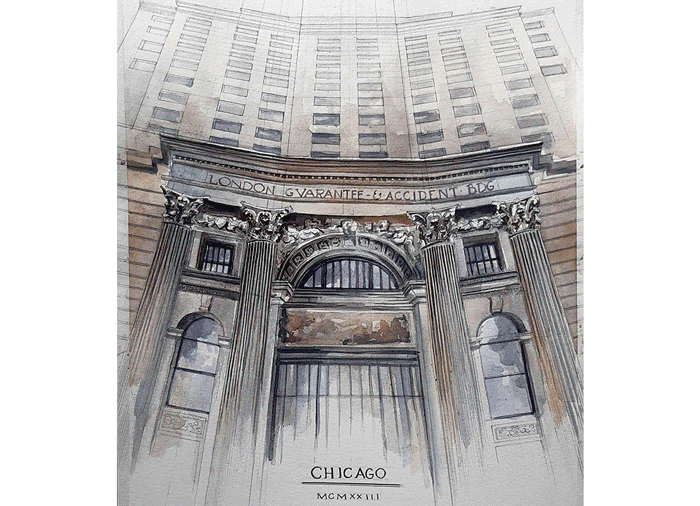 All are welcome to participate in the following Chapters' virtual sketching activities this weekend! North to South, coast to coast, and across the pond, sketch the locations that inspire you most. Share your work by emailing a sketch to the Chapter or tagging the Chapter on Instagram. Thank you all for keeping the #ICAAEverywhere!
Chicago-Midwest
Location: Chicago Water Tower
Chicago ICAA will provide reference images each week for the selected building or focus. You may use any media or technique of your choice.
Reference images can be found here.
Please forward a JPG file of your sketch to [email protected] by Sunday evening following the sketch date and we will post to the Chicago ICAA Instagram account on Monday afternoon. Please include your Instagram handle in the email in order to tag your sketch.
Post to your own Instagram account using #icaachicago #connectingthroughsketching #classicalarchitecture #classicismathome #virtualsketching
Ends Sunday, October 18 at midnight.
Rocky Mountain
Location: Ellis House
Post an image of your sketch to Instagram by Wednesday afternoon. Include a brief description along with following tags: @icaarockymountain #sketchingbenedictrmc
Ends Wednesday, October 21.
Southern California
Location: Los Angeles Union Station
Opened: 1939
Designed by John and Donald Parkinson and a supporting group of architects including Jan van der Linden and Mary Colter among others.
1. Select one of the images.
2. Using any medium you like, sketch one or all the images. Include the kids!
3. Snap a photo of your illustration and post it to your Instagram page with your location, a little something about yourself and the following tags by Monday, October 19:
@icaa_socal
#sketchtogetherathome
Ends Monday, October 19.
Texas
Location: Ashbel Smith Building
For the month of October, we are introducing the Ashbel Smith Building at the University of Texas Medical Department in Galveston.
The Ashbel Smith Building, also known as Old Red, is a Romanesque Revival building. It was built in 1891 with red brick and sandstone. Nicholas J. Clayton was the architect. It was the first University of Texas Medical Branch building.
To share your sketches with us, please post to Instagram! Please be sure to tag @icaatexas and use the hashtag #sketchingandscones
You may also send images of your sketch directly to [email protected]
We look forward to seeing your sketch and sharing the submitted artwork at the end of the month.