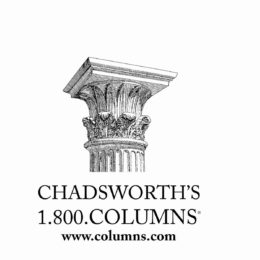 North Carolina Chapter
Chadsworth Incorporated
About
Chadsworth Incorporated, parent company of Chadsworth's 1-800-COLUMNS and COLUMNS.com, is a leading manufacturer and distributor of architectural columns, pilasters, pergolas, and balustrade systems. Founded by Jeffrey L. Davis in 1987 and headquartered in Historic Wilmington, North Carolina, Chadsworth is in its third decade of producing premier architectural columns and components.
Davis' basic strategy as Founder and CEO is to provide superior columns and diverse product lines that cater to the individual needs of his customers. Davis is a leader in the building industry and a well-known authority and speaker on Classical Architecture and the History of Columns. He has appeared on national television on Home Again With Bob Vila, The Christopher Lowell Show, Michael Holigan's Your New House, Curb Appeal, and Haven with Joy Philben. Our columns have been featured in many publications such as Architectural Digest, Veranda, New Old House, Traditional Building, and numerous others.
Chadsworth produces columns, representing all five orders of classical architecture, which are recognized in the industry for their design and durability. Materials include wood, fiberglass, FRP, and PVC- all in multiple grades and price levels to fit the clients' needs. All sales consultants are classically trained and able to assist with the most expansive or detailed project.
Chadsworth's product lines have expanded over the years to include pergolas (custom, as well as pre-designed kits), complete railings and balustrade systems, and shutters.
420 A/B Raleigh Street
Wilmington, North Carolina 28412
(910) 763-7600