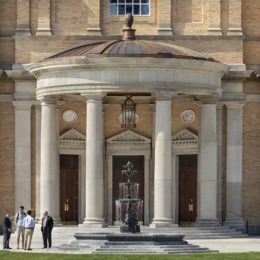 Chicago-Midwest Chapter
Duncan G. Stroik Architect, LLC
Architect / Designer
About
Duncan Stroik is a practicing architect, author, and Professor of Architecture at the University of Notre Dame. His award-winning work includes Our Lady of the Most Holy Trinity Chapel in California, the Chapel of the Holy Cross at Jesuit High School in Tampa, and Christ Chapel at Hillsdale College.
His firm, Duncan G. Stroik Architect, is dedicated to the renewal of beauty in contemporary design. Grounded in a classical approach from beginning to end, their projects are drawn by hand and built using traditional materials and design. Collaborating with talented craftsmen and artists leads to lasting and high quality buildings. Their specialized masonry construction grounds the buildings using load bearing columns and structural domes. Stroik Architect works on ecclesiastical and other civic projects, both restorations and new construction, as well as residences.
Stroik is a frequent lecturer on sacred architecture and the classical tradition and has authored The Church Building as a Sacred Place: Beauty, Transcendence, and the Eternal. He is the founding editor of Sacred Architecture Journal, and is a member of the Commission of Fine Arts in Washington, D.C.
218 Washington Street
Suite 1200
South Bend, IN 46601
(574) 232-1783