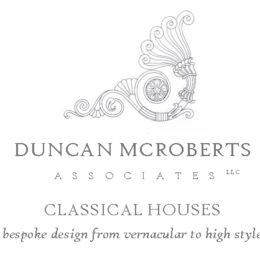 Northwest Chapter
Duncan McRoberts Associates
Architect / Designer
About
DUNCAN MCROBERTS ASSOCIATES is a Seattle design firm specializing in new classical and traditional architecture. We breathe into modernity the heritage of the most remarkable works of American & European architecture – and beautifully re-imagine new projects for each client. Our projects vary in category from new urbanism & meaningful public buildings – to estates, houses, country houses & interiors.

Our work has an enduring, well-built quality. It is derived from building as craft – and is conceived by aesthetic intelligence – so that beauty, spatial poetics & detail remain integral to the material and functional basis of structure. Nature and Her processes provide an origin and destination in this praxis, both in terms of sustainable science & architecturally figurative representation. The beautiful and the useful are at once mutually achieved in traditional design forms, and thus serve with environmental fortitude.

Architecture is the critical reasoning, artistic ability & complex measure of creating cultural prosperity in the built environment. Its artistic import invokes mediation between ourselves and the schema of life experiences. Our work promises this uplifting change, the kind that touches the heart & is worth building.
720 Market Street, Suite G
Kirkland, WA 98033
(425) 889-6440