Certificate in Classical Architecture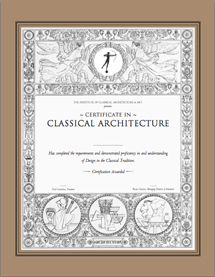 The Certificate in Classical Architecture program provides architects and designers with a working knowledge of classical architectural design as a practical discipline. Participants learn to identify, draw, render and compose with the classical elements and form an introductory understanding of the theoretical tenets on which the classical tradition of architecture is founded.
The ICAA Certificate in Classical Architecture may be earned by: 1) completing an ICAA Intensive and additional Continuing Education courses in ICAAs core curriculum; 2) completing the ICCA Summer Studio in Classical Architecture; 3) through approved CE courses in ICAA's core curriculum; and 4) through approved coursework with an affiliate.
PARTNERSHIP

WITH

THE

UNIVERSITY

OF

COLORADO

DENVER

SCHOOL

OF

ARCHITECTURE

AND

PLANNING

The University of Colorado Denver College of Architecture and Planning offers a topic area in Classical architecture for its Master of Architecture students who wish to receive the ICAA Certificate in Classical Architecture.

Enroll online in the Certificate in Classical Architecture Program