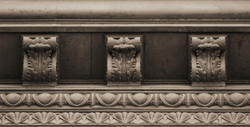 Summer Studio in Classical Architecture
Program Information
LOCATION
AND
FACILITIES
The ICAA Summer Studio in Classical Architecture is located in the organization's national headquarters in a landmark building in midtown Manhattan: the General Society of Mechanics and Tradesmen building at 20 West 44th Street. Built in 1892, the limestone structure is listed on the National Register of Historic Places. The building houses the General Society's library which has an exceptional collection of books and journals related to the building arts. For more information please visit generalsociety.org.
ICAA
RESOURCES
The ICAA Research Library is a collection of over 2,000 books, monographs, sketchbooks, and exhibition catalogs focusing on the classical tradition in art and architecture. ICAA resources also include a collection of approximately 100 plaster casts of antique and renaissance sculpture and architecture from the Metropolitan Museum of Art.
TUITION

and

FEES

Driehaus Scholarship



The cost to attend the four week Summer Studio is $1,750.

Thanks to the The Richard H. Driehaus Charitable Lead Trust the ICAA is able to offer both scholarships to offset tuition costs plus assistance to help with housing costs while in New York to ensure accessibility to the program for students of all financial backgrounds. If you would like to apply for a scholarship and/or housing assistance, please indicate on your application form.

All decisions regarding scholarships and awards are made solely at the discretion of the ICAA in accordance with established policies and procedures. Please inquire with education@classicist.org for additional information.

HOUSING
Please inquire with the education administrative team to discuss housing options.
ACADEMIC
CREDITS
The Summer Studio in Classical Architecture is offered on a non-credit basis. Students who wish to take the four-week program for credit through their home institution should inquire about requirements ahead of time from their school. It is advisable to seek approval prior to taking the course as credit acceptance is at the discretion of individual institutions. Class attendance is mandatory. Courses are graded as pass/fail.
Curriculum
Application Instructions
Overview
Thank you to our classroom sponsors: