Rule Raised Ribbon Joints for Brick and Stone Masonry
with Pete Zwolak
1 AIA CES Learning Unit|Elective
1 credit towards the Certificate in Classical Architecture (Building Craft)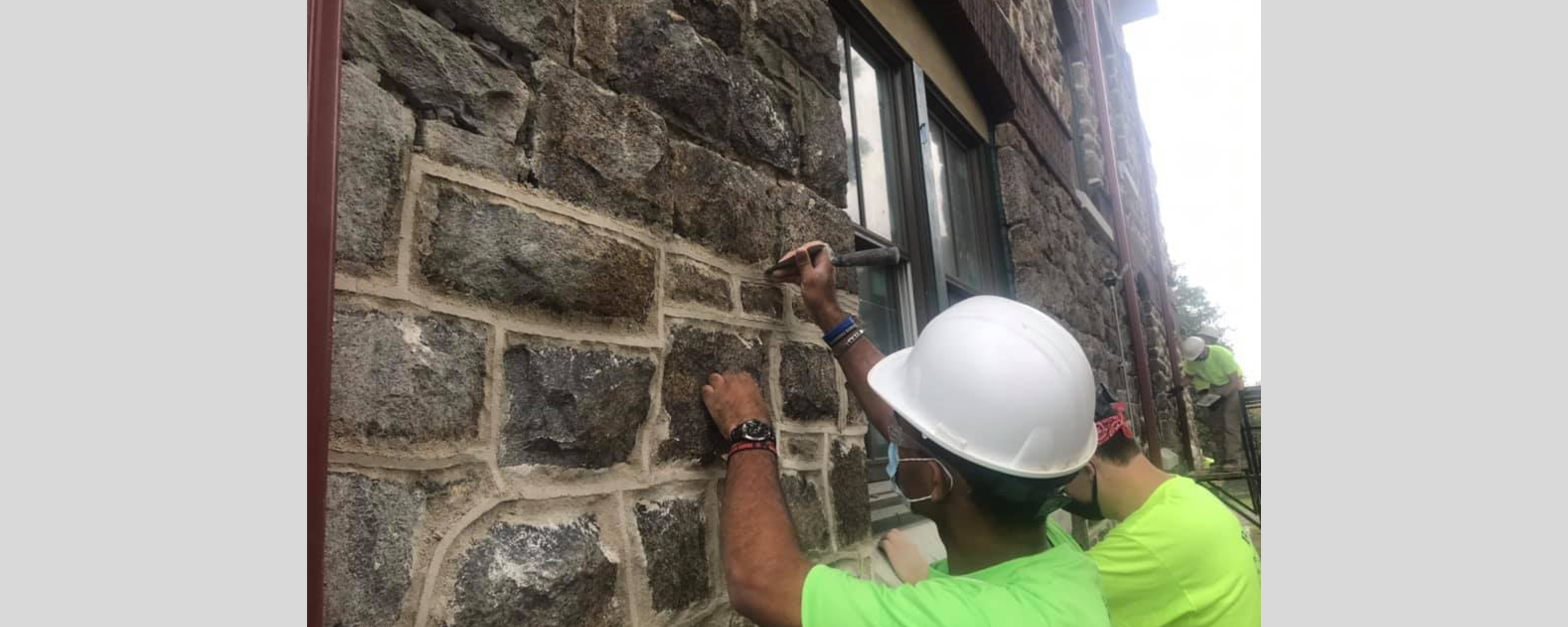 Ribbon joint finishing was a popular tooling technique for both brick and stone masonry in the US until the post war era. When done correctly, ribbon joint profiles can create an illusion of a finer and more detailed joint profile while continuing to provide the necessary structural strength for the masonry wall. When executed incorrectly however, it can cause significant damage to the structure, not only aesthetically, but structurally by trapping moisture in the jointing and hastening the deterioration of the masonry.

This course will examine the correct methods of executing rule raised ribbon joints in masonry structures. Participants will be introduced to the tools needed, the process of executing the rule raised finish as well as appropriate cleaning techniques of the finish.
About the Instructor
Pete Zwolak is the Director of Masonry Trades at Williamson College of the Trades. Before coming to Williamson, he was a union bricklayer for ten years specializing in preservation. Mr. Zwolak teaches both modern and traditional applications in brick and stone masonry as well as restoration procedures. He holds an A.A.S in Masonry from Williamson College of the Trades and a B.S in Business administration.
This course will enable participants to:
Identify tools needed to create a rule raised ribbon joint
Understand the proper techniques for preparing a masonry wall for rule raised ribbon jointing
Understand the process of creating a rule raised ribbon joint
Identify the proper techniques for final cleaning of a rule raised ribbon joint application.
---

Please click here for additional AIA Continuing Education Provider Information:

Instructional Delivery Method: Live Online Learning Program

Program Level: Introductory

AIA CES Program Approval Expiration Date: March 3, 2024

Provider Number: G193

Provider Statement: The Institute of Classical Architecture & Art is a registered provider of AIA-approved continuing education under Provider Number G193. All registered AIA CES Providers must comply with the AIA Standards for Continuing Education Programs. Any questions or concerns about this provider or this learning program may be sent to AIA CES ([email protected] or (800) AIA 3837, Option 3).

This learning program is registered with AIA CES for continuing professional education. As such, it does not include content that may be deemed or construed to be an approval or endorsement by the AIA of any material of construction or any method or manner of handling, using, distributing, or dealing in any material or product.

AIA continuing education credit has been reviewed and approved by AIA CES. Learners must complete the entire learning program to receive continuing education credit. AIA continuing education Learning Units earned upon completion of this course will be reported to AIA CES for AIA members. Certificates of Completion for both AIA members and non-AIA members are available upon request.

Registration
This course will be offered on April 9, 2021 as part of The Art of Building Craft. Course registration is available on the program page here.