2017 Award for Emerging Excellence in the Classical Tradition Ceremony and Arthur Ross Awards Discussion
On Sunday, April 30th 2017, sculptor Emily Bedard was honored as the inaugural winner of the Award for Emerging Excellence in the Classical Tradition at a ceremony hosted in New York City.
Launched this year, the Award is a collaboration between the Institute of Classical Architecture and Art (ICAA), the Prince's Foundation for Building Community (PFBC), and the International Network for Traditional Building, Architecture and Urbanism (INTBAU). Bedard was chosen from a competitive field of young professionals exhibiting exceptional talent in the fields of classical and traditional architecture, landscape and interior design, building crafts, urban design and planning, and the allied arts.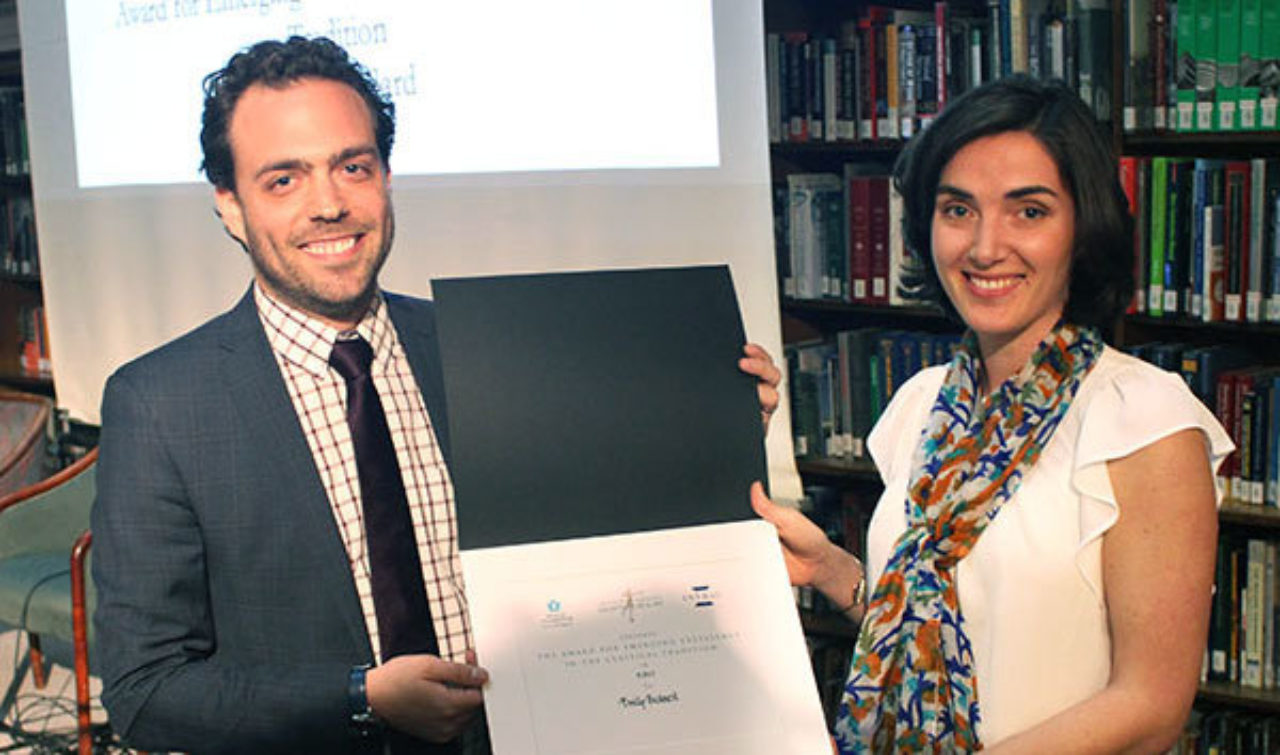 The Award was presented by Simon Sadinsky, Head of Education for PFBC, and Bedard used her acceptance speech to acknowledged the role of organizations like the ICAA, PFBC, and INTBAU in her career success, saying, "When I decided to follow a career in classical sculpture, little did I know that I would find a community such as this that would provide me with the support and mentorship that I now consider so inseparable from my practice."

In addition to recognizing Bedard's contributions to classical design and sculpture, the event also hosted a symposium of the 2017 Arthur Ross Award winners. Speeches by several of the winners, or their representatives, were followed by a discussion panel hosted by ICAA Board Member Gary L. Brewer. Watch Parts I and II of the symposium below.

John H. Bryan, Arthur Ross Award Winner (Patronage) Carl Laubin, Arthur Ross Award Winner (Fine Arts) Kevin Lippert and the Princeton Architectural Press is an Arthur Ross Award Winner (Publishing) Jessica Norman, speaking on behalf of Stephen Byrns, Arthur Ross Award Winner (Stewardship)


Gary L. Brewer, ICAA Board Member & Discussion Moderator Thomas Gordon Smith, Arthur Ross Award Winner (Education) John Saladino, Arthur Ross Award Winner (Interior Design) Norman Davenport Askins, Board of Directors Award Winner Peter Pennoyer, Representing Peter Pennoyer Architects, Arthur Ross Award Winner (Architecture)