A New Way to Experience Classicism Online
The Institute of Classical Architecture & Art (ICAA) is pleased to announce the launch of its fully redesigned website, classicist.org. The ICAA's new website was rebuilt from the ground up to better meet the diverse needs of its growing constituency of members and supporters across the country, making classicism more accessible than ever to practitioners, students, educators, and enthusiasts of classical architecture and the related fields.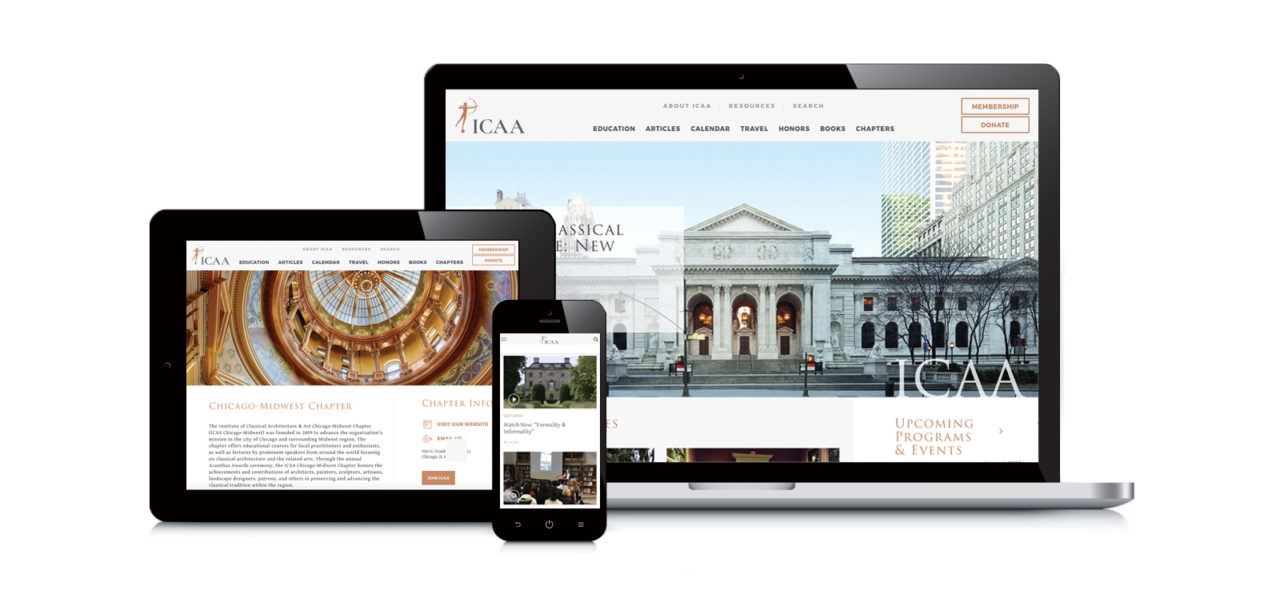 "The launch of the ICAA's new website is the result of an incredible effort by our design partner, VMG Creative, as well as ICAA staff, our dedicated Communications Committee, and all of our Trustees and advisors that made this important step possible," said ICAA President Peter Lyden. "Classicist.org truly brings our organization into the future, allowing the ICAA to successfully serve existing members as well as the next generation of classicists."

Classicist.org features educational programs, lectures, and travel opportunities more prominently through a centralized calendar. Channels on the website dedicated to education enable visitors to browse programs such as the Summer Studio in Classical Architecture, Continuing Education courses, and Christopher H. Browne Drawing Tours. Image galleries showcase past honorees of national and regional ICAA award programs, and dedicated landing pages for each ICAA Chapter highlight opportunities and activities across the country.
According to Mark Pledger, ICAA Board Member and Chairman of the Communications Committee, "Our overarching goal, through this project, was to remake our online presence in ways that better communicate and represent our mission and the education opportunities we provide, along with promoting and recognizing current classical work by design professionals. This guided every decision, including the organization of the website pages, the prominent use of imagery, and incorporation of the regional ICAA Chapters."
Video and image-rich blog stories bring the ICAA's mission to life, highlighting recent ICAA programs and award-winning experts of classicism. ICAA Board Member Bunny Williams said, "The new website is a crucial milestone for the ICAA and its digital strategy. Especially important is the growing availability of video content, which will inspire and educate our broad range of supporters, from seasoned design professionals to up-and-coming students, and curious enthusiasts worldwide."
Welcome to the new classicist.org. The ICAA invites you to join our community online and in person as we continue to learn, celebrate, and advance classicism for many years to come.
Educational Programs & Events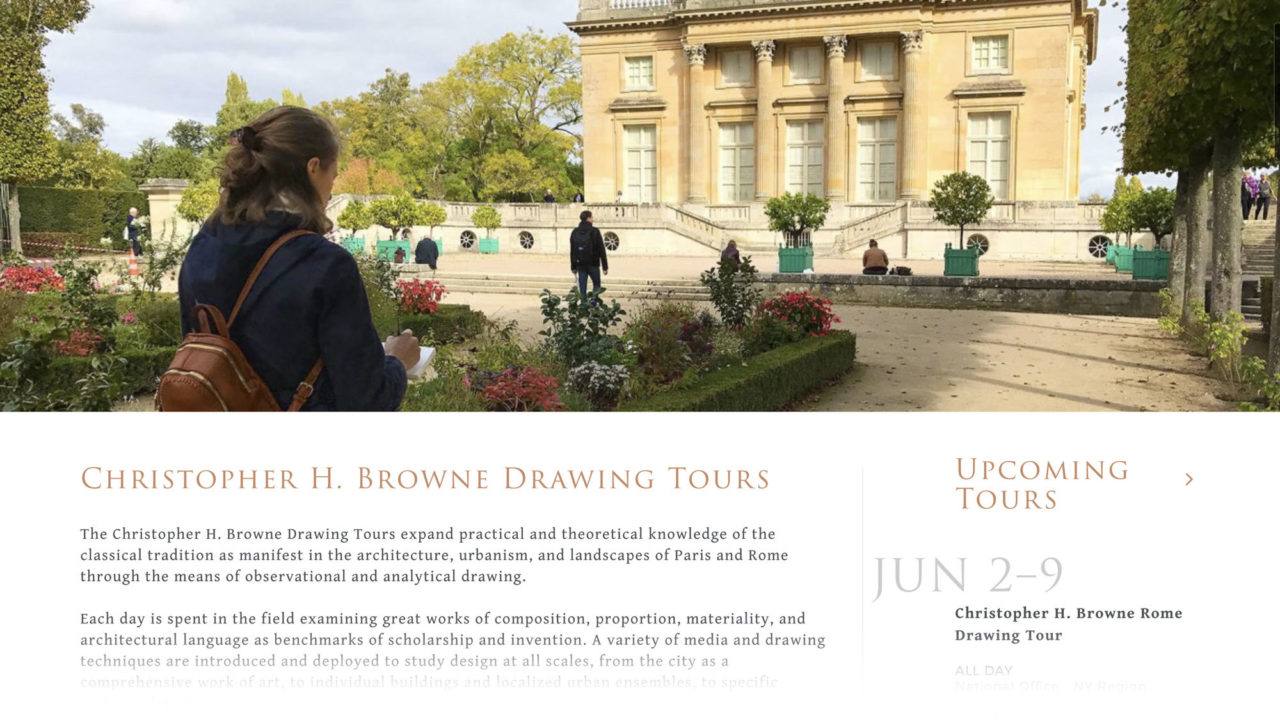 Browse the calendar on classicist.org to discover upcoming ICAA programs across the country and abroad, where you can sort and filter by Chapter, location, or program type to discover lectures, courses, and other events nearby. Or browse a complete listing of ICAA educational opportunities, from the Summer Studio in Classical Architecture, to the Christopher H. Browne Drawing Tours, as well as Workshops.
Video & Articles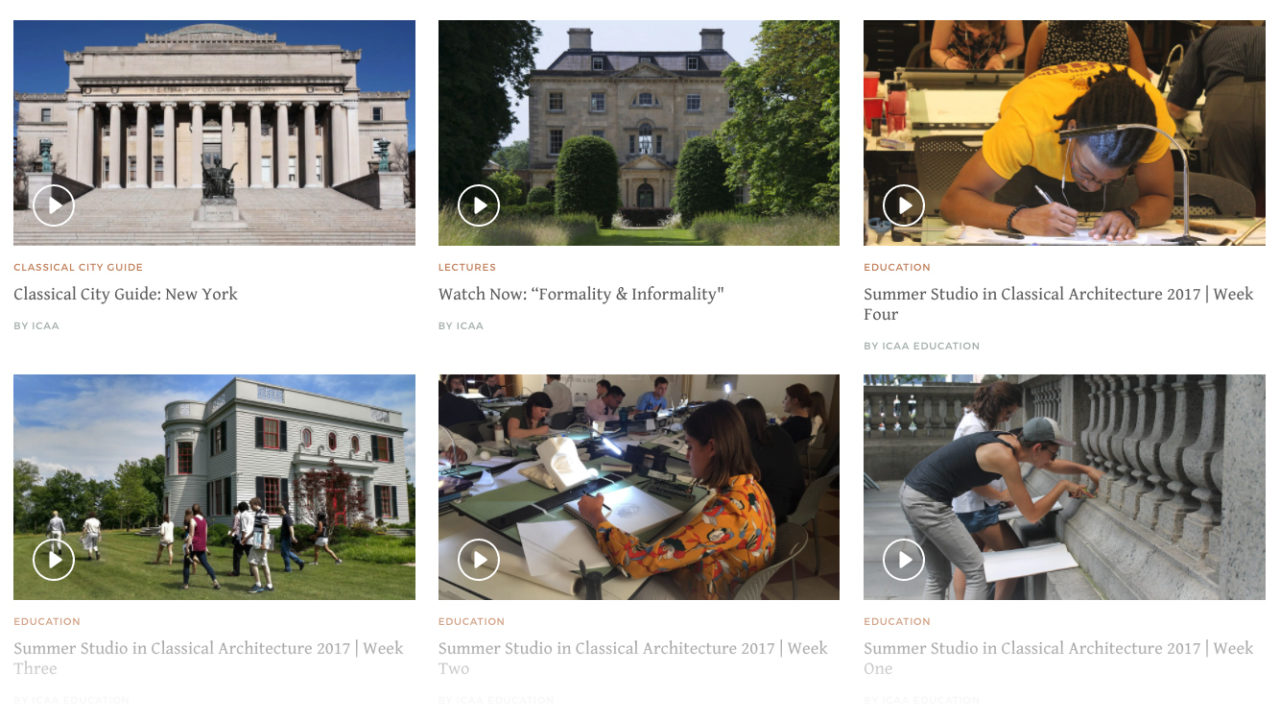 Watch and learn from leading classical practitioners and educators from around the world. Classicist.org features a growing library of videos, including a new Classical City Guide featuring ICAA Instructor Francis Morrone, a full recording of Landscape Designer Arne Maynard's recent "Formality & Informality" lecture, and more. ICAA blog articles and image galleries are also more visually rich and easier to explore than ever before.
Books & Resources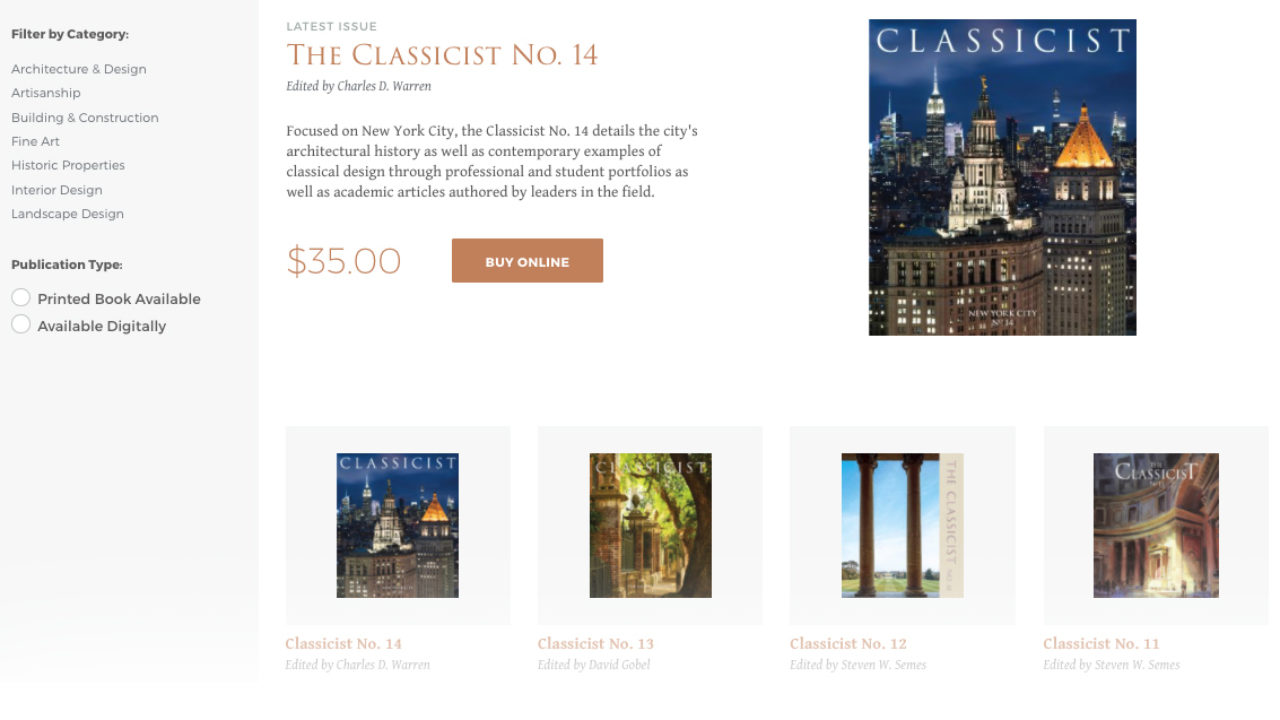 Explore recent and past publications in the Classicist and the Classical America Series in Art & Architecture. Coming soon, a brand-new selection of academic resources on classicist.org will include an online catalog of the ICAA's Plaster Cast Collection, a Digital Rare Books Archive, and redesigned job board.
Awards & Prizes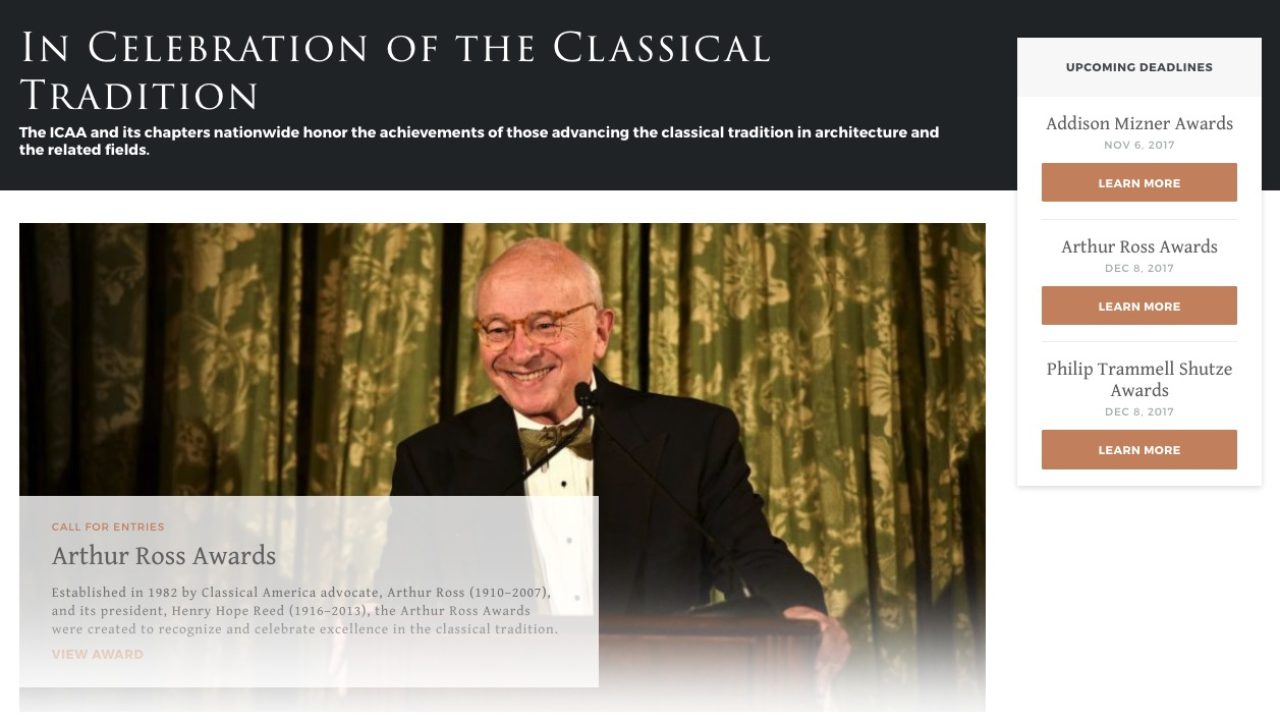 Celebrate ICAA award and prize honorees, by browsing image slideshows of past winners and their work, and learn more about upcoming submission deadlines as well as opportunities to attend ICAA award ceremonies across the nation.
Chapters & Members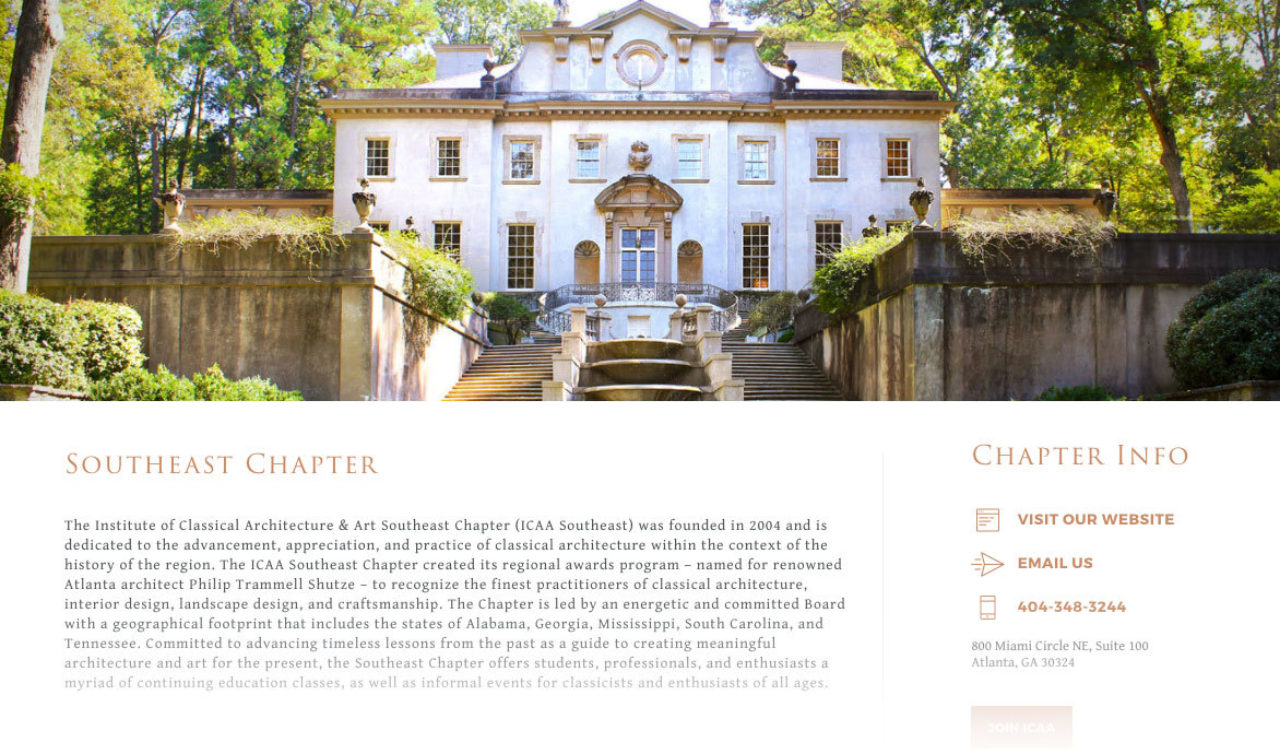 Join the ICAA, renew your membership, or gift an ICAA membership with ease on the new classicist.org. Or discover ICAA Chapters across the country, including upcoming events and awards opportunities offered, as well as other ways to get involved regionally. A fully redesigned directory of professional members lists ICAA supporters across the country, and includes award-winning work, links to firm websites, and more.