Celebrating 30 Years of the Arthur Ross Awards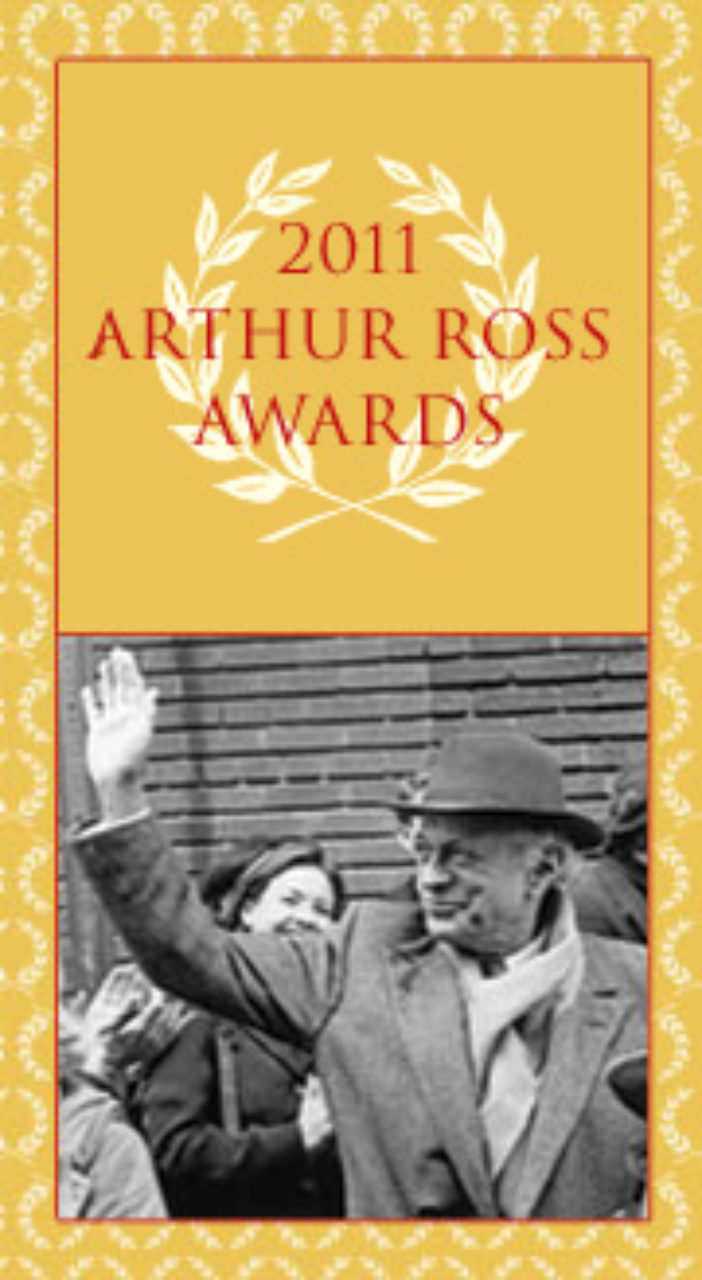 Established in 1982 by Classical America chairman of the board, Arthur Ross, and its president, Henry Hope Reed, the Arthur Ross Awards were created to recognize and celebrate excellence in the classical tradition. From the beginning, the awards have recognized the achievements and contributions of architects, painters, sculptors, artisans, landscape designers, educators, publishers, patrons, and others dedicated to preserving and advancing the classical tradition.
Tonight the Institute fetes its 2011 Arthur Ross Award winners: Franck and Lohsen Architects, Evergreene Architectural Arts, Andrew Zega and Bernd H. Dams, Ralph Lauren, The New York Botanical Garden, and Clem Labine at the University Club.
View the complete list of award recipients here and read below for more information about past winners in the Architecture category.
---
1982 Georgia native Philip Trammell Shutze received the first Arthur Ross Award in Architecture. He graduated from Georgia Tech in 1912 and earned a second degree from Columbia University. In 1925, he won the Rome Prize. Our Southeast Chapter honors his contribution to the classical tradition in architecture with its annual Shutze Awards. Can you name Shutze's buildings?
---
1983 Edward Vason Jones (1909–1980), was a member of the Georgia School of Classicism who began his career in 1963. His works included the first renovations to the Department of State Reception Rooms and large and small residential projects east of the Mississippi. William Bates established the Edward Vason Jones Scholarship in what year?
---
1983 Samuel Wilson, Jr. (1911-1993) was often referred to as the "Dean of Historic Preservation" in New Orleans. Wilson worked to rehabilitate some of Louisiana's most notable historic buildings and is the author of more than 175 scholarly articles and books. He received an honorary Ph.D. from Tulane University. Where did he marry Ellen Elizabeth Latrobe in 1951?
---
1984 Rurik Eckstrom (1934–2005) received his bachelor of Architecture from the University of Virginia and his Master of Fine Art from Yale. He served as professor and chairman of the Department of Architecture and Landscape Architecture at North Dakota State University. He served as an environmental and historic preservation specialist for the Federal Emergency Management Agency. He was a registered architect in 6 states.
---
1985 A. Hays Town (1993–2005) was best known for his residential architecture, which was heavily influenced by the Spanish, French, and Creole history of Louisiana. Recognized as one of the most outstanding young modernists, he studied the measurements of Antebellum architecture, which helped to refine his sense of symmetry and proportion in domestic architecture.
---
1986 WM. FRANK McCALL JR (1916–1991) was known for his unerring sense of proportion, scale, and detailing. He enjoyed a large following from the Georgia coast resort, Sea Island. Adler and Shutze were his inspiration.
---
1987 David T. Mayernik and Thomas N. Rajkovich won the international urban planning competition for the State of Minnesota Capitol Grounds. Rajkovich, who won the 1985 Burnham Prize, now leads a practice on Chicago's North Shore. Mayernik, an Associate Professor in the School of Architecture at Notre Dame, is a practicing urban designer, architect, painter, and writer.
---
1988 DAVID EASTON received his architecture degree from Pratt and worked for Parish-Hadley where he was "seduced by decoration." In recent years, he has focused on the contemporary aesthetic. In addition to his interior work, he has designed furniture, lighting, carpets, and wallpaper. Easton was honored with the Lifetime Achievement Award at London's Design and Decoration Awards.
---
1989 Floyd E. Johnson's early architectural experience was with Milton Grigg. He also served in the US Navy during WWII. For over 50 years he worked with the Thomas Jefferson Memorial Fund to preserve Monticello. He is the recipient of the Raven Society Award and the First Lifetime Achievement Award by the Association for the Preservation of Virginia Antiquities
---
1990 ALLAN GREENBERG was the originator and leading practitioner of "canonical classicism," one of many design responses to postmodernism. In addition to his architecture, Greenberg's articles, teaching, and lectures have put forth a strong influence on the study and practice of contemporary classicism. He was the first American to be awarded the Richard H. Driehaus Prize.
---
1991 ROBERT A. M. STERN FAIA is a practicing architect, teacher, and writer. Stern is the 2011 Driehaus Prize laureate and in 2008 received the 10th Vincent Scully Prize from the National Building Museum. Stern is the Dean of the Yale School of Architecture and was previously Professor of Architecture and Director of the Historic Preservation Program at Columbia University.
---
1992 THOMAS H. BEEBY FAIA is Chairman Emeritus of HBRA. He oversaw the design of museums, libraries performing arts centers, university buildings, renovations of historic structures, private residences, and much more. He was Dean of the Yale School of Architecture and continues as Adjunct Professor there. He lectures widely and has participated in numerous symposia.
---
1993 WILLIAM T. BAKER has achieved an international reputation for high-design combined with a keen sensitivity for plans that live well. He has received numerous awards for his work, including the Urban Design Commission Award for Excellence. Baker's first book, New Classicists, was an international best seller that has been translated into Mandarin.
---
1994 GEORGE M. WHITE, FAIA, was appointed Architect of the Capitol (1971) by President Nixon. He created the Master Plan for the future development of the Capitol Complex and oversaw construction of the Library of Congress James Madison Memorial Building, Hart Senate Office Building, and more. His accomplishments included the restoration of the Old Supreme Court, Old Senate Chambers, among others.
---
1995 JAQUELIN T. ROBERTSON FAIA is a Rhodes Scholar and graduate of Yale. He was the he was the founder of the NYC Urban Design Group, the first Director of the Mayor's Office of Midtown Planning and Development, and a City Planning Commissioner. Robertson was Dean of the University of Virginia of Architecture where there is now an Endowed Professorship in his name.
---
1996 ROBERT I. COLE has had a prolific and distinguished career marked by the creation of numerous architectural landmarks. Who can tell us more about this architect, now retired?
---
1997 MILTON W. GRENFELL, a graduate of Washington University, is committed to practicing in the Great Tradition of Western architecture and urbanism. He is active in preservation and is a founding member of our Charlotte Chapter. He finds time to lecture, write essays, serve on professional panels, and exhibit internationally. His book, COMPARATIVE ARCHITECTURAL DETAILS launched this year.
---
1998 NEIL DAVIS, AIA graduated with Bachelor of Architecture degree from Auburn University in 1976. His firm, Davis Architects Inc., founded in 1912 was honored by the Birmingham Historical Society with a 2007 Preservation Award for the firm's "sensitive reuse" of the historic Birmingham Electric Battery Company garage and warehouse.
---
1999 CURTIS & WINDHAM is an award-winning, multi-disciplinary firm based in Houston, TX, founded in 1992 by William Curtis and Russell Windham. In 2005, Sarah Newbery became a partner with the firm to further develop the integration of complimentary landscape design. With architects, interior designers, and landscape architects working together, the firm creates designs based on traditional and classical architectural principles.
_______________________________________________________________________________________________________________
2000 HAROLD H. FISHER (1901–2005), began his career at 15 as the understudy of a church architect in Uniontown, PA. Early years were spent learning the architectural disciplines of school buildings and churches and he credited his success to the Beaux Arts Institute of Design in NY. His proudest accomplishment was the Westminster Presbyterian Church in Detroit.
---
2001 JOHN BLATTEAU's basis for his work is his belief in the enduring beauty and timeless quality of classical architecture and its suitability in today's world. Blatteau's new architecture and restoration work clearly show the beautiful and efficient possibilities of classical design principles today: Riggs Bank (DC), Brooklyn Botanic Garden's Administration Building, and more.
---
2002 QUINLAN TERRY, a British architect who was educated at Bryanston School and the Architectural Association. He works principally in the classical style and holds the Philippe Rothier European Prize for the Reconstruction of the City of Archives d'Architecture Moderne. He won the 3rd Annual Driehaus Prize and one of his best-known works is the Brentwood Cathedral in Essex.
---
2003 FERGUSON and SHAMAMIAN ARCHITECTS Mark Ferguson received a B.Arch from CMU and a M.Arch from Princeton. Renovating Tuxedo Park homes introduced him to traditional design. Oscar Shamamian received a BA and M.Arch from Columbia. He began his career at RAMSA's firm, serving as research assistant for 2 books. They met at Parish-Hadley Associates and formed their own firm in 1988
---
2004 MERRILL and PASTOR ARCHITECTS, of Vero Beach, have designed projects all over the word: New Zealand, St. Petersburg, Abu Dhabi, London, San Francisco, Saudi Arabia, New England and throughout Florida and the Caribbean. Their Seaside Interfaith Chapel was honored by the AIA for outstanding architecture in 2004. The Florida and national AIA have honored their work many times.
---
2005 London based PORPHYRIOS ASSOCIATES has an international reputation for excellence and has received many awards. The practice has carried out commission in both the US, UK and abroad. Internationally known projects include Whitman College for Princeton, Selwyn College Ann Court for Cambridge, and many more. Demetri Porphyrios, a graduate of Princeton, is a visiting Professor at Yale.
---
2006 HARTMAN-COX ARCHITECTS is comprised of three partners: Lee Becker, FAIA, Graham Davidson, FAIA and Mary Kay Lanzillotta, FAIA. The firm has won over 140 design awards, including 6 AIA Honor Awards, the Louis Sullivan Award for Architecture, and the AIA Architectural Firm Award, the highest award the AIA bestows on a firm for design.
---
2007 MICHAEL G. IMBER, FAIA, received his B.Arch from Texas Tech University. He apprenticed with Shope Reno Wharton and Allan Greenberg. Imber has designed many residential and community projects across the US, Spain, Scotland, The Bahamas and Cost Rica. He is known for idyllic ranch, country house and historically sensitive homes. He is the founding president and member of the Texas Chapter.
---
2008 JOHN SIMPSON's firm is based in the center of London where the practice carries out projects across the UK, Europe and the US. Its Pipe Partridge Building at Lady Margaret Hall won the 2010 Georgian Group Architectural Award for the Best New Building. The firm designed the new Queen's Gallery was built to mark the Golden Jubilee of Her Majesty Queen Elizabeth in 2002.
---
2009 JOHN MILNER ARCHITECTS specializes in the restoration and adaptation of historic sites and the design of new buildings. Milner has for 30 years been an Adjunct Professor of Architecture in Penn's Graduate School of Design, receiving the Perkins Award for Distinguished Teaching. He was selected by the NEA and the GSA to serve as a National Peer Arch for the review of designs for new federal buildings.
---
2010 HISTORICAL CONCEPTS was founded in 1982 by James L. Strickland. He received a BA in Fine Arts from the University of Georgia and then served in the Army Special Forces. He received has M.Arch from Yale. The firm has received numerous Shutze, Palladio, Southern Home, Congress for New Urbanism and Best in American Awards.